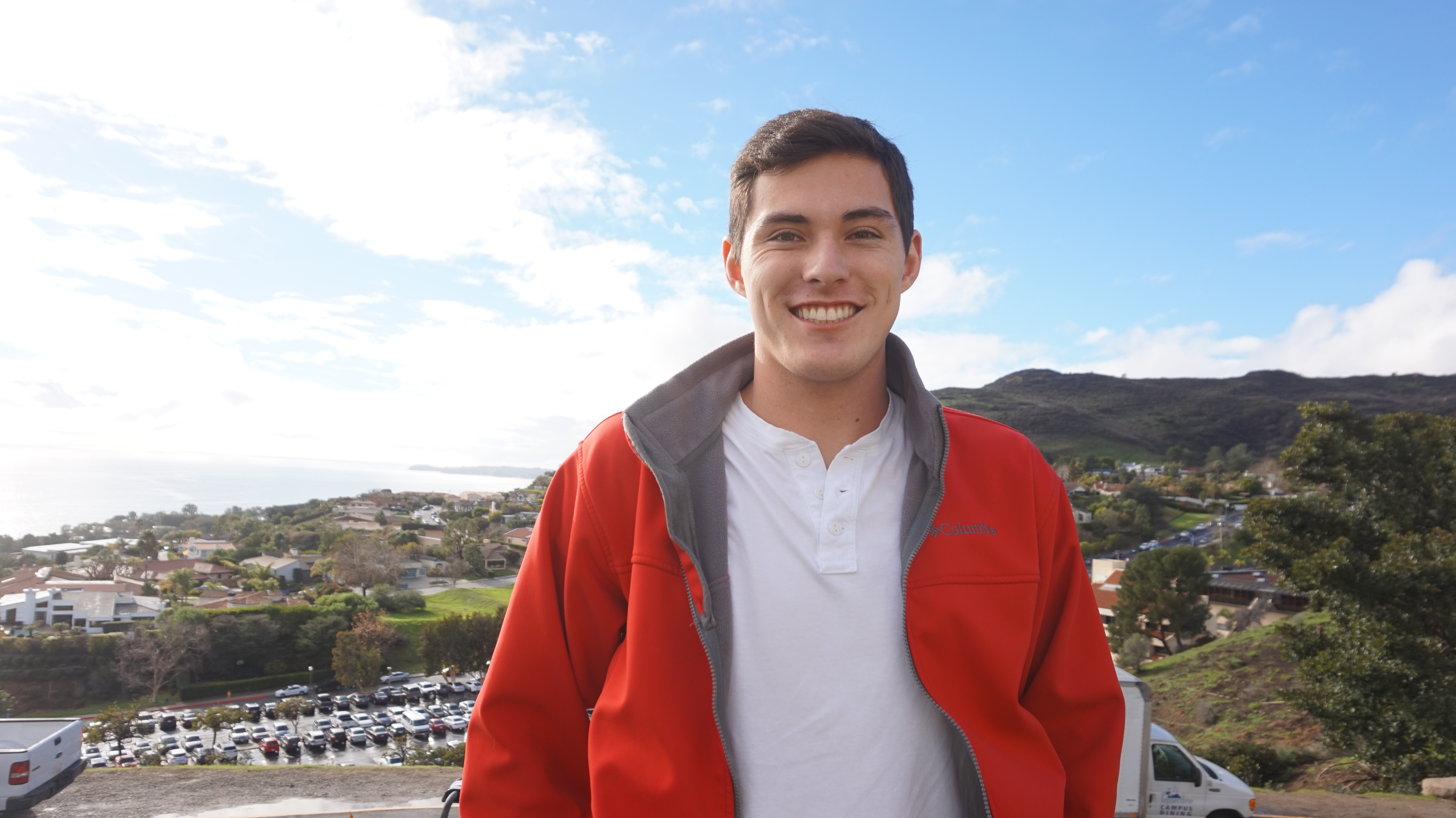 Photos by Lidia Bayne
"Both of my parents taught me to work really hard. Both of them had upbringings where they had to really work for what they wanted, so I think they tried to teach me that whatever you want you can get it, but you have to work your tail off for it. For me, that's what Pepperdine is — it's the consequence of the actions I did in high school, trying to get to somewhere I really wanted."
Jake Schmerber, a junior, is an extrovert and a business major and a gardener from Portland, Oregon. Schmerber grew up with a father who worked in law enforcement and a mother who worked in the high-tech industry. He has a younger brother who is now a senior in high school. From a young age, Schmerber developed an interest in business and gardening.
"At the end of middle school I wanted to make some money so I could hang out with my friends on the weekends, and I started mowing lawns," he said. "I started getting a lot of them, and I realized I needed more help, so I started hiring my buddies to come help me out. I think that was the first time that I realized that business is logical for my brain. It works with me, and I like it."
Schmerber said he can see himself working in the high-tech or biotechnology industry in the future. If all goes well, he would like to own his own company. Although he is not completely certain of where he will be in 5 or 10 years, he is optimistic about the future.
Schmerber is also an avid gardener, a hobby which he wants to continue off campus in the coming year.
"I love planting plants, flowers — you name it," he said. "I don't do that here because I don't have a yard, but I'm moving off campus next year so I told the group I'm planning on living with it has to be a house. That's probably something nobody really guesses."
Schmerber said his interest in gardening stems from being able to explore the property around his house in Portland. He carries memories of getting to know his neighbors, and the neighborhood's annual tradition of decorating with Christmas lights.
"We started doing crazy Christmas lights on a ridiculous commercial scale. That's my biggest obsession: Christmas lights. Now we do probably the biggest show in the whole city of Portland on our street. That's been really fun."
Recently, Schmerber said he has been struggling with perfectionism and is learning about what really matters in life.
"I've always excelled in school. But especially this last semester was a really tough one for me," he said. "I got a C this last semester. Most people that can relate to that sort of thing — that's not ideal, but I think it was good for me, to be honest … Sometimes the stuff that you make a big deal about really doesn't matter. That's one of the things that Pepperdine has taught me."
Schmerber also commented on the pressure to succeed, a stress that many students experience near the end of college.
"I'm a year and a half from graduating. You feel like you have to get all these things perfectly right so you can get the perfect job, that sort of thing. Maybe it adds to the stress, and that's just one less thing to worry about if it happens."
To finish, Schmerber addressed what he believes is really important: "Making a positive impact on those around you. I think we're here to do our best."
_______________
Follow Lidia Bayne on Twitter: @lidiabayne