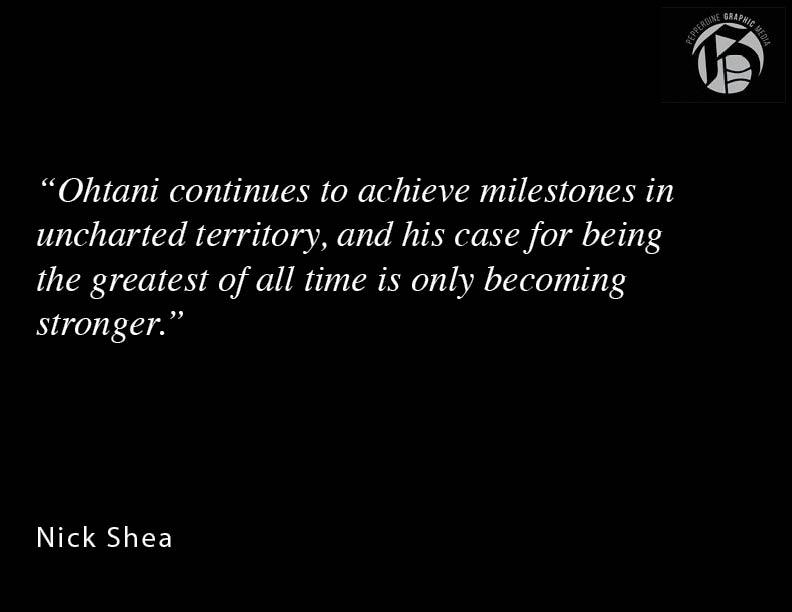 Transparency Item: The Hot Shots section of the Graphic is comprised of articles based on opinion. This is the opinion and perspective of the writer.
Year after year, Los Angeles Angels' phenom pitcher and designated hitter Shohei Ohtani continues to astound, consistently outshining previous feats and leaving spectators in awe. Ohtani's ability to surpass expectations has become a defining hallmark of his journey in the world of baseball.
Ohtani's story began on the shores of Japan, where he played in the Nippon Professional Baseball League, garnering attention as a young player with both pitching and hitting capabilities. It wasn't long before Major League Baseball organizations took notice and Ohtani's talents would beckon him to the grand stage.
Seven finalists were in contention to acquire Ohtani — Los Angeles Angels, Chicago Cubs, Los Angeles Dodgers, San Francisco Giants, Seattle Mariners, San Diego Padres and Texas Rangers — according to MLB.com.
As Ohtani neared his decision, both the Angels and Mariners executed trades with the Minnesota Twins to secure extra international bonus pool money. Both front offices sought this money to sweeten their offers to Ohtani, according to SB Nation.
At 23 years old, Ohtani decided to sign with the Angels. Becausehe was younger than the 25-year-old age requirement for International Players, Ohtani was subject to limitations on amateur players outside of the United States.
"While there has been much speculation about what would drive Shohei's decision, what mattered to him most wasn't market size, time zone, or league, but [it was] that he felt a true bond with the Angels," Ohtani's agent Nez Balelo said in a statement in 2017. "He sees this as the best environment to develop and reach the next level and attain his career goals."
Angel's management was required to pay his Japanese club,the Nippon-Ham Fighters, a $20 million posting fee, and Ohtani the MLB minimum of $545,000, according to MLB.com.
Baseball's rich history includes names like Babe Ruth, Cy Young, Hank Aaron, Willie Mays and Walter Johnson. Each of these players has etched a legendary narrative into the diamond, but who is the greatest?
Ohtani is putting together a compelling case that he is en route to becoming the greatest of all time, surpassing the name who is regardedas the best, Babe Ruth, according to ESPN.com.
Shohei Ohtani vs. Babe Ruth
Through 674 games played in the MLB, Ohtani has 160 home runs, surpassing Ruth by one, according to sbnation.com.
In Ruth's first 455 innings pitched, he recorded a record of 35 wins and 18 losses. In the same number of innings, Ohtani has a record of 35-19, according to Howtheyplay.com. A key distinction to keep in mind is that Babe Ruth pitched and hit exclusively in different phases of his career, according to radicalbaseball.com.
During Ruth's career, it was the norm for pitchers to throw 150-200 pitches a game, meaning about half of his at-bats were against tired pitchers, according to Howtheyplay.com. However, in today's game, it is becoming increasingly rare for players to see a pitcher the third time around the lineup as they are facing fresh arms still throwing 100 MPH in the later innings, according to Bleacher Report.
In the 2023 season, Ohtani is putting together arguably the best single season anyone has ever witnessed. As a batter: .305 BA / .409 OBP / .666 SLG, a 1.075 OPS with 44 HR. As a pitcher: 3.14 ERA in 132 IP, with 167 K's, according to Baseball Reference.
As of Sept. 1, he leads the majors in HR's, triples, total bases, slugging percentage, OPS, OPS+, XBH, ISO, and WAR.
Wins Above Replacement (WAR) is a comprehensive metric that quantifies a player's overall contribution to their team's success by comparing their performance to a hypothetical replacement-level player, according to MLB.com.
Achieving the highest Wins Above Replacement (WAR) while exclusively serving as a designated hitter without contributing to the team's defensive efforts, is a remarkable feat. Not only are these stats leading baseball this year, but this is one of the best hitting seasons in the past 100 years, according to Fan Graphs.
These numbers alone could very well produce unanimous support for Ohtani's AL MVP candidacy. Now, combine this with his stats on the mound, and you start to see the greatness unfold. He leads the league in Average against, is 5th in strikeouts per nine innings, and 4th in pitching WAR, according to ESPN.com.
Seasons of 11.4 WAR since 1947:
Prior to Ohtani's UCL tear, he was on pace for 11.4 WAR, according to MLB.com.
Since the beginning of AL/NL history, there have only been 13 times where this level of WAR was exceeded. Most of them were during times of poor hitting, ultimately making it easier for hitters to separate themselves, according to MLB.com.
Ohtani continues to achieve milestones in uncharted territory, and his case for being the greatest of all time is only becoming stronger. He has shattered unshakeable boundaries within the modern game of baseball.
As the 2023 season winds down, the game's best player is inching closer to free agency and holding the power to reshape a franchise overnight.
__________________
Follow the Graphic on Twitter: @PeppGraphic
Contact Nick Shea via email: nicholas.shea@pepperdine.edu