There were very few wristbands in the crowd at the Teragram Ballroom on Saturday. There was, however, a fair amount of velvet crop tops and high-waisted jeans. Estrogen levels were at precipitous heights — after all, Hippo Campus was opening for JR JR. And I had to cut the ladies some slack; the band was pretty dreamy.
With an oh-so-exclusive photographer's pass (and a divine inability to read the correct time), I arrived at the concert super early and was able to watch part of Hippo Campus' soundcheck. I hung out a bit with JR JR's tour manager as we waited for the stampede of Urban-Outfitted fan girls to burst through the venue doors.
If the faces of One Direction and the musical stylings of Vampire Weekend could procreate, well, the offspring would probably look a lot like Hippo Campus.
Lead vocalist Jake Luppen was ceaselessly energetic — a testament to his youth — as he jumped up and down throughout the entire set with his electric guitar. On his right was guitarist Nathan Stocker. While Luppen is more of a cardio aerobics kind of performer, Stocker was all about the fancy footwork. He got real groovy in the middle of his guitar solos.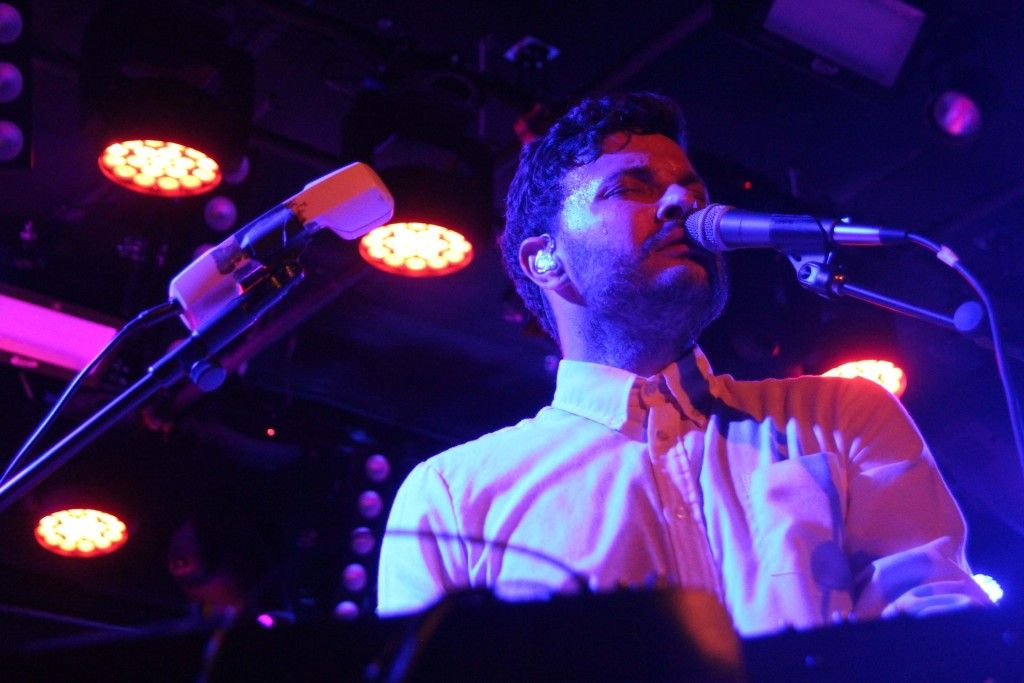 The Minnesotan-based band of four, including drummer Whistler Allen and bassist Zach Sutton, had an incredibly polished set. In the wake of their predecessors like The Jets, Prince and Bob Dylan, Hippo Campus is reminding America that Minnesota can spit some pretty sick tunes. (And, also reminding America of Minnesota.)
The two bands are on a nationwide tour spanning from the northwest, the Golden State, the south, the east coast, to the good ol' midwest, finishing up around mid November. Both are showcasing their newest digs — Hippo Campus just released its EP "The Halocline" on Tuesday, and JR JR came out with a self-titled album last month.
Except, wait, who's JR JR again?
Known as Dale Earnhardt Jr Jr. for the past 5 years, the indie-rock group recently downsized their band name. When I asked vocalist-percussionist-keyboardist-guitarist Joshua Epstein after the show why they rebranded, he gave the elusive answer of, "It really was just a long time coming."
Totally, Epstein.
JR JR took the stage as a band of four, though Epstein and Daniel Zott are the main duo. Zott had a mic stand with a telephone taped to it that distorted his voice. Epstein had the most killer afro-ponytail on the planet and a gold medallion around his neck.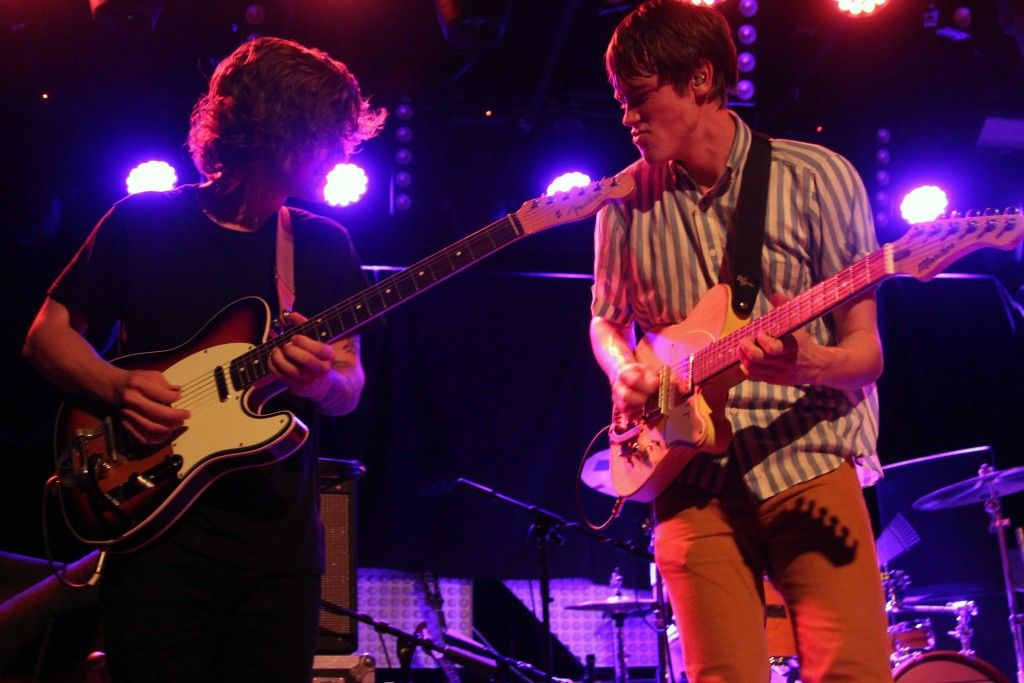 Together they played an overwhelming amount of instruments — Zott picked up the saxophone and guitar when he wasn't playing keys; Epstein played the keyboard, guitar and bass. They both took turns beating on an electrical drum kit in the middle of the stage. Behind the band was a giant neon "JR JR" sign that added some pizzazz to the performance.
Playing some new tunes off their album like "James Dean," "Caroline" and "Hypothetical," Zott's and Epstein's falsetto harmonies were flawless. They weren't particularly chatty on the mics, though Zott told a brief anecdote about playing with Kid Rock in their hometown, Detroit. And unlike Hippo Campus, they didn't seem entirely thrilled to be on stage. But it was late, and they had just played the night before in San Francisco, so they were pardoned for not having skyrocketing enthusiasm.
They closed up their set around midnight, coming on stage for an encore in neon checkered jackets that said "JR" on the back. They did three encore songs: "Gone," "If You Didn't See Me [Then You Weren't on the Danceflloor]" and "Nothing but Our Love."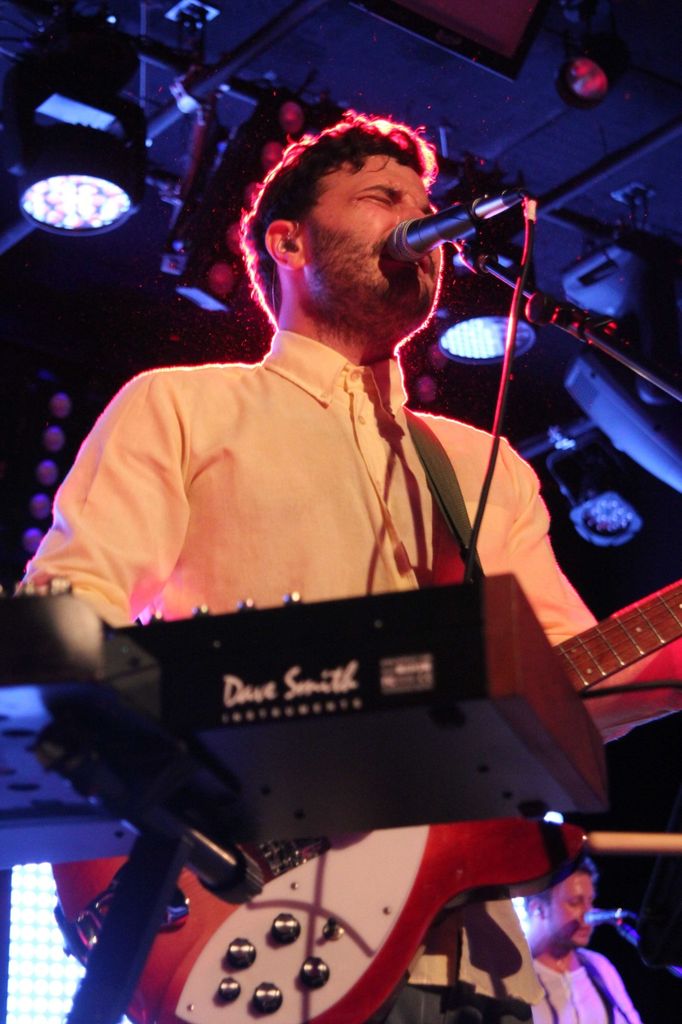 The lobby was packed with a long line of fans waiting to meet the musicians after the show. Epstein took a photo with a group of high schoolers who had missed their homecoming to see the concert. Though the glorious ponytail was pulled back into a bun, he was nonetheless an exciting individual. He told me his sister goes to Pepperdine Law School — small world, huh?
Next I met Luppen, who was rocking a Bombay Bicycle Club T-shirt. He had a tattoo on his arm of a fish. Naturally, he was just as animated off stage.
"Wait, I'm going to sneeze," he said, interrupting himself as he talked about their tour. "No wait, it's a burp. Either way, it's going to be gross."
He laughed, seemingly unembarrassed, and kept chatting casually about JR JR, Minnesota and surfing. We got a photo together and hugged like old friends, and I gave way to the long line of teenage girls behind me.
So worth staying up past curfew.
__________
Follow Pepperdine Graphic on Twitter: @PeppGraphic