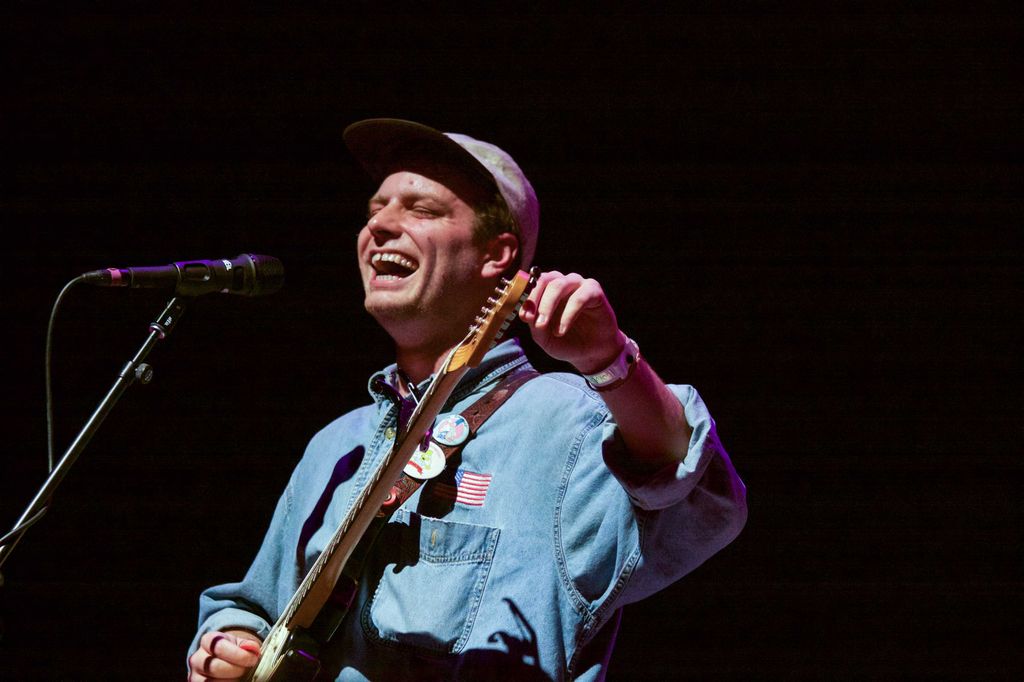 Photos by Julia Naman
The best way to describe Mac DeMarco is by describing his fans. Mac DeMarco fans are almost exclusively under 25. Mac DeMarco fans take pride in buying boldly-pattered shirts at a lower cost than a Taco Bell Crunchwrap Supreme. And of course, Mac DeMarco fans religiously keep to the Mac DeMarco Dress Code: a baseball cap and a pair of pants at least four inches too short to make clear they could not possibly be the first owners.
And yet, at the swaggy venue surrounded by the swaggy houses of the Los Feliz Neighborhood in LA, a near-6,000 millennials took a chunk of change out of their Kool Aid Hair-Dye Funds to see Mac DeMarco in the flesh, completely selling out the Greek Theatre Thursday night.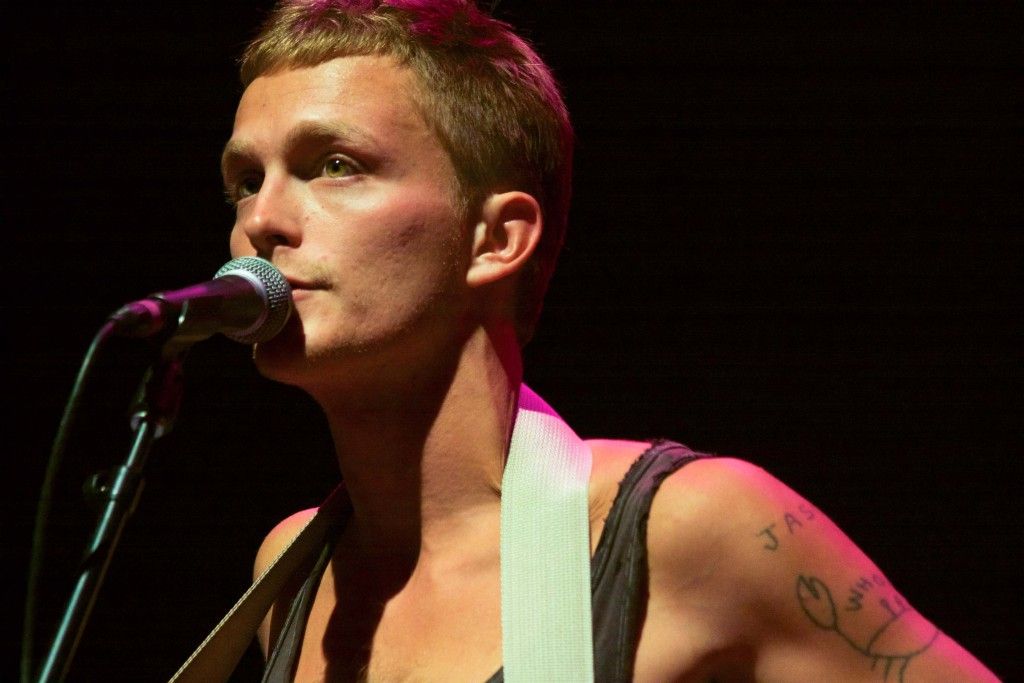 To be sure, accessing the Greek Theatre isn't easy for Mac DeMarco fans, because Mac DeMarco fans would never pay $20 for parking. And worse, an army of parking enforcement officers were stationed on every side street to combat the "eff the police" vibe that Mac DeMarco fans would undoubtedly instigate. Thus, a horde of attendees hiked the steep mile and a half from Los Feliz to the Greek Theatre, requiring a lung capacity unsupported by a daily routine of rolling and smoking, which turns out to also be a popular pass time for Mac DeMarco fans.
But luckily, Mac DeMarco understands his demographic. That's why — probably knowing that his admirers would almost absolutely be late — he didn't go on stage until 9:30 p.m. From the moment he started strumming his psychedelic-rock Fender, DeMarco was casually cracking jokes and speaking in goofy voices like we were all just old friends hanging out in someone's parents' basement that hadn't been renovated since the '70s.
The band's family and friends sat at tables near the back of the stage as a red solo cup edition of "The Last Supper"; to their left, bassist Peter Sagar drank straight from his own bottle of red wine. Meanwhile, people in the crowd seemed to be taking Mac DeMarco's "Ode To Viceroy" lyrics, "I'll smoke you 'til I'm dying," as a literal challenge.
Soon, DeMarco called a fan by the name of Robby on stage. Robby — in a tight leather jacket, sunglasses with reflective orange lenses and, of course, a baseball cap — exchanged a vape and a quick kiss with DeMarco before he was invited to join da Vinci's table in the back. Right before aptly beginning "Freaking Out the Neighborhood," DeMarco made further demands of his new friend.
"On four, Robby," DeMarco said, "deliver your body to the good people of the Greek Theatre tonight."
Without any hesitation, Robby offered himself to the mercy of the crowd not once, but three times, returning to the stage hatless but all the while maintaining the "shaka, brah" hand sign. The whole interaction prompted the question: Does Robby's mom know he is alive?
"This is a slower love song," DeMarco announced over the mic once deeper into the set. "…So if you're with someone you love, let them know."
Guitarist Andrew Charles White stopped DeMarco as they started "Without Me."
"Wait, this is a break up song, isn't it?" White asked. "So if you're with someone you love, break up with them."
The two kept up their antics throughout the entirety of the show, from their to so-casual-we're-just-going-to-play-Led-Zepplin-riffs jam session to the moment that DeMarco decided he, too, wanted a chance to crowd surf. The masses instantly abandoned their seats and crammed toward the front of the stage in a rush of weed-inspired mayhem.
Even with all the ridiculously chill chaos, the musical competency of DeMarco and his band was never in question. In the midst of the least serious concert — complete with cheesy "Wolverine" footage overplaying the live video monitors — DeMarco was absolutely a serious musician both on guitar and through his spot-on vocals.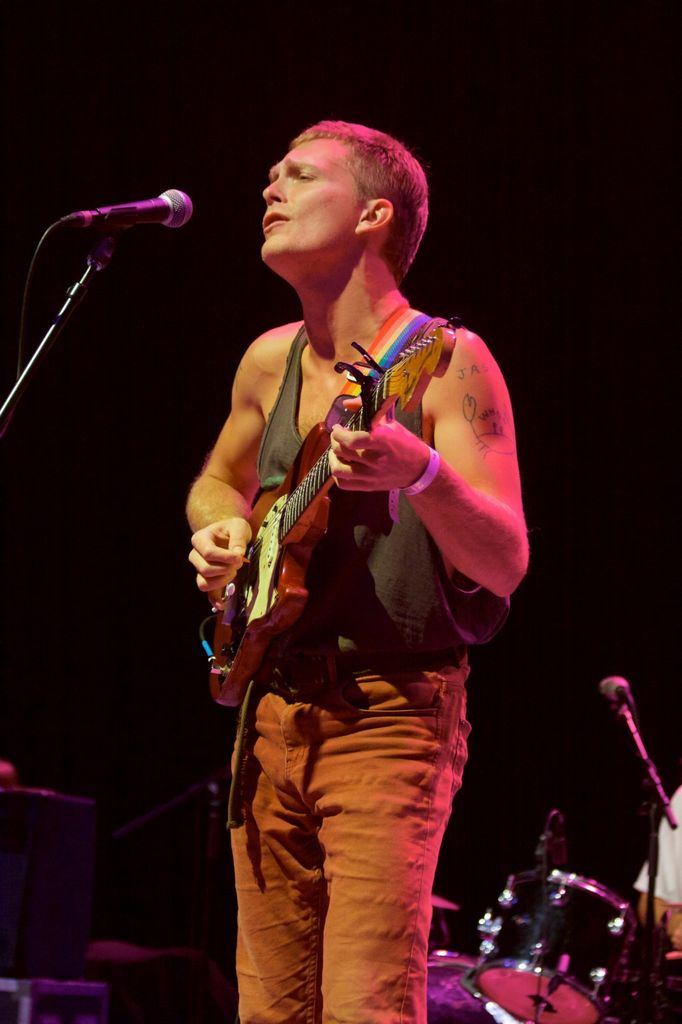 DeMarco and White's talent was further showcased in a song they introduced as "Might Seem Ungrateful to Y'all," though the absurdity of the evening took a further step during "Chamber of Reflection" when two boys hopped on stage and hugged DeMarco, with two more quickly joining them.
Soon enough, the hipsters were multiplying until DeMarco was completely surrounded by the world's most gentle-swaying mosh pit of Buffalo Exchange purchases, though he never ceased playing his keyboard. He kindly told them to leave the stage when the song ended. When visible once again, DeMarco realized that he was hatless.
"Somebody's got my hat, you little b—-rds," he said to the crowd. A good Samaritan threw it back on stage. At the end of the set, DeMarco tossed it to his lady friend at the table (in terms of "The Last Supper" painting, she was sitting in Simon's seat). Soon, the elusive "she" mentioned throughout nearly every song took shape as his girlfriend came and sat by DeMarco. The two just laid down and spooned for a solid three minutes while the rest of the band kept playing.
Of course, Mac DeMarco fans — who had long since deserted their assigned seats — would expect nothing less than for Mac DeMarco to wheel out air dancer blowers and give a shirtless encore (only after he revealed a Prince t-shirt that had been underneath his denim shirt all along). In fact, Mac DeMarco fans would never question anything Mac DeMarco did — unless, maybe, he showed up somewhere hatless.
Mac DeMarco has 36 concerts lined up from now until September, though how this lax insanity sustains itself is a mystery only the Mac scientist can understand.
_________________
Follow Julia Naman on Twitter @saymynaman