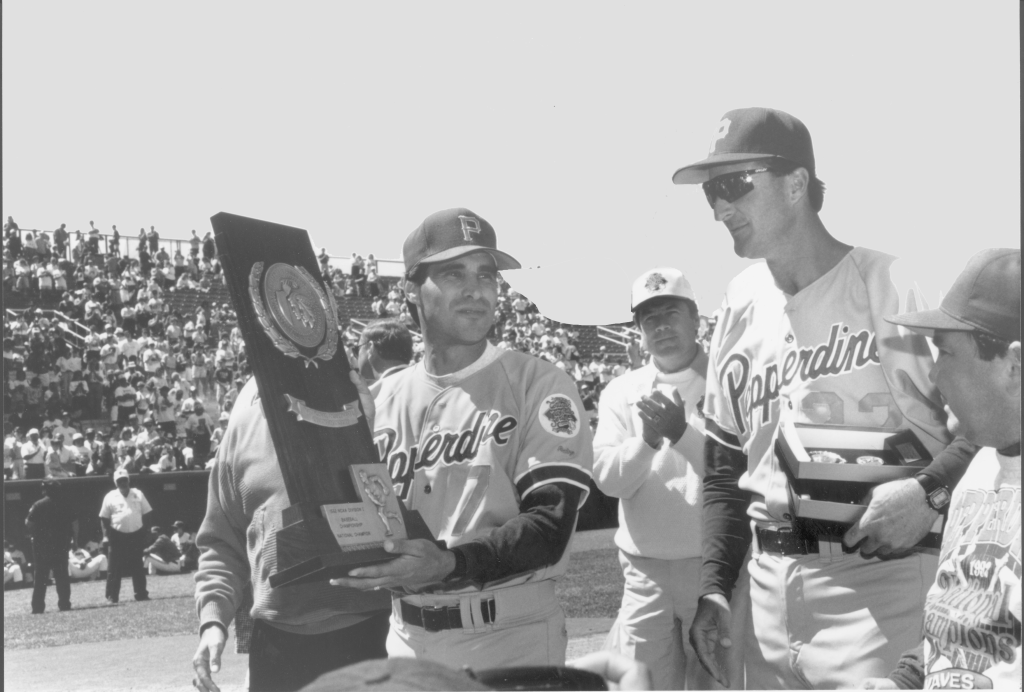 Pepperdine baseball head coach Andy Lopez lifts a trophy with his players around him in 1992. Lopez led Pepperdine to a national championship in 1992 and is being inducted into the National College Baseball Hall of Fame in February. Photo courtesy of Pepperdine Athletics
Andy Lopez, Pepperdine's head baseball coach from 1989 to 1994, will be inducted into the National College Baseball Hall of Fame on Feb. 2-3, in Omaha, Neb. Throughout his 38 years as head coach, Lopez had a record of 1,172-742-7 with two national championships and won Coach of the Year three times.
Before coming to Pepperdine, Lopez played shortstop and was the captain for the UCLA Bruins. After that, Lopez spent time as a junior college and high school coach before spending six seasons as the coach for the Division II school CSU Dominguez Hills.
"I did it for 38 years, so it's been a long time. A lot of different places, a lot of ups and downs," Lopez said. "Very humbled, very honored, they would allow me this opportunity to be a part of it."
Coming to Pepperdine
Lopez said he ended up as the coach for Pepperdine because Wayne Wright, previously a scout that tried to recruit Lopez to play baseball for Pepperdine, was the athletic director. Wright noticed what Lopez was able to do at CSU Dominguez Hills and offered him the job at Pepperdine, Lopez said.
"I'm forever thankful to Wayne Wright for his confidence in me," Lopez said. "I was coming from a DII school, so it wasn't like I was a big name or anything."
Lopez said Pepperdine was one of his favorite places to coach because he was able to be open with his faith.
"Pepperdine was probably the best place I was at," Lopez said. "My faith was a huge factor in all I was doing in my life. Obviously, Pepperdine was a faith-based community. I loved going to convocation on Monday's, and I just loved being able to share my faith very openly."
From 1989 to 1994, Lopez had a record of 241-107-3 with a .691 winning percentage — the highest for any Pepperdine coach with at least one full season, according to the Pepperdine Athletics website. Pepperdine made it to Regionals in 1989 and 1991.
During the 1991 Regionals, Pepperdine lost to Creighton University in the first game and then lost to USC in the second game, ending their season after two games. After being eliminated, Lopez said he felt the Waves had played very timidly.
"I got into them," Lopez said. "I said, if this is the way you're going to play post-season baseball, you're never going to see Omaha."
To further motivate his team, Lopez said he would play a highlights tape of the 1991 College World Series every single day on their TV.
"I put that video on our TV, and it played daily – every single day," Lopez said. "I just wanted them to see that they can get there. I thought they would see that this could be done."
Championship Run
After a successful 1992 regular season when Pepperdine went 48-11-1, Pepperdine went to Tucson, Ariz., for Regionals. In the previous 1991 season, Lopez scheduled a series early in the regular season in Tucson because he said he knew they might end up playing there in the playoffs. Pepperdine had a successful series there in Tucson — winning two out of three games.
"We've been successful there," Lopez said. "We know what that's all about. Now we need to go back down there and get it done again."
All of Lopez's motivation tactics worked, as in 1992, Pepperdine won, not only at Regionals — resulting in their first College World Series appearance since 1979 — but also their first national championship in the program's history.
"They went to Omaha, won four games and won a national title," Lopez said. "What they did is pretty astounding."
At a banquet held for the eight teams that made it to the College World Series, Lopez said he and Pepperdine's names were mispronounced as "Al" Lopez and the "Pepperdean" Waves. Lopez said he used this to motivate his team heading into the tournament.
"We got two options," Lopez said. "We can show up and get beat in two games and go home, and they'll know me as Al Lopez, and they'll know you as the 'Pepperdean' Waves. Or, we can hang around here for two weeks, and you can win this thing, and they'll probably call me Andy, but they'll definitely know Pepperdine University."
After beating Wichita State and Texas twice in the tournament, Pepperdine played CSU Fullerton in the championship game.
It seemed like fate these two would meet in the championship game as Lopez said every year his team would play two games against Fullerton but weren't able to in 1992. Lopez and Augie Gerrardo, head coach for Fullerton, joked they would meet in Omaha.
"He says we'll just have to take time off, but you know what, maybe we'll meet in Omaha," Lopez said. "And I joked, I said 'hey, coach, that would be great.'"
Before the championship game, Lopez said he emphasized if they wanted to win, they couldn't have a repeat of the previous season and become timid. They needed to stay aggressive.
"I remember thinking to myself the worst thing we can do is show up and be timid," Lopez said. "If we're the aggressor and we lose, then we lose — that's athletics. But I'd much rather we fly home knowing we were aggressive than have it take five innings to get into the rhythm of the game."
Lopez's team listened to his words as Pepperdine scored twice in the first inning. Additionally, Pepperdine third baseman Mark Wasikowski collided with the catcher when trying to score. Although he was called out, Lopez said he was confident in his team.
"I went back to the dugout, and I felt good about our chances," Lopez said. "That's basically what we needed. We were not timid — we were going to be the aggressor."
Pepperdine then battled for the remainder of the game and ended up winning with a score of 3-2 to secure the 1992 National Championship.
"To win a game 3-2 against a team like Fullerton, you have to prove that you're playing every pitch, and you're playing every inning," Lopez said. "We were fortunate to come out on top."
Lopez said his more memorable moments during the game were when shortstop Eric Ekdahl hit a home run late in the game after not hitting a single home run during the season.
"He got up, and whack, he hit a home run to put us up 3-1," Lopez said. "We ended up winning that game 3-2."
Experience Beyond Pepperdine
After his six seasons at Pepperdine, Lopez went on to coach for the University of Florida for seven seasons and then the University of Arizona for 14 seasons, where he won his second national championship in 2012.
Lopez said the biggest takeaway he took from his time at Pepperdine was it doesn't matter what program you are a part of — any team can win with the right people.
When Lopez took the job as coach for the University of Arizona, they had only made it to the Regionals twice in the past 13 years, but Lopez said he was able to lead them to Omaha in his third year. Lopez said he credits his success in Arizona to what he learned at Pepperdine.
"People would come up to me at the end of my speech and say we've only been to one regional in the past eight years and two in the past 13 years," Lopez said. "If I hadn't experienced what I did at Pepperdine, I might have believed them and thought this was going to be a long job."
Specifically, it was the 1992 championship season that helped him learn this valuable lesson, Lopez said.
"What I experienced at Pepperdine is that, in my fourth year there, we won the national title," Lopez said. "So, nobody can tell me you can't do it if you get the right people."
_________
Follow the Graphic on Twitter @PeppGraphic
Contact Tony Gleason via email: anthony.gleason@pepperdine.edu