Photos courtesy of Michael Murrie and Jim Sherpa
While coyotes and mountain lions rule the mountain ranges along California's coast, there's no animal that rules California's sandy beaches like the grunion.
"They are pretty wonderful little creatures that sparkle in the moonlight and bring us a lot of happiness," said Karen Martin, a professor of biology at Pepperdine and grunion specialist.
Jim Sherpa, a retired beach ranger for Torrey Pines and Doheny State Beach, said grunion were a big part of his upbringing in La Jolla.
"I remember seeing them in La Jolla while swimming," Sherpa said. "You'd swim right through them, and they'd just separate."
As beloved as these fish are to Southern California residents, rising ocean and air temperatures and habitat destruction have contributed to a decline in population of grunion along California's coast. Local organizers are taking steps to preserve grunion populations through an open source data collection project.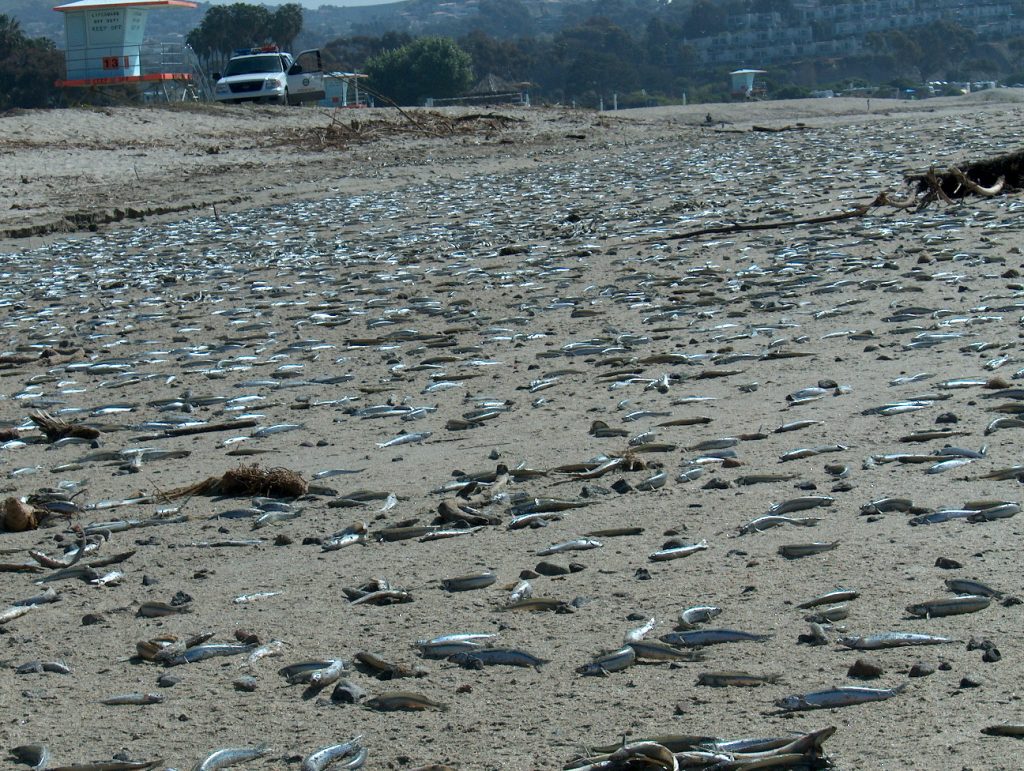 What are Grunion?
Like coyotes and mountain lions, grunion are part of Southern California's iconic wildlife. They are a species of marine fish found along the coast of California and are known for their annual mating rituals that occur at night from March to August.
"This is a natural phenomenon, and it's a pretty spectacular thing to see in the middle of the night," Martin said.
Martin said she was drawn to studying grunion after she did research regarding tide pool fishes during her doctoral program.
"I'm interested in fish that come out of water," Martin said. "People in my doctoral program said 'if you're interested in fish that come out of water, you should look at grunion.' So, they just kinda drew me in."
Grunion only live about three to four years, according to Martin, but their main draw is how they choose California's sandy beaches for their mating and fertilization rituals.
The grunion's spawning season is March through August, but the best months to observe their spawning are April and May and into June, according to Martin.
While the lore of "grunion runs" — their spawning rituals — have become part of California's wildlife imagery, Martin said the number of grunion showing up to the runs has noticeably decreased.
"What we have found recently is that [there is] more of the smaller runs and fewer of the larger runs," Martin said. "What everyone wants to see is one where they're just covering the beach all over the place. But that is very rare, that would be two percent or so of the runs that you would see be big like that."
Sherpa said he grew up watching grunion come up onshore in San Diego.
"The beaches were solid grunion," Sherpa said. "You couldn't see the beach because there were so many."
Sherpa worked at Torrey Pines State Beach from 1988 to 1991 and then Doheny State Beach from 1991 to 2013. In his time as a ranger, he created Grunion Night, a local event where people could come and observe the grunion run. Although he retired in 2013, he is still involved in educational initiatives regarding grunion.
Sherpa said he noticed a decline in the grunion population when two years ago he went to observe grunion at Doheny State Beach.
"The last time I went to see a grunion run was two years ago, and it was a disappointing run," Sherpa said. "It might've been a bad night."
In his experience as a ranger, Sherpa said he only had one year when the grunion didn't come on time to his Grunion Night at Doheny State Beach.
"This one night in 2002, the grunion came 15 minutes after everyone left," Sherpa said. "For 10 years in a row, the grunion had never not shown up."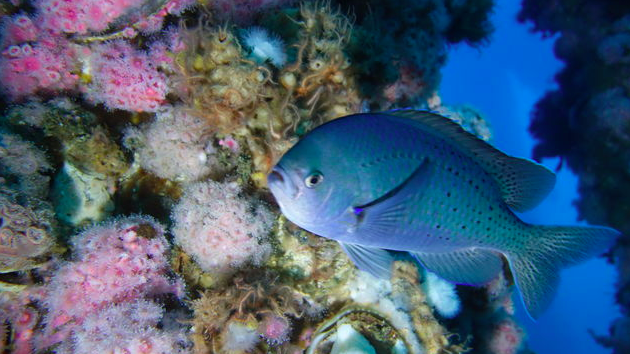 Climate Change
One of the main reasons why the grunion population has declined recently is due to rising water and air temperatures along California's coast, Martin said.
"If you think about if their eggs are on the beaches, then they're actually responding to air temperatures as well as to water temperatures," Martin said.
Martin said her research shows that grunion have begun to move up north, near the San Francisco Bay. This is uncommon because grunion have traditionally enjoyed Southern California's warm waters.
Martin said the temperatures of the sand on the beach are much higher than what they have been known to develop in, but the grunion have adapted.
"They're now able to develop at these higher temperatures, but they don't do as well," Martin said. "Even just the air temperatures are a problem for them while they're developing."
The warmer waters have caused some of the grunion to come ashore in beaches as north as San Francisco Bay, according to Martin.
"There are these warm water pulses that sometimes come up … so they ride those," Martin said. "Then they get in northern California, [where] the outer coastal waters are still cold. But, if they get inside a bay like San Francisco Bay — [which is where] we're finding them now — that's warmer and that's kind of a refuge for them."
The El Niño, a common warm water pulse, has had an impact in grunion moving north, according to Martin.
Despite that, Martin and Sherpa both said El Niños have been beneficial to grunion.
Martin said grunion, as warm-water fish, like El Niño.
"They like El Niños, which most fish don't in this area," Martin said. "But we'll see if that holds up into this year."
Martin said 2017, which followed an El Niño storm, was a "very good" year.
"It was one of our best years [in recent times]," Martin said. "It was more like 10 years ago."
Sherpa said he witnessed the grunion and El Niño connection in 2005, but it was not a pretty sight. In 2005, the warm-water phenomenon attracted "thousands" of grunion but also created a sandbar at San Juan Creek, leaving much of the grunion washed ashore.
"It left thousands of grunion stranded," Sherpa said. "It was a really sad sight."
Habitat Destruction
As grunion have looked for safe water temperatures, they have encountered a bigger problem — habitat loss.
Sherpa said the rockier beaches of Northern California where they have settled recently have posed a threat to grunion trying to spawn in peace.
"Grunion are used to the sandy beaches," Sherpa said.
Martin said that even on sandy beaches, the grunion have battled erosion and loss of sand due to developments near the coast.
"There's a lot of habitat loss," Martin said. "That upper beach is where the grunion need to spawn. So there's a lot of places where we used to find grunion, but there's no room for them anymore. The sand is gone, so their spawning site is gone."
Martin also said that this has led grunion to go to public beaches to spawn and that has brought some human versus nature conflict.
"They're more and more likely to be in the public beaches because those are still pretty big," Martin said. "Then they have all the issues with high human traffic and high human use in public beaches."
Martin said she has an email list with local beach groomers who remove debris from beaches. Through that, she works with the beach groomers to ensure they do not interfere with the grunion.
"They're pretty good, very good about keeping off that area where the grunion eggs would be," Marin said.
Although Martin said her work with beach groomers has helped, she said it wasn't enough to combat human interference during grunion season. This has led to the creation of Marine Protected Areas (MPAs), where grunion are protected against people interfering with their spawning sites.
Sherpa said there are three different groups of people that visit beaches each year during grunion season.
"You have the groups that come to see them, the groups that come to take them to eat and groups that come to take them as bait," Sherpa said.
The group that comes for observation is able to come to visit the grunion during both open and closed season. Meanwhile, those that come to take the grunion face restrictions to what they can and can't do, according to Martin.
"What's interesting with the grunion is even though they are so vulnerable, they are also considered recreational fishery," Martin said. "So, during certain months, it's legal to take them, to just grab them with your hands if you have a fishing license."
Martin said some of the MPAs have restrictions that don't allow for people to take the grunion even during open season.
But Martin said she thinks the current restrictions are not enough. She said the rules for recreational fishing have not been revised since 1949, and there has been a big change in California's human population since then.
Martin said the closed season should be longer. Currently the closed season is April and May, but Martin wants to have it extended to June.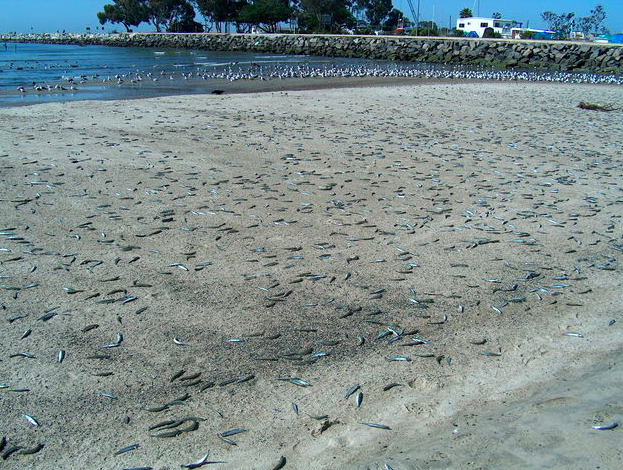 Friendly Neighborhood Grunion Greeters
Solutions like the MPAs and community awareness of grunion's problems have come from Martin and other grunion advocates' efforts with their open source data collection project called the Grunion Greeters.
According to Martin's informational website grunion.pepperdine.edu, the Grunion Greeters project brings together "hundreds of volunteers to study the spawning activity and habitat of grunion."
Martin said this data collection is "pretty straight-forward" and exists through the website.
"If anyone sees a grunion run, they can go to the website and put in what they observed," Martin said. "The runs are ranked as small or large depending on the scale."
The website contains primer information needed for a first-time grunion greeter. According to the website, a first-time grunion greeter needs to attend a training workshop before they sign-up for an observation night. During grunion season, the website gets updated with announcements and tips for grunion greeters.
Sherpa said he has attended some of Martin's data collection nights and offered his insights from his past experiences with the grunion in his ranger days.
He said not everyone at the Grunion Greeters nights took it seriously.
"A lot of people thought it was a hoax," Sherpa said.
For other attendees, Sherpa said the sometimes frigid nights by the beach would be discouraging.
"You'd be freezing cold and not seeing any grunion," Sherpa said.
However, Martin said the data collection process has helped and encouraged the study of grunion.
The website echoes Martin's sentiment saying, "this multi-year state-wide assessment program has increased public awareness and improved management efforts to protect and conserve wildlife and beach habitats."
Martin says grunion have learned how to adapt and have become accustomed to warmer temperatures.
Senior Callie Shelley, who has worked as a research assistant with Martin for three years, said a main theme in her research regarding grunion incubation is how they are able to quickly adapt to their environment — even in their embryo stage.
"Grunion are very adaptable," Shelley said. "I've seen in my research that they're able to stay alive in their embryo for up to 40 days due to a yolk reserve that delays their metabolism."
Shelley said people can start to help grunion by being aware that a decline in the grunion population is happening.
"I really want people to be aware of the decline," Shelley said. "There's a need to protect them because they're so valuable to Southern California. It's such an exciting thing to witness [grunion runs]. There's so much reason to protect them and study them."
Shelley added that although grunion are not part of a list of endangered species, Martin is advocating to get them on a list of endangered species.
Martin said people should think of beaches as animal habitats, not just recreational areas.
"People completely accept a kelp forest or tide pool or a coral reef as an ecological system that they want to recreate around and enjoy and not damage," Martin said. "I feel like that is kind of where we need to be with our beaches."
_________
Follow Bryce Hanamoto at @bryce_moto and follow Kelly Rodriguez at @KRodrigNews on Twitter