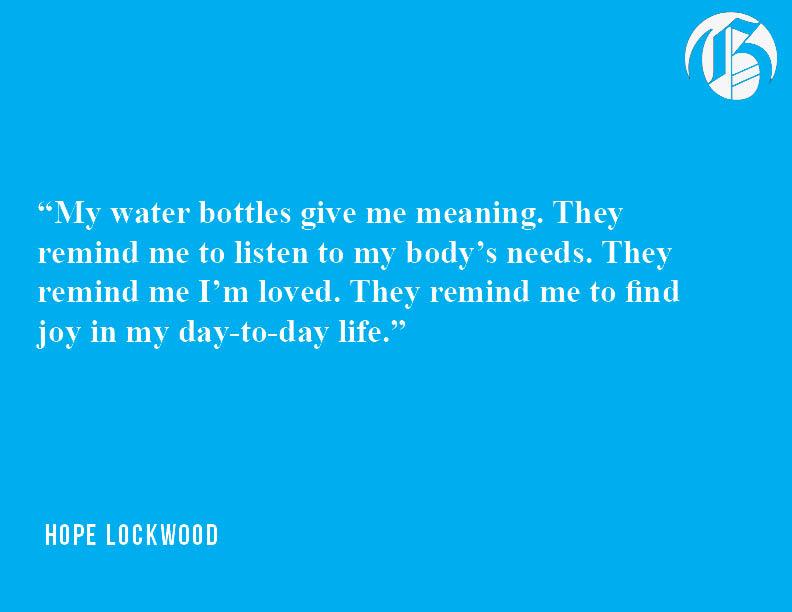 I have a tendency to hoard. Ticket stubs, socks, books, mugs, stickers, water bottles.
Despite my growing collection of water bottles — thanks RISE! — there are only two I rely on: My baby-blue Hydro Flask I got from a Pepperdine RISE event and a lime-green Hydro Flask I got in the REI Co-op return section for $15.
Both are covered in stickers from clubs, events and my friends' businesses, and they have their fair share of dings and scuffs from daily usage.
Like many, I affectionately refer to these as my emotional support water bottles. If I go anywhere without one, I panic. My throat parches, my vision blurs and I wither away from dehydration in the produce aisle of the grocery store.
OK, maybe that was a little melodramatic. Still, being without them intensely disrupts my routine. I once left campus to meet up with a friend and made it through Malibu Canyon before I realized I forgot my blue water bottle. Rather than be without my beloved water bottle, I drove all the way back to get it, making me over 30 minutes late.
My water bottles don't care what kind of day I've had. They don't care how many things I have to do or how stressed I am. They're always there.
The thing I love about water bottles is how they reflect the personality of my loved ones. You can tell so much about someone from the type, shape and decoration of their water bottle.
A gray, metal water bottle covered in stickers from a friend. A pride-themed plastic one. A RISE-branded one covered in stickers from Pepperdine-related events. A pristine purple Hydro Flask with a silicone boot protecting it from bumps and dings.
Each of the bottles I described is one that belongs to a friend of mine, and I relish how each one of them is just as unique as the person who carries it.
In high school, my friend shared some advice from his therapist — accomplishing everything in one day is hard, but finding one small task that we have to accomplish gives us meaning. For whatever reason, we cannot finish every little objective laid out on our to-do list, but we should each find a task that we have control over finishing.
No matter how hard the day or small the objective, finishing that task means we accomplished something.
For my high school friend, that task was making sure he brushed his teeth twice a day. For me, it's drinking 32 ounces of water a day.
Having ADHD means it can be hard for me to finish tasks and take care of myself. If I didn't have a reminder on my phone three times a day, I wouldn't remember to eat.
Having water bottles in colors I love instantly makes them more eye-catching. Decorating them with stickers from my mom or from museums, farmers markets and other events I've been to with friends reminds me there are people who care about me and who want me to take care of myself.
My water bottles give me meaning. They remind me to listen to my body's needs. They remind me I'm loved. They remind me to find joy in my day-to-day life.
If I can finish one bottle of water, even on my hardest days, I did enough.
___________________
Follow the Graphic on Twitter: @PeppGraphic
Email Hope at hope.lockwood@pepperdine.edu