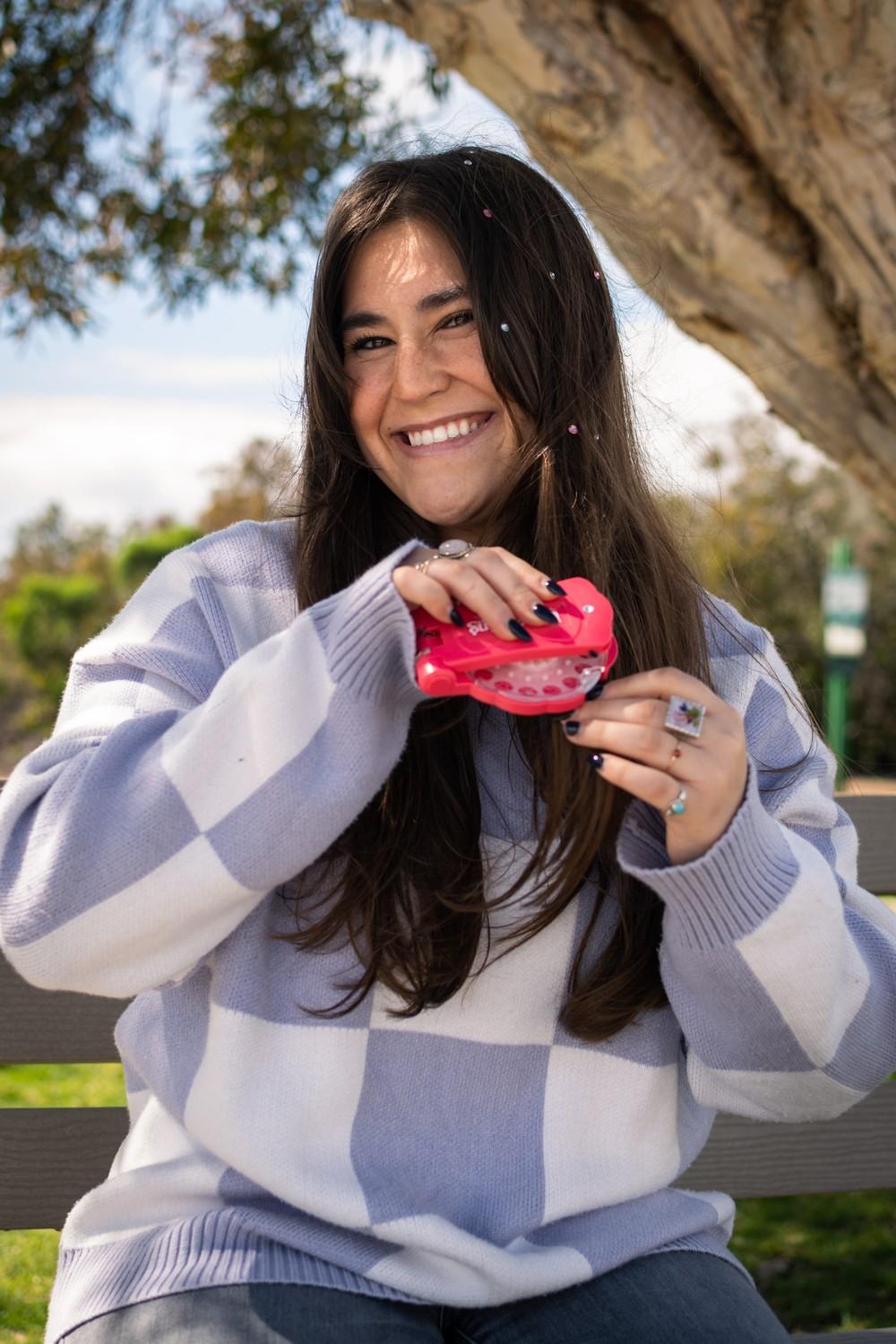 Senior Bella Jacobellis adds hair gems to her hair. This was a trend in the early 2000s that Jacobellis often still includes in her hair routine. Photos by Lucian Himes
It's 2008.
I reach for the car door with my Silly Bandz-covered arm after a long day of multiplication times tables and vocabulary words. I hear Taylor Swift sing, "Cause when you're 15 and somebody tells you they love you, you're gonna believe them," at maximum volume through the car speakers.
After I sit down, sporting my bedazzled peace sign shirt from Justice, I ask my mom if we can make Top Ramen for dinner and watch "iCarly." She looks back with her Meryl-Streep-in-"Mamma Mia!"-inspired curls, smiles and says, "Yes."
This was my childhood.
I, like many others, can picture the 2000s in vibrant detail. This nostalgia for Y2K is what I believe bonds my generation, Gen Z.
Shared nostalgia is something sophomore Nicolette Garcia said unites her with friends, as they spend nights connecting over childhood memories.
"We all go through these very unique evolutions that we can all relate to and also collectively laugh together at different periods growing up that were either very iconic or very cringey," Garcia said.
Group nostalgia is unique because multiple people are remembering the same things, just in different circumstances. Psychology Professor Janet Trammell said this group nostalgia often strengthens social connections.
"If you're sort of reminiscing with someone else, or a group of people — like your group of friends from high school — and you're like, 'Yeah, I remember that concert we went to,'" Trammell said.
Defining nostalgia
To trigger nostalgia in the brain, Trammell said the hippocampus and amygdala work together to form connections with the areas of the brain associated with the five senses.
"Something with a unique sound, smell or taste, or something like that, can trigger the part of a memory that it's associated with," Trammell said. "So that's possibly what's happening with nostalgia because it's [those senses] strongly related to that memory."
The amygdala is mostly associated with negative emotions but also some positive, which is why Trammell said nostalgia is often "bittersweet."
"It [nostalgia] tends to produce positive emotions when you're experiencing it," Trammell said. "But it's also negative in the sense that you're missing it."
Trammell said society hasn't always viewed nostalgia as a good thing, though. She said people originally used the term nostalgia to describe the feelings and symptoms soldiers felt when they thought back on times of war. This caused most of society to view nostalgia as a serious mental disorder up until the 1990s. A lot of this false thinking derives from the origin of the word itself.
Johannes Hofer coined the word nostalgia in 1688 — a combination of the Greek words "nostos," or homecoming, and "algos," meaning pain, according to his medical dissertation.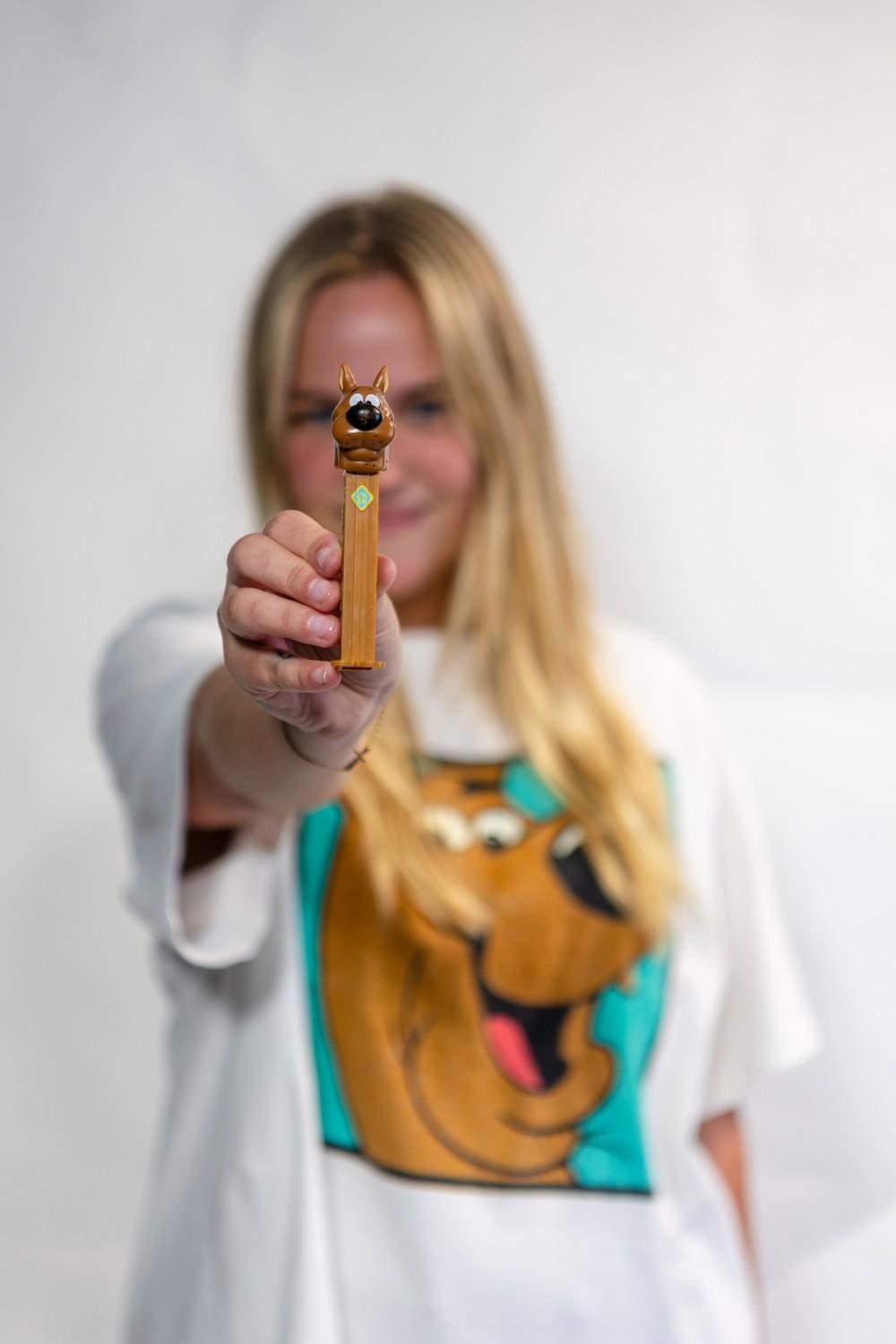 Gen Z's love for nostalgia
The group of people born between 1997 and 2012 are known as Gen Z — and junior Nina Adams said this is the generation to bring back all things Y2K.
"They're [things from the 2000s] things that we wanted to buy or wanted to wear when we were younger," Adams said. "But we weren't able to because we were kids, and now that we're older, we can go and buy and wear those things."
In 2020, Gen Z repopularized the 2000s aesthetic, specifically in fashion, according to the fashion magazine Byrdie. While people were stuck at home, Adams said she and the rest of Gen Z were reminiscing about simpler times.
"2000s fashion briefly had a resurgence because people were longing for a time when I think, at least for most younger people, [life] was better," Adams said. "The 2000s was the last time that a lot of us remember being easy and free of problems."
With technology infiltrating the lives of Gen Z, people have access to nostalgic songs, movies and items through the click of a button. Adams said this ease tempts her to repurchase things that remind her of childhood.
"I almost bought this Hello Kitty wallet the other day that I had that I bought on vacation in Hawai'i when I was like 5 or 6," Adams said. "And I was like, 'Oh my God, I want that back now.'"
Returning to places frequented in the past can also be nostalgic. For first-year Trevor Molnar, that place is McDonald's.
"I feel like this is gonna [sound] weird — but even just sitting in line, you can just smell the McDonald's PlayPlace," Molnar said.
Through easy access to nostalgic things and places, people like Adams and Molnar can reach back in time and find comfort in their nostalgia.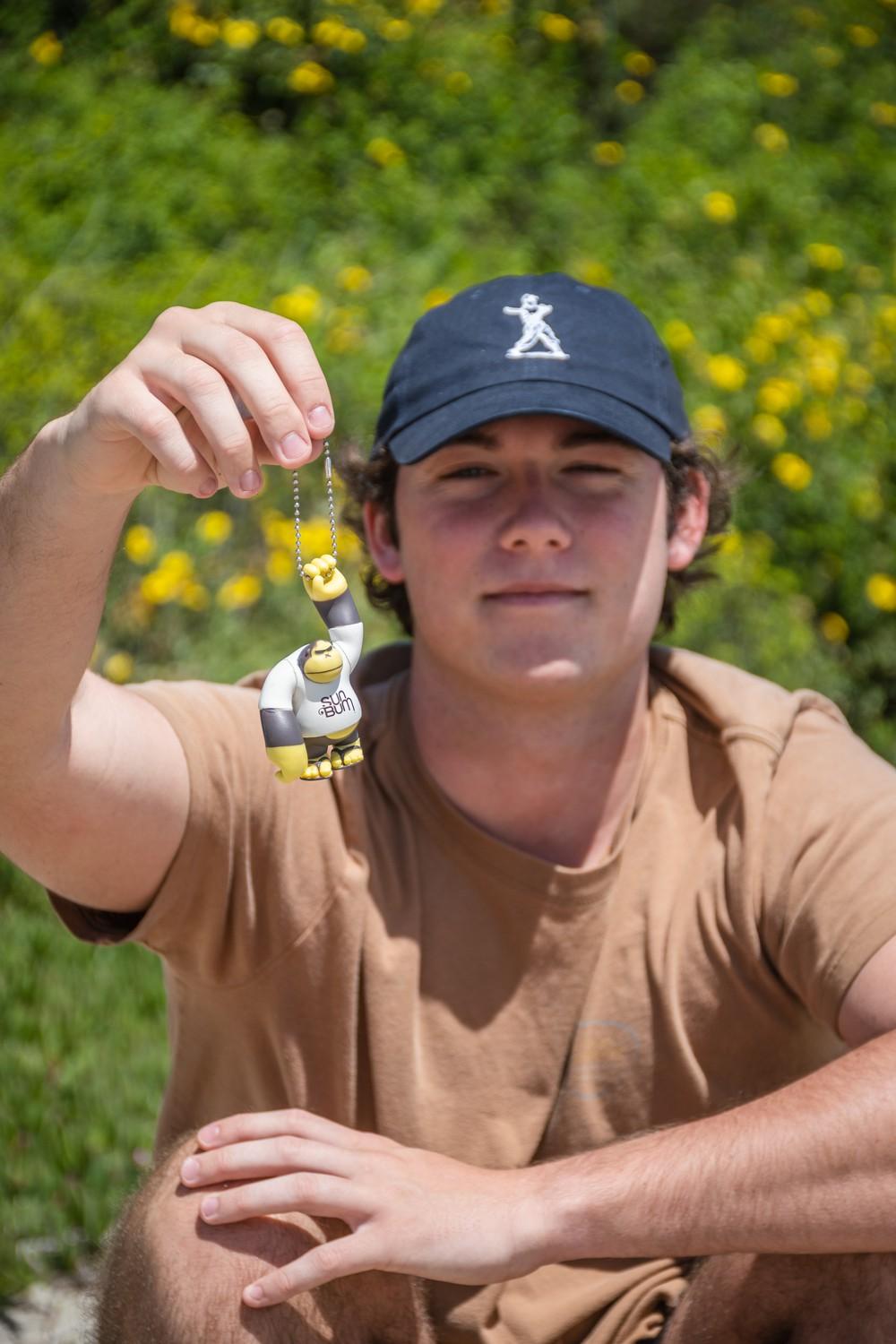 2000s nostalgia
Recently, senior Bella Jacobellis said she bought hair gems, and as soon as she put them in, her bejeweled locks took her back to the purple bedroom she grew up in.
"I feel like I'm transported back to my childhood," Jacobellis said. "And I wish I could be in that moment again because life is hard and crazy and it was so simple back then."
Adams said she also likes to incorporate fashion and beauty trends from the 2000s in her style today — with graphic tees, platform sandals, low-rise skirts, pants and brands like Paul Frank and Von Dutch filling her closet.
"I had this idea of who I was going to be when I was older based on the culture and vibes of the early 2000s," Adams said. "And even though it is no longer the early 2000s, I am still very into that aesthetic because that's what I envisioned for myself as a kid."
Silly Bandz, Wii, Webkinz, Club Penguin and Toys "R" Us are just a few things Jacobellis said filled her youth, but one that stands out the most is the Scholastic Book Fair.
Jacobellis said the memory of circling the books she hoped to buy in the catalog and walking around with a bag of coins feels like it was only yesterday.
"That was such a fun time because everybody's showing off what they got," Jacobellis said. "And you're like smelling pencils together and that was such a fun little time, and I feel like I can still see it."
Molnar, like Jacobellis, said he loves the feeling of nostalgia and holds on to things that remind him of the past. Growing up in Southern California, Molnar said he spent most of his youth beachside — explaining his obsession with the Sun Bum brand.
"I have the Sun Bum paddle board just hanging around anywhere I go, and I have the little Sun Bum gorilla in my car," Molnar said. "He's just dangling from my mirror, he just dangles and sits there, and I just feel like that always reminds me of when I was a kid."
Considering herself an inherently nostalgic person, Garcia said her TikTok "For You Page" is full of videos with nostalgic songs and images.
"I love looking back at it like, 'Oh my gosh, I remember having the weird little milk pouches, or the little timed multiplication tests that we have in third grade,'" Garcia said. "Or, 'Oh my goodness, I remember the Polly Pocket or the Barbies and the Monster High dolls.'"
While everyone is nostalgic for different things, one thing Garcia, Molnar, Adams and Jacobellis all agreed on is the realization that these nostalgic memories make them feel old — and the unfathomable concept that one day, they will be nostalgic for what they are experiencing now.
"When I think of nostalgia, I think of when I was in elementary school, and to think that I will be nostalgic for things that I had or have experienced when I was an adult is a very interesting concept," Jacobellis said. "I can't even think of what's going to be the subject of that future nostalgia."
___________________
Follow Currents Magazine on Twitter: @PeppCurrents and Instagram: @currentsmagazine
Email Lydia duPerier: lydia.duperier@pepperdine.edu