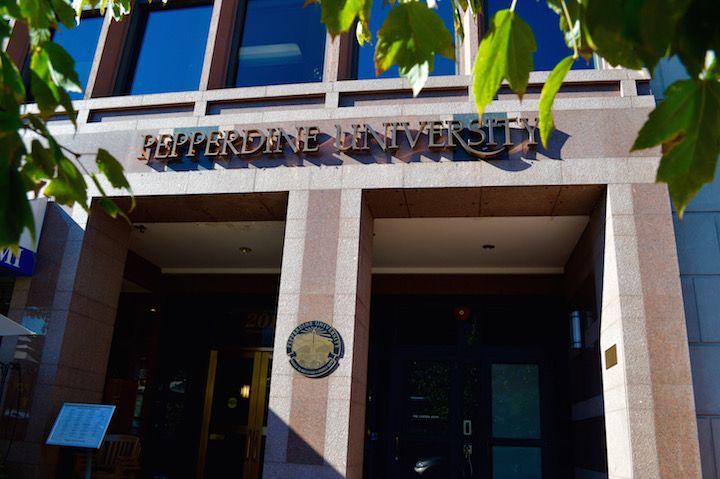 Photo courtesy of Grace Abiera
The sound of inaudible voices, crying infants and rolling suitcases filled the air. I sat at Gate 67 in LAX, awaiting for my departure. After taking the last sip of my Coffee Bean, I heard the very words I had been waiting to hear all summer. The announcer said,"Now boarding all passengers for Washington D.C."
I knew then, on Sept. 9 at 12:40 p.m., my life would change forever. I grabbed my passport, Kate Spade purse and carry-on luggage to board my plane.
I was leaving to spend the academic year "abroad," participating in Pepperdine's Washington D.C. internship program.
That may not sound so terrifying in comparison to students traveling to other international programs, but for a California-native who has never left the West Coast, it is terrifying.
The wider area, including D.C., Maryland, and Virginia, is identified as the DMV area. Another nickname D.C. locals love to use is "Hollywood For Ugly People." This nickname captures the cutthroat business of politics, similar to the Hollywood entertainment business, but without the glamour. Luckily for me, I get to call Washington D.C. my home.
I left my house for the airport in Burbank, California early and prepared for LA traffic. After arriving at Terminal 6 in LAX, I realized I'm the first student to show up. Half of me felt proud of my timeliness, the other half was nervous that I was in the wrong place.
Slowly, one familiar student after another started to arrive and my nerves relaxed.
We checked in our baggage and picked up our boarding passes with the help of Drake Schaneberg, coordinator of Office Operations of the Malibu International Programs Office.
He gave us instructions about our departure, while also telling us about his regret of not attending the D.C. program at his time at Pepperdine. He told us a little about the D.C. house, asked us about our internships, and made sure to tell us what a great year it was going to be. His excitement for our journey started to rub off on me, suddenly my anxiety turned into enthusiasm.
He gathered us in a huddle and, in true Pepperdine fashion, sent us off in with a prayer. I said my goodbyes to my parents and boyfriend, which was much more difficult than I had anticipated, but I knew that the journey ahead was worth the goodbyes.
The other students and I had time to get acquainted and share our plans for the year. It was comforting to know that I wasn't the only person who didn't know who my roommate was, or spent the summer struggling to the find the perfect internship. I realized then that I was not alone in this.
I lucked out with an aisle seat for my six-hour flight to Reagan National Airport. After finding out I would have to pay a ridiculous $31 for wifi access, I wondered what to do with my time.
I looked around at the other passengers. To my right was a family with two infants, one whom I had staring contests against to pass the time. To my left were two older gentleman, whom I could tell were frequent flyers, one who had kindly offered to buy me a sandwich. I spent most of my flight writing this article and secretly hoping someone would reenact the airport scene from "Bridesmaids."
I can't think of any other word to describe my feelings other than excited. I'm excited to live in a new city, excited to start my internship with the Reporters Committee for Freedom of the Press, and excited for not only the D.C. students, but for all Pepperdine students starting their journey abroad.
__________
Follow the Graphic on Twitter: @PeppGraphic