Photos by Ali Levens
What was supposed to be a two-day tournament at the Raleigh Runnels Memorial Pool turned into third-place finish at the condensed version of the 10-team Malibu Invite. The two visiting Division-I teams, California Baptist University and Texas Christian University, challenged the Waves in the lanes.
Following an astounding victory, 217-66, at the PCSC Relays on Oct. 4 and a 60-66 loss at the home opener to San Diego State University, the Pepperdine Waves hoped to rise above the Lancers and Horned Frogs.
"San Diego State is a very good team and our goal was to race them hard," head coach Joe Spahn wrote. "We were more focused on the Malibu Invite during the week, as that meet is more traditional."
Air quality from nearby fires forced the meet to be postponed for athletes to compete solely Saturday, Oct. 12. The 8:30 a.m. start time did not deter the Waves Swim and Dive team from competing with motivation.
Sophomore Paulina Holmberg finished sixth in the one-meter dive with 204.70 points, followed by freshman Olivia Stotz with 172.05 points.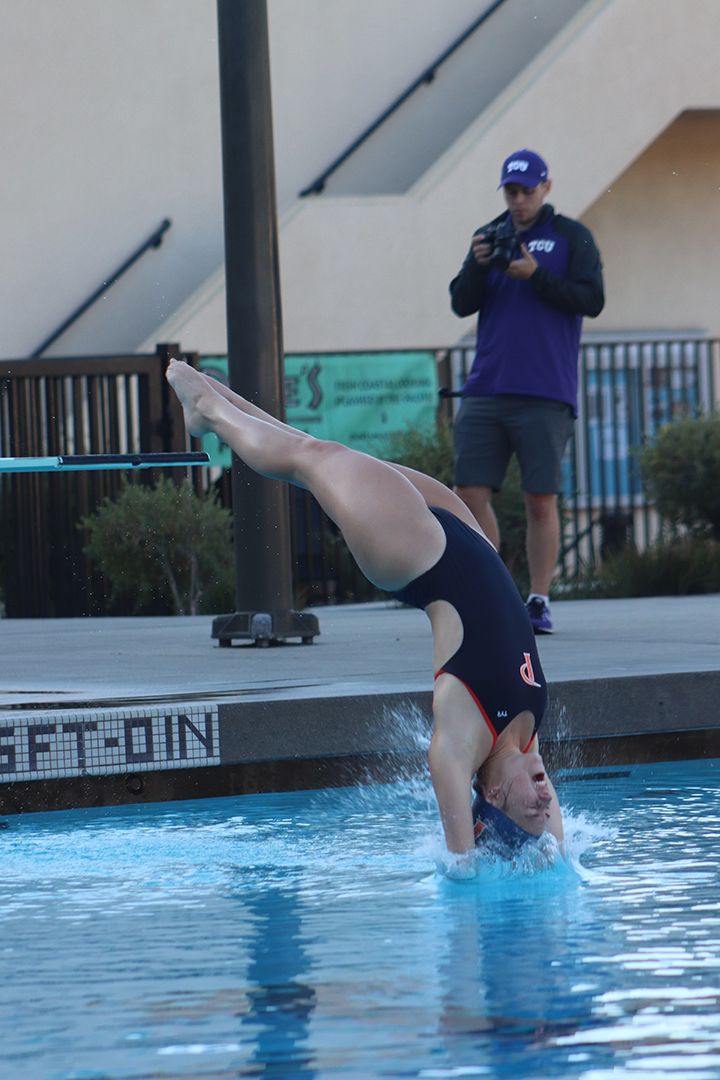 Freshman diver Olivia Stotz arches back into the water after completing a one-meter dive.
In the three-meter dive, Stotz placed fifth with 176.75 points. Holmberg trailed closely with 172.20 points.
This was Stotz's second time competing in the three-meter dive. She plans to do more difficult three-meter dives at future meets.
"My front two and a half on three meters [was my best dive] because I … went straight up and down," Stotz said, "It was cleaner than usual. I think I'm competing better on three-meter than I have on one-meter."
The swimming portion took off at noon. The Waves' first medal of the day was their second-place finish in the 200-yard medley with a time of 1:48.52, consisting of freshman Caroline Eckel, freshman Graphic staff writer Emily Morton, freshman Sarah Hamilton and junior Amy Griffin.
Pepperdine had two swimmers in the top five in the 200-yard freestyle race. Junior Sammie Slater tied for second (1:55.20) and freshman Mackenzie Hamlett placed fourth (1:56.93).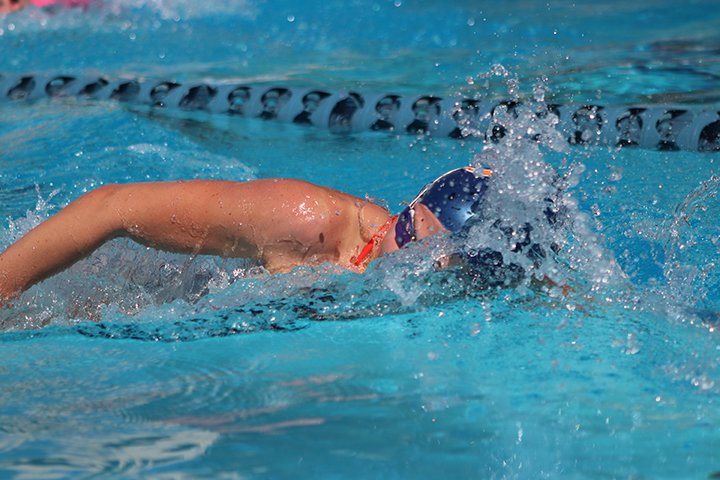 Junior Sammie Slater glides through the water in the 200-yard freestyle.
"[I tell myself] that I need to kick more," Hamlett said. "Then I need to push through it, especially in the longer distance races with those signs — it's just get to the next number."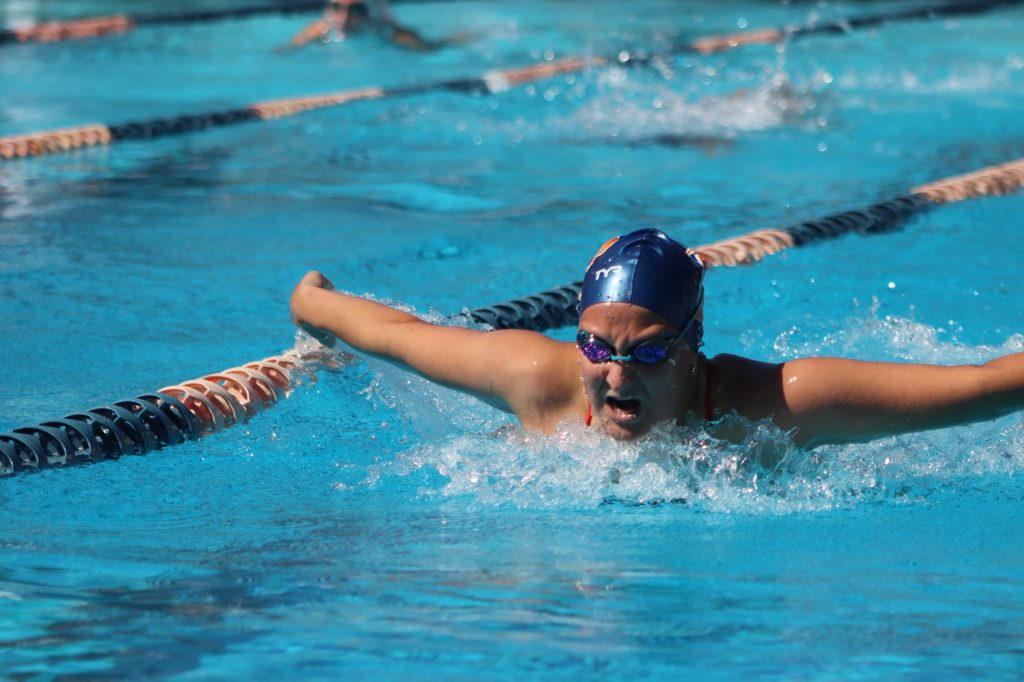 Freshman Caroline Anderson propels herself through the water during the butterfly.
Freshman Caroline Anderson earned fourth place with a time of 2:09.38 in the 200-yard butterfly. Morton also placed fourth in the 200-yard breaststroke with a time of 2:25.47.
"I focused on just different stuff," Morton said, "Making sure that what I'm working on in practice is influencing my racing here. Right now I'm really trying to have a focus on good under waters and good stroke technique. And just really, really trying to like race the person next to me."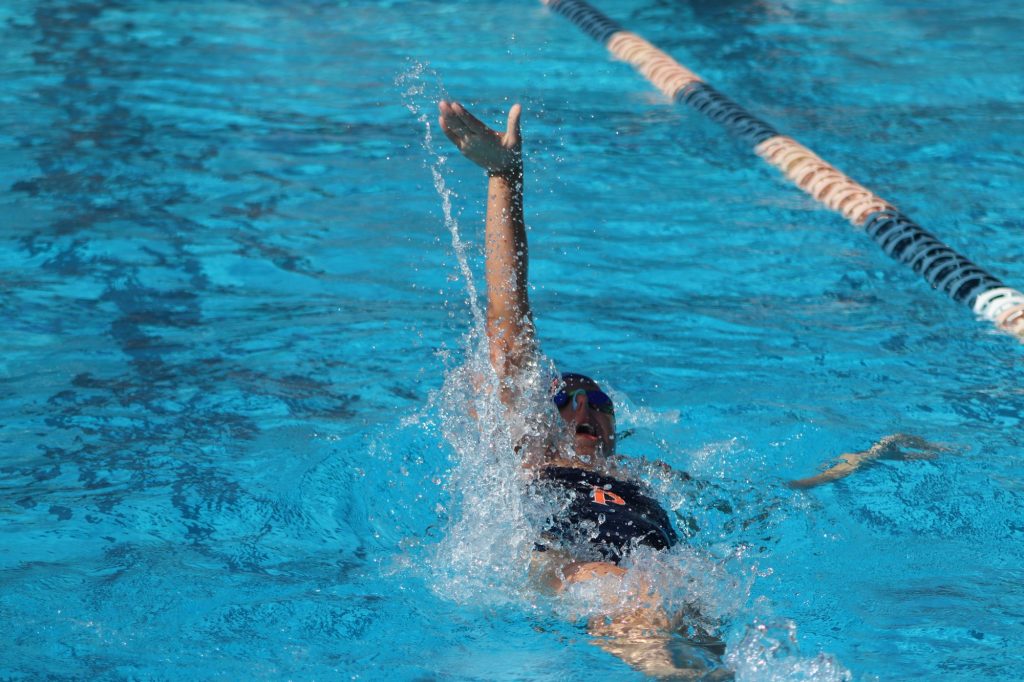 Freshman Emily Morton keeps her back stroke tight to her head in the 200-yard race.
Morton swam a 2:04.66 200-yard backstroke, barely missing the school-record time of 2:04.38.
"I was really close to school record," Morton said. "I'd like to be under; it was less than half a second, so to get that to get that next week would be awesome. I'm … making sure I'm keeping my stroke long."
Hamlett continued to place high in the freestyle races, earning fourth in the 500-yard with a time of 5:10.71. Next in the 100-yard butterfly, Hamilton's fifth-place finish was just shy of a minute, 59.31.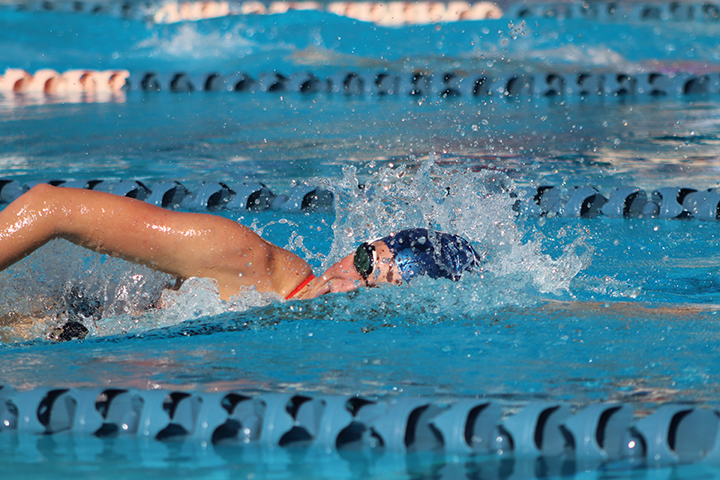 Freshman Mackenzie Hamlett tilts her head to breathe in the 500-yard freestyle.
"The girls swim really well in just about everything," Spahn wrote. "As a whole we need to sharpen up our speed, but that comes later in the season."
In the 100-yard races, Griffin's 53.23 freestyle was good enough for a fourth-place finish. Eckel and freshman Jasmine Williams placed fourth and fifth, respectively, in the backstroke. Eckel's 59.97 preceeded Williams' 1:00.02.
"My best stroke is [the] backstroke because, honestly, that's the struggle of the best times," Eckel said. "Plus, I love it so much. [The 100-yard] just seems like the perfect distance for me."
In the final individual race, the 200-yard IM, Morton grabbed her second individual silver with a time of 2:09.24. The 200-yard freestyle relay wrapped up the meet with a second-place finish, which included freshman Jenna Sanchez, freshman Nohea Lileikis, Williams and Griffin.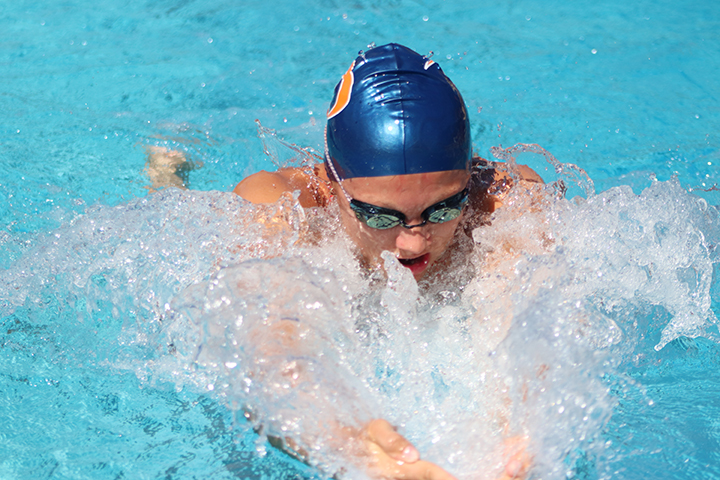 Freshman Jenna Sanchez swims the breaststroke leg in the 200-yard medley.
Of the three D-I teams, the Waves received third place with 148.50 points, falling short to winner TCU and runner-up Cal Baptist.
"I was very pleased to do so well," Spahn wrote. "We were not focused on the score of the meet. [We were] more focused on the races themselves."
Women's swim and dive's next competition was at San Diego State on Oct. 18. They fell to both Boise State University 43-252 and the hosting school, 80-207. The next day, the Waves posted a loss against the University of San Diego, 113-185.
Catch the Waves in action next Nov. 1 at the Cal State East Bay meet in Davis, California.
____________________________
Follow The Graphic on Twitter @PeppGraphic
Contact Ali Levens: ali.levens@pepperdine.edu