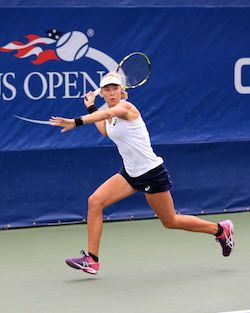 Photo Courtesy of Bill Kallengberg
After making waves last season by finishing in the NCAA quarterfinal, Pepperdine Women's tennis already looks impressive heading into this year. Especially since one of their two newcomers just completed her second week of college by finishing the U.S. Open Juniors in the round of 16.
Ashley Lahey, a freshman from Hawthorne, California, attended one week of classes before heading to New York to compete in the tournament.
"There were hundreds of people watching our matches and the atmosphere was incredible," she wrote in an email, detailing her first Grand Slam experience.
"Being an American, I had the crowd on my side in every match, and being in that kind of an environment is amazing. I love playing in front of crowds, but this was a whole new level."
The unconventionality of her freshman experience doesn't stop there: Lahey is just 16-years-old. After an ankle injury put her off the courts for some time, she had more to give to her academics and found herself ahead of the normal track in school.
Lahey does not feel behind compared to her classmates, however. "Tennis has forced me to mature very quickly,"Lahey said, "I don't have trouble keeping up with other 18-year-olds because tennis has forced me to act like an 18-year-old since I was 12. My coaches have always enforced that we act professional, mature, dignified and respectful at all times."
As a native of Boulder, Colorado, Lahey has been consistently motivated to do whatever is necessary to improve her tennis game. Her parents recognized her talent and passion and moved their family to California after she attended a training camp at age 12 at a USTA (United States Tennis Association) facility.
"Moving to California was the best decision for my tennis [career]," Lahey said. "Southern California has the best tennis players and training centers in the country, and Colorado has very few players. I had to move out here if I wanted to give myself a chance at getting to a high level. I know I wouldn't be here if I hadn't made the move."
She also recognizes that she could not have made such a move without the support of her family.
"I am unbelievably lucky and blessed to have parents who cared enough about my dreams to uproot their lives to help me pursue them. I know that is really rare."
Lahey will be studying sports medicine at Pepperdine, where she plans to play tennis and attend classes for two years, if everything goes as well as she hopes. She then hopes to turn professional and give that her best shot, as well, before returning to school with more time to spend on earning her degree. It was the strong coaching, however, that convinced the hard worker to be a Wave.
"The reason I chose Pepperdine though, is because of the coaching," Lahey said, "Not only are they unbelievably knowledgeable about the sport, but they have so much passion, energy and enthusiasm. They genuinely care about us as individuals and want to help us get better."
The Waves had an impressive season last year and return many key players, including Sophomore Luisa Stefani who made it all the way to the NCAA final four in the spring. Lahey should be able to contribute a great deal to an already strong team, one that she is thrilled to be a part of.
"The girls are great. I love every single one of them and I can't wait to train and spend time with them," she said. "Having a positive environment is so important for training, and these girls are all willing to work their butts of and push each other to get better."
With contributions from newcomers and returners alike, it seems Lahey can count on an exciting and successful season with the Waves.
________________
Follow Erin Himes on Twitter: @enhimes