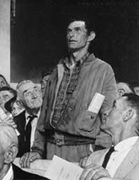 Proposed Freedom Wall would help advance Pepperdine's mission to pursue truth. Scheduled to be erected later this semester, the wall provide a forum for free speech.
By DeNae Thomas
Assistant Lifestyles Editor
Pepperdine is a private university. But that does not mean that students have to leave their First Amendment right to freedom of speech at the front gate.
Pepperdine promotes free speech through its affirmation statement: "Truth, having nothing to fear from investigation, should be pursued relentlessly in every discipline."
Student Government Association President Ben Elliott has been working to make sure that this freedom of expression and thought is not only allowed at Pepperdine, but encouraged.
Elliott said he wants to promote Constitutional liberty by adding a permanent "Freedom Wall" to Joslyn Plaza, on which students can post their views on issues ranging from the current political situation to cafeteria food.
"I think that students are waiting to be heard," Elliott said. "The wall is intended to promote intellectual discourse that I would like to see grow on this campus."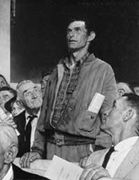 Three years ago there was a small, moveable cork board near the Rock that was used as an unofficial "freedom wall" by many of the non-Greek organizations on campus.
Then the newly found chapter of Amnesty International was responsible for the board, a resurrection of an earlier idea.
But, because it never had a permanent place on campus, the board became lost in the transition when the campus beautification project began.
"When I became involved in SGA one of my goals was to make sure that the freedom wall became official with a permanent home," Elliott said.
Plans for the Wall began in 2001 when Elliott, who was SGA vice president at the time, submitted a proposal for a more lasting establishment.
Current members of Amnesty International, a club on campus that fights for civil rights, also encouraged the development of the Wall.
Rabi Mehta, an officer for Amnesty, is excited for the neutral grounds the board will provide.
"I like the idea of a Freedom Wall because it can be a place where people can express views that may not be popular on campus," Mehta said. "It will be a good way to compromise and be able to express both conservative and liberal views."
After clearing the idea with the management committee, which includes President Dr. Andrew K. Benton, Dean of Student Affairs Dr. Mark Davis and Judicial Administrator Sharon Beard, the decision was made to put a 10-by-4-foot cork board on the empty wall outside of the bookstore, near Joslyn Plaza.
Although the design is still being finalized, Elliott said the board will most likely be framed with quotes from great freedom-thinkers like Martin Luther King Jr., Thomas Jefferson and Pope John Paul II.
"I am really proud of (the Wall) and can't wait to see it finally up," Elliott said. "I hope that student take advantage of it to question ideas, question classes and even question other students."
It will be open to all faculty, students and Pepperdine employees.
There are no requirements for authorship; however, a certain amount of responsibility is expected of students to avoid slander and obscenities.
Because of the very nature of the Wall, Elliott said administration will make the least amount of restrictions possible.
Chaplain D'Esta Love, who was the dean of students when the idea for a Freedom Wall developed, said she thinks the Wall will provide an excellent opportunity for students to express their views in a constructive and useful way.
"It is the perfect, non-threatening way to learn as a university to openly exchange ideas and address differences," Love said.
When the unofficial wall was up several years ago, Love said administration tried to monitor the content of the board as little as possible because of a California statute that prevents unlawful censorship of students in private universities.
The California state law, known as the "Leonard Law," was enacted in 1992 to provide free speech protection in addition to student rights under the U.S. Constitution.
The law prohibits private colleges from making or enforcing any rule that would subject a student to disciplinary action for engaging in expression that is protected under their First Amendment rights and the California Constitution's free expression provision.
The law, however, does not protect speech that is "threatening, intimidating or meant for harassment," therefore some censorship of the board is necessary.
Elliott said, overall, administration has been just as excited as he is about the opportunity the Wall will provide for an open forum on campus.
Students should expect the new permanent Wall sometime mid-semester.
January 23, 2003