Photos by Caroline Edwards

Former NASA astronaut's lecture was out of this world.
Jeffrey Hoffman presented "Vacations in space? A new era in Space Flight" to the Pepperdine community, Tuesday, March 27 at 4 p.m. The event was part of The Pepperdine Diane and Guilford Glazer Institute for Jewish Studies' Speaker Series, hosted by Professor Edward Larson.
The Surfboard Room was packed as students gathered to learn about the future of commercial space flight and space tourism from the perspective of a former astronaut. During the hour-long event, Hoffman talked about the history of commercial space flights and the challenges companies face, while recalling his time in space during his five flights in the space shuttle.
"I'm one of the lucky 560 people who have been up in space," Hoffman said. "I hope [space tourism] will convince people that we have an extraordinary planet and that we need to take care of it."
Hoffman became an astronaut in 1979 and made his first space flight as a mission specialist on the STS 51-D in 1985. Hoffman completed four space walks and five flights before he left the astronaut program in 1997, according to NASA. Since leaving the astronaut program, Hoffman was NASA's European Representative in Paris until 2001 and is currently a professor in the department of aeronautics and astronautics at the Massachusetts Institute of Technology.
"Someday people are going to be floating around the cabin, looking out of the windows, having the same views we had," Hoffman said.
Hoffman explained the history and future of space travel, while talking about Blue Origin, Boeing, Sierra Nevada and particularly Elon Musk's Space X.
"At NASA, failure is not an option," Hoffman said. "At Space X, failure is how they learn."
Hoffman told students about Space X's four failed attempts before they had a successful launch to show that space tourism is near, but not yet possible. He added that space tourism is not yet common tourism because common people can't afford it.
"Commercial space depends on people being willing to pay the money," Hoffman said. "I hope the price goes down so some of you will be able to go."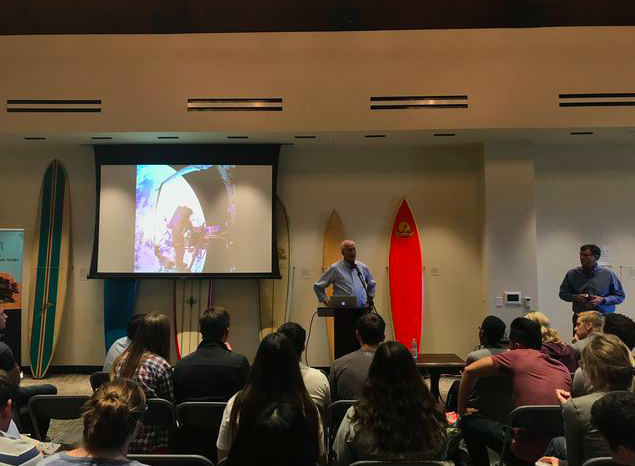 Although Hoffman doesn't think the price will go down soon for space travel, he remained hopeful about the future of space travel and shared why he thinks people will enjoy it.
"The experience is magical," Hoffman said. "I'm convinced that once people start to do this, you won't be able to keep people away. Things you could never dream of doing on the earth, you can do up there."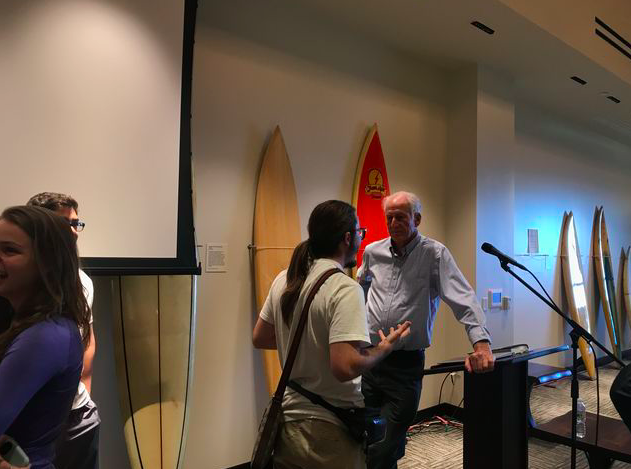 Students said they enjoyed the lecture and agreed that they wanted to go up in space if commercial space tourism becomes more possible.
"He was an incredible speaker, and he has so much experience," Junior Jesse Monroe said. "I wish that we could hear from him a lot more."
Freshman Ryan Dalforno agreed.
"I'm a really big fan of Dr. Hoffman," freshman Ryan Dalforno said. "I enjoyed his perspective from his first-hand experience of being in space, and I really enjoyed his perspective of someone who's been involved in the government side of things and [can look] out onto the commercial aspect."
___________
Follow the Pepperdine Graphic on Twitter: @PeppGraphic