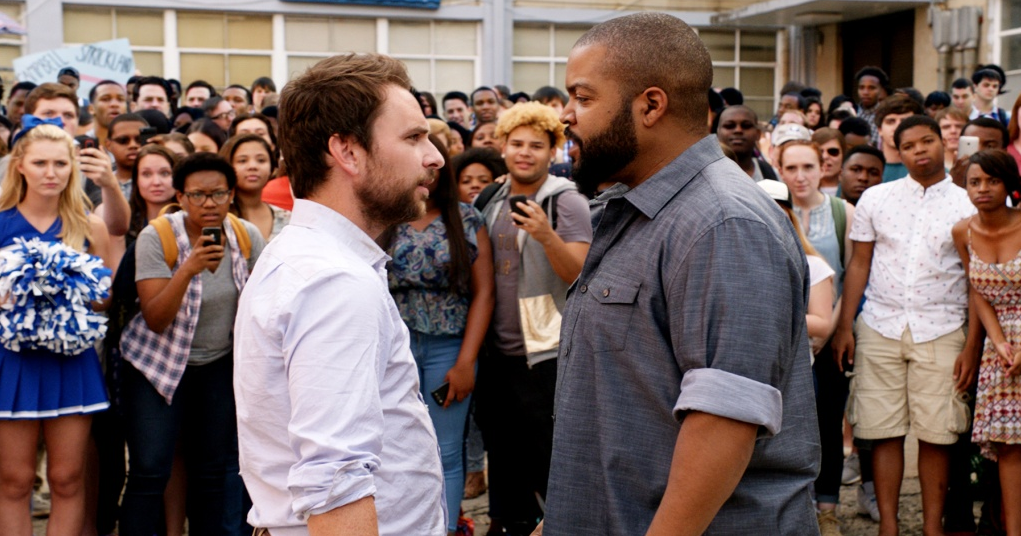 Photos by Caroline Laganas
Bursts of laughter punched through the AMC theater as Charlie Day and Ice Cube duked it out in a sea of cheering student bodies. After high school English teacher Andy Campbell, played by Charlie Day, accidentally got his fellow history teacher Ron Strickland, played by Ice Cube, fired, Strickland challenged him to a fight after school. The tension between the two teachers and chaos resulting from the last day of school and senior pranks led up to the painfully humorous right hooks and body slams.
Warner Bros.' new comedy "Fist Fight" screened a premiere for the press on Feb. 1 and held a press junket on Feb. 2 where the writers of the film, director and actors sat down for a Q&A session. The movie opens in theaters on Feb. 17.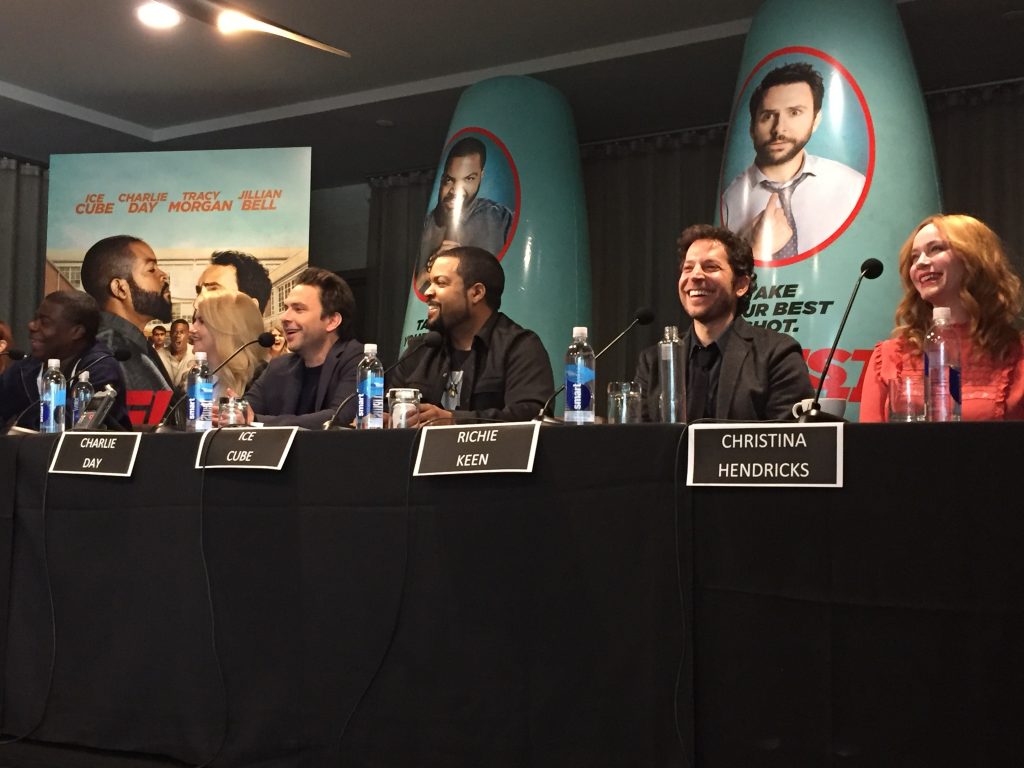 Ice Cube, Charlie Day, Tracy Morgan and Jillian Bell star in "Fist Fight." With a comedic star-studded cast, about 70 percent of the film followed the original script and 30 percent was improvised, said Richie Keen, the director.
"Fist Fight" was always R-rated in mind, the writers said. The film takes on the persona of a prison riot, which can be attributed to the rusty school and rambunctious students pulling outrageous pranks on the staff. It also did not hurt that the cinematographer worked on the set of "Cop Land."
The writers and Keen said they wanted the pranks to build the tension. As the movie progresses, the pranks continually push the limits and get harsher. From a mariachi band following around the principal (played by Dean Norris), to a horse on drugs galloping through the school, the tension led up to the battle between Ice Cube and Charlie Day.
"I've read a lot of scripts," Keen said. "I don't think I've ever laughed so many times out loud."
With all of the tension from the pranks and conflict building between Ice Cube and Charlie Day, the title of the film lives up to the fight scene sequence between the two teachers.
"These guys fought each other for eight days," Keen said. The other actors on the panel nodded and commented on how much effort the actors put into the fight.
"It's been over a year since we've filmed, and my legs still hurt," Day said.
In terms of training, both actors received pointers from professional UFC fighters.
"I did have a week of training because they had to show me how to make a fist without breaking my thumb," Day said.
As for Ice Cube, he cooly commented how his trainer actually picked up a few moves from him instead.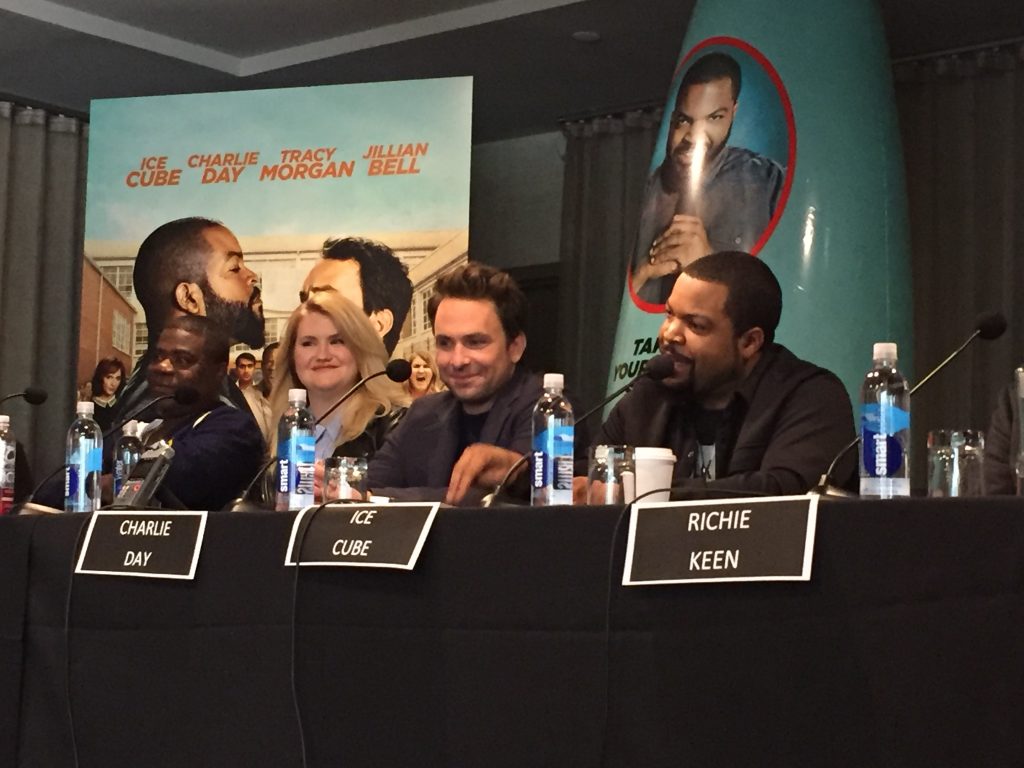 When the press asked the panel of writers if any of the them had been in a fight, they exchanged glances and laughed.
"I probably got the s— kicked out of me a bunch of times in school," Max Greenfield, who wrote the idea of two teachers getting into a fight, said. Greenfield said he attended public school in upstate New York where fights after school were a common occurrence. Despite writing the film, Greenfield is more well-known as an actor in his role as Schmidt alongside Zoey Deschanel on the sitcom "New Girl."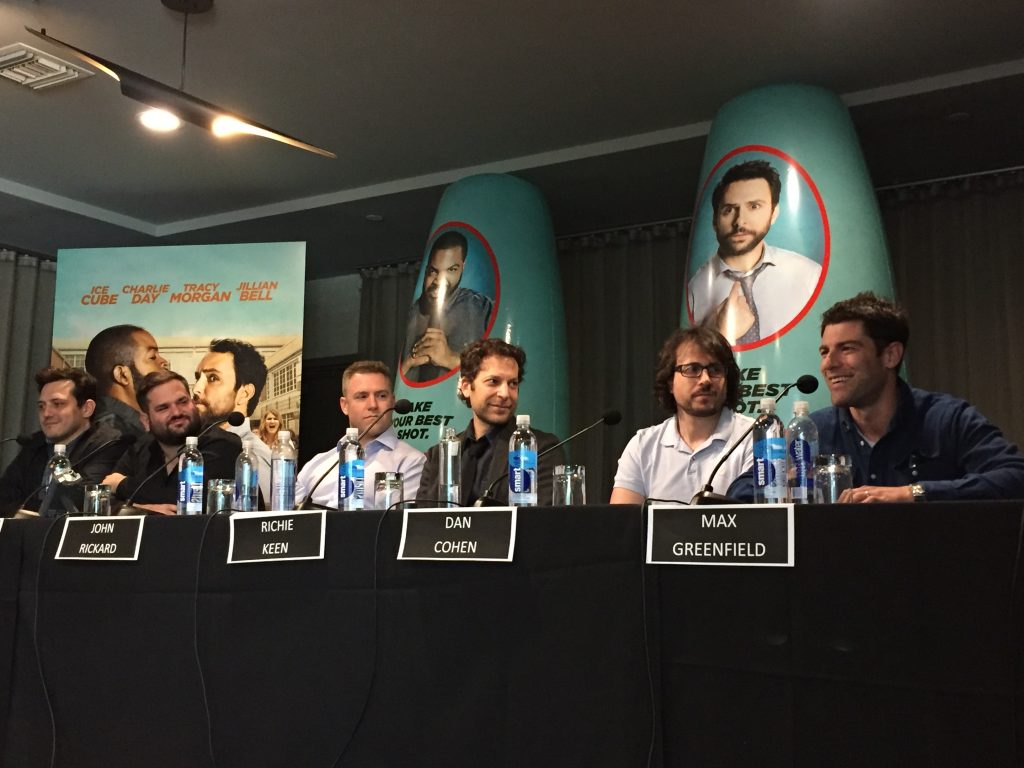 As for the Keen, he said he had never gotten into a fight before.
"I was like Charlie," Keen said. "The movie for me is a comedic exploration of what would've happened."
Tracy Morgan also appears in the film in his role as Coach Rawlins. This was Morgan's first film after a Walmart tractor-trailer crashed and overturned his limo bus in 2014. The comedian underwent rehab for speech, cognitive and physical functionalities and did not know whether or not he would ever be able to perform again.
"I never left," Morgan responded after a syndicated reporter asked Morgan what it was like to be back on screen. "Nobody can stop me; not even Walmart." The press room filled with laughter.
Ice Cube said everyone wanted to make sure there was a cool underlying message in the movie that focused on the school system and how two teachers deal with it. Ice Cube's character is a strict teacher who the students and staff fear. As for Charlie Day, his character tries to appease and befriend students.
"The overlying message is have fun and laugh," Ice Cube said. "This is a popcorn movie; all about the fun."
New Line Cinema told Keen he was the only director to ever get his first choices for actors. There were no second choices for the roles, Keen said.
"Directing a cast like this was effortless," Keen said.
Between the sucker punch pranks and comedic jabs, "Fist Fight" packs a punch of laughter for the audience to enjoy over a bag of popcorn.
___________
Follow the Pepperdine Graphic on Twitter: @PeppGraphic