Photos by Safeena Padder
Senior David Hutchinson won't be heading home to San Diego for Thanksgiving; instead, he will be adventuring to Kenya to film a documentary that will feature students at Made in the Streets, an organization formed with the purpose of rescuing children from living on the streets in Nairobi, Kenya.
Hutchinson got the idea for the documentary after he reached out with a generic Facebook post asking for ideas for his next film project. Pepperdine graduate and MITS intern Safeena Padder told him that Kenya had plenty of stories to tell, and Hutchinson seized the opportunity. The documentary will feature four Kenyans, one of whom was a street child who went through the program, graduated and now serves as the director of MITS. The other three will be older students in the program who want to share their stories, Hutchinson said.
"We picked [students] that we thought would be comfortable, willing to express themselves on camera and who might want the opportunity to share," Hutchinson said.
Padder has been in living in Kenya since mid-June and serves as a photojournalism intern and student sponsorship program coordinator for MITS.
"This documentary is about individuals who have experienced Nairobi street life, not an organization, not a mission, not a cause," she wrote in an email. "Our primary goal for this documentary is to show the deeply personal life of the people we often assign no more than euphemisms and sympathies."
Hutchinson leaves for Kenya on Nov. 16 and will be living there for two weeks, giving him 10 days to shoot the entire project. Hutchinson and Padder have created an Indiegogo fundraising page and promotional video for the documentary to fund the cost of travel, housing for Hutchinson and equipment for filming. Hutchinson plans to follow and interview the students about the meaningful things in their lives, as well as capture footage of the Eastleigh slums, he said.
"We want to use this documentary as a platform for them to express that and put that into the minds of a Western audience," he said.
The documentary will not have a narrator and will only come from the perspectives of the students being filmed. A lot of documentaries in Western culture also have a Western narrator talking from a Westerner's point of view, which doesn't really share the actual culture being featured, Hutchinson said.
"We think that there is a deficiency of good media content that comes from the cultural perspective that it is trying to represent," he said.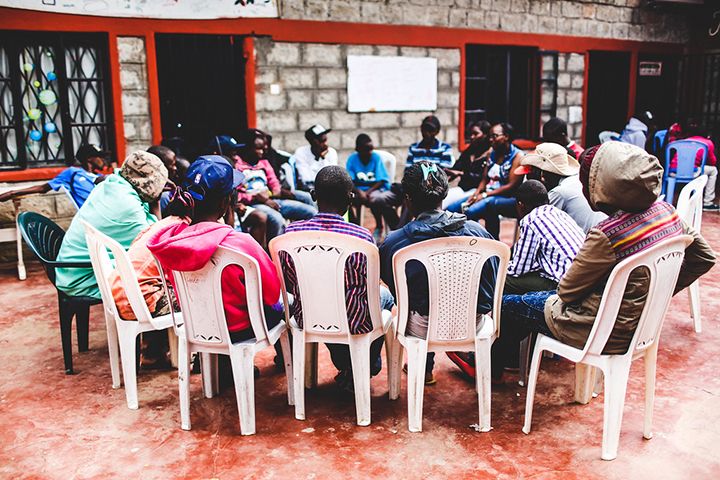 Cecily Breeding has been the U.S. Director of Development for MITS since 2012. Breeding first travelled to Kenya the summer between her junior and senior year, and fell in love with Kenya and her now husband Dusty Breeding at the same time. The two worked as volunteers at MITS before they both became directors of development for the organization.
Breeding and her husband are both excited about Hutchinson's project, she said.
"We're completely thrilled about it. We've never had a specific documentary and filmmaker come and stay at MITS," she said. "This is the first time someone has wanted to travel and do the documentary in Kenya."
The Breedings have been consulting with Hutchinson and connecting him with the MITS staff on the ground in Kenya. They have also been aiding him with travel preparations, publicity and guidance for the project, she said. Breeding believes that beautiful storytelling is priceless, and she is excited about the way the documentary will impact MITS.
The organization owns the Eastleigh Centre, which serves as the base of their street ministry and is located where the highest concentration of street children reside in Nairobi, according to the organization's website. The team working at MITS is comprised of Kenyans who want to serve by giving provisions and guidance to children living on the streets, as well as inviting children to get involved with the programs offered at the center. MITS also offers children ages 12 to 14 the opportunity to live at a farm in Kamulu where they will attend school and be provided for until they are 18 years old, according to the website.
Hutchinson said being able to tell their stories will be the most rewarding part of the project.
"How do I represent these people faithfully and truthfully?" he said. "You realize you have a responsibility to these people."
Hutchinson won the REELSTORIES Film Festival in 2015 with his film "Behind the Faces" in which he explored the concept of loneliness at Pepperdine. He said that through that process he felt strongly linked to his subjects and their respective stories.
"I became almost like the guardian of their story," he said.
He sees his present project as a means of opening up to other cultures and embracing the transformative experience that comes from living in a culture such as that found in Kenya.
"I want people to know that the whole point of doing this is to open ourselves to something that is not Western or American," he said. "It's to cut through the ethnocentrism that a lot of us unconsciously adopt."
Padder added to this sentiment, saying that the shift in perspective needs to be from sympathy to empathy. As a result of Pepperdine's mission to serve, the student body is often focused on tangible acts of service, when oftentimes it is simply a matter of understanding, she wrote.
"The way I see it, I think it's important that the Pepperdine community understand that service is not just a practice of doing and giving, but also of thinking and understanding," Padder wrote. "We cannot properly 'serve' others if we don't know them. A most vital missing link I see in the practice of service is empathy, not sympathy."
–––––––––––––––––––––
Follow Rachel Littauer on Twitter: @rachelitt23