Photos courtesy of Tim Cowie
The Pepperdine Men's Golf team finished in sixth place with a total of 857, 5-over the par-71 course, at the Royal Oaks Intercollegiate in Dallas, Texas, this past week. Sophomore Joshua McCarthy led the waves finishing in a tie for sixth place. Sophomore Clay Feagler notched two aces in the two-day tournament tying for 21st place, while junior Sahith Theegala fell close behind placing 24th.
The Royal Oaks Intercollegiate is set up a bit differently than other tournaments the Waves have competed in. Instead of having the team separated into individual groups throughout the course, all of the Pepperdine men were playing as a team in the same group.
"I thought this week was especially fun because we got to play with our teammates," Feagler said. "We had our doubts coming in about this format, but having your teammates around made it relaxing and created such a great atmosphere,"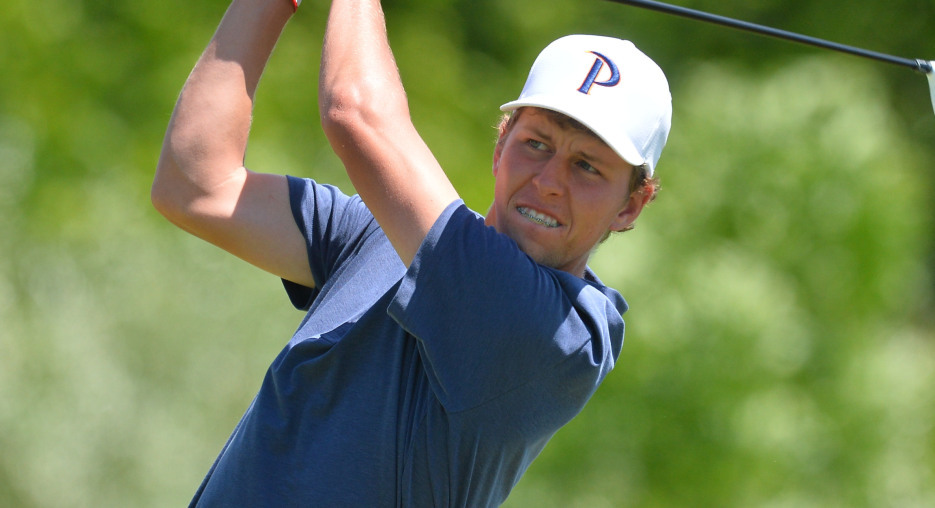 The first day of the tournament was led by McCarthy, who shot 4-under totaling 138 (68-70). He finished with eight birdies, five of which were in the first round.
Theegala had five birdies on the day and an eagle in the second round, ending the day in a tie for 11th place with a 3-under 139 (69-70).
Feagler started the first day off with a hole-in-one on the 186-yard fourth hole. His ace along with six birdies led him to rest at 36th place with a 1-over 143. The Waves were tied for sixth place with a 3-under 565 when the day concluded.
The momentum continued on day two for McCarthy, who notched 3 more birdies in his final round finishing with a 4-under 209. Feagler moved up on the leader board posting his second ace, this time on the eighth hole. The hole-in-one along with a birdie on the sixth hole moved him up to a tie for 21st place with an even par 213. Theegala followed with a 1-over 214, junior Roy Cootes tied for 53rd place at 222 and freshmen Austin Murphy finished 70th at 228 in his collegiate golf debut.
Feagler's two hole-in-ones were the highlight of the week for all of the Waves.
"Making those hole in ones with my team around was absolutely surreal. It felt like I just made a game winning three at the NCAA championship game. Everyone was high-fiving, chest bumping and almost trying to dog pile me," Feagler said.
TWICE AS NICE!@PeppGolf's Clay Feagler makes aces in consecutive rounds at Royal Oaks: https://t.co/kh9GDJt7Y7 pic.twitter.com/SunIC9iw54

— Golfweek (@golfweek) October 27, 2017
Unbelievable!! What are the odds?!?! So cool to share it with 4 of your teammates. We all went nuts, our screams heard across the fairways. https://t.co/phFWF7wqgB

— Michael Beard (@CoachMBeard) October 25, 2017
According to Theegala, this tournament will be one he remembers forever. "The hole-in-ones were the craziest things I've ever witnessed in golf," Theegala said. "Just to make one is a small miracle, and to make two in consecutive tournament days is literally unbelievable. I will never experience that in my life again, I can almost guarantee it"
Playing as a team in the same group was different for the Waves, but its impact was undoubtedly positive.
"I really enjoyed getting to be with the team more this event, and watching Clay make two hole-in-ones back to back days was ridiculous! The whole team went crazy jumping up and down and high-fiving," McCarthy. said "That sort of team chemistry was part of the reason I was able to feel comfortable out there and play well."
Up next, the Waves head to Hawaii for their final tournament of the fall semester. They will compete in the Ka'anapali Classic Collegiate Invitational from Nov. 3-5.
__________________________
Follow Sam Marlott on Twitter @sam_marlott