Photos by Judith-Daly Brister-Knabe
Mullin Town Square received a big helping of produce Tuesday, Sept. 17, thanks to the return of a popular tradition.
The Farmer's Market, hosted by the Office of Special Programs, began for the third consecutive year, featuring all of the old favorites as well as some new ones. The biweekly market started in 2017 and provides a platform where Pepperdine students and faculty have the opportunity to purchase homemade local crafts and foods.
"It connects us to the local vendors we have here," sophomore Maddy Espinoza said.
The market vendors sell everything from candles to ceviche and all are local.
"I make everything at home and I only sell to friends, family and at farmers markets and different events that are going around town," Rhonda Miller, owner of Sublime Lit Wicks, said. "It's kind of like a passion project for me."
Miller said she originally sold only candles, but this year she began painting and selling acrylic custom skateboards, which are on display at the farmer's market. She also sells similarly-painted clocks. These are more Pepperdine-friendly than candles, given that candles aren't allowed in the dorms.
The market offers kettle corn, tamales, ceviche and more.
"It's nice to come here and escape the Caf food," Espinoza said.
One vendor, Salsas Acapulco, has been coming for about a year and offers a variety of fresh Mexican food, including homemade tortilla chips and vegan ceviche.
On the other side of the aisle was another fresh Mexican food stand, Me Gusta Gourmet Tamales, which serves homemade tamales.
"The tamales — I had them once before — they're excellent and pretty good value," Debbie Spadaccini, a Pepperdine payroll specialist, said.
Sandy Pena, a vendor for Me Gusta, serves pork, beef and pineapple tamales to students and staff. Me Gusta is a Pacoima-based company about 45 minutes from Pepperdine.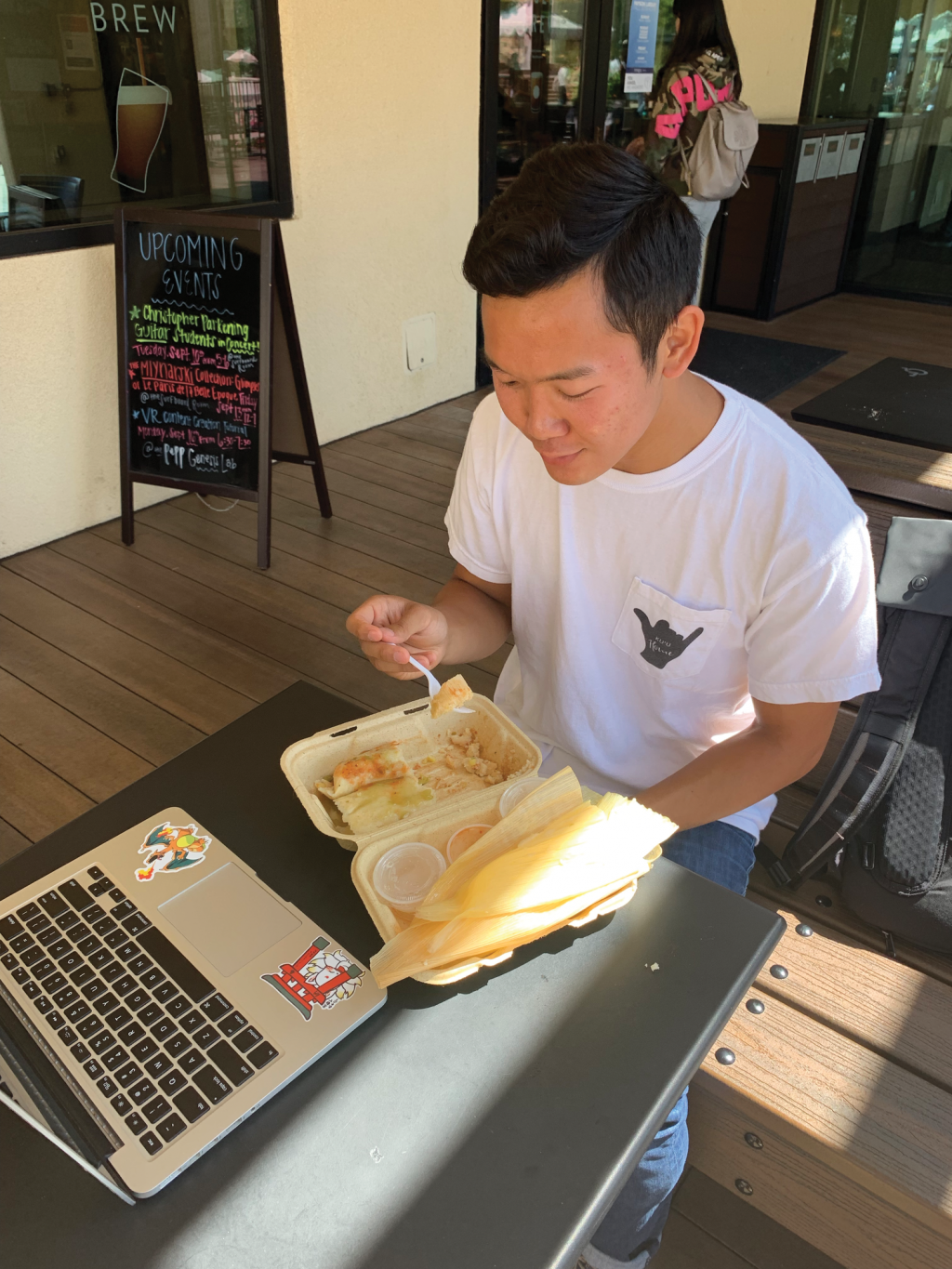 "I love these tamales; they're from my hometown so I want to support the business as much as possible," senior Harold Aguayo said.
Bringing the farmer's market to Pepperdine removes some of the burden on students when it comes to purchasing fresh food, Espinoza said.
"It's nice because it's easily accessible," Espinoza said. "I can't reach [the Malibu farmer's markets] and I have class."
The hours for the market are currently 11 a.m. to 2 p.m., every other Tuesday of the month.
"Usually I'm in class or I'm doing something else, [so] if they could come more often, that'd be great," Aguayo said.
The Office of Special Programs plans to continue the market indefinitely, wrote Special Programs representative Renee Ortiz, in an email to the Graphic.
––––––––––––––––––––
Follow Pepperdine Graphic Media @Peppgraphic.
Email Judith Brister-Knabe: judith.brister-knabe@pepperdine.edu