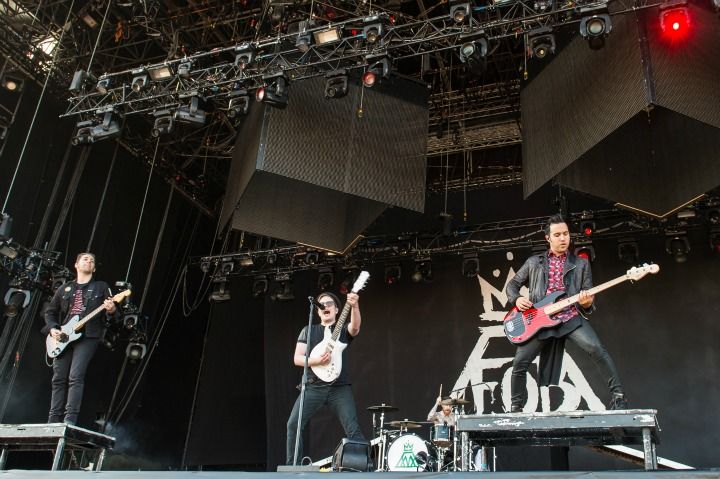 Photo Courtesy of Stefan Brending
Fall Out Boy's latest effort, American Beauty/American Psycho (ABAP), although not the best of their catalogue, is a solid offering. It continues in the line of their most recent album "Save Rock And Roll" in almost completely avoiding their trademark 2000s pop-punk sound, only instead of a diverse array of genres it favors a heavily electronic background.
ABAP therefore succeeds in keeping up with the pop sound of the decade while making prominent use of lead vocalist Patrick Stump's signature croon. Lead guitarist/backing vocalist Joe Trohman also has a large role in the album, being responsible for the keyboards and programming, although his guitar is only seldom prominent. For the most part, the rest of the band (bassist Pete Wentz and drummer Andy Hurley, both of whom contribute backing vocals) appear to have less of a leading role, and more of a role in creating layers to be mixed into the sonic melting pot. Unfortunately, however, their role is largely overshadowed by the prominent electronica favored in the album. Encompassing FOB's signature catchiness in the form of poppy, dance-esque beats complemented by the occasional switch from conventional drums to 808 electronic drums, ABAP will have the listener's head bobbing and chest pulsing to the rhythm throughout the album.
The opening track, "Irresistible" immediately grabs the listener's attention with a horn hook — unusual for FOB, but certainly welcome. The title track preludes the catchiness of most of the album. "Centuries" establishes itself as an epic battle cry and shows both lyrically and musically that FOB is not willing to give up its relevancy so easily. "The Kids Aren't Alright" has a melody and vibe reminiscent of other big names in the radio-rock world, such as The Killers and Foster the People. However, from there the album becomes complacent with the sound it has established and continues to milk the E-minor, dance-rock sound for more than it's worth, and begins to feel like a party in its winding down stage.
Although there are moments of inspiration from tracks 5-10, it isn't until the final track, "Twin Skeleton's" that the tempo picks up. In the vein of their 2013 hit, "My Songs Know What You Did in the Dark," "Twin Skeletons" has a similar key and song structure, complete with a signature FOB dark lyrical twist.
Overall, although not terribly original, ABAP shows that FOB at least wishes to remain relevant in the eyes of their fans and the general listener. Are they — or will they be — successful? Their music video for "Centuries" currently has 17 million YouTube views after only three months. For the time being, the answer appears to be yes.
***
Rating: 3 out of 5 stars
Highlights: "Irresistible", "Centuries", "Twin Skeletons" (Hotel in NYC)
***
Follow Aric Crowell on Twitter: @ariccrowell