Infographs by Monica Avila and Kylie Myers
A new dating series functions as a resource for men at Pepperdine to learn more about and discuss dating. The first event was held as a Convo on March 16, and the remaining two events will be April 5 and April 12 at 6 p.m. in the PLC 125, though not as Convos. The series will close with encouraging conversations about dating, and all are open to both males and females.
The team also conducted a dating survey among both men and women, suggesting that dating concerns are not being misidentified or are absent on campus. The survey was distributed primarily to members of Surf Convo and students in the Business Division electronically through Facebook and emails. Furthermore, there were 145 respondents with 90 being women and 50 men.
"[The survey results] tell me that there is a population that wants to date, but for whatever reason, something jams up the gears here at Pepperdine," Smith said.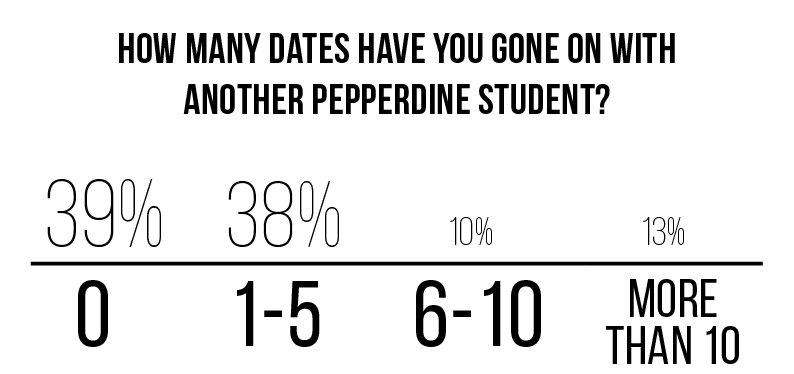 Director of University Ministries Steve Smith, Professor of Sports Medicine Holden MacRae, University Church of Christ Youth and Campus Minister Dusty Breeding, Assistant Professor of Decision Science Rob Shearer and Director of Convocation Gus Peterson wanted to explore the nature of dating on campus and help lead men toward achieving characters of faith and how that connects to pursuing romantic relationships.
Smith said they created the series with the intention of breaking the negative stigma that is attached to dating and giving male students a baseline understanding of how to approach dating.
"I would love to start a really healthy conversation about why the dating culture at Pepperdine is the way it is among students, both men and women," Smith said.
The first event introduced how men should approach the basic steps of dating, including advice for picking who they would like to date and the language they should use to ask someone on a date, Smith said.
Junior Monica McGinty said she thinks the series is a good idea because of "the skewed view of dating at Pepperdine."
"Dating in general [at Pepperdine] is either 'you're not' or you're in a serious relationship, so I think that it sounds interesting and could be helpful," McGinty said.

The idea emerged from conversations MacRae, Smith and Breeding had over the course of the past several months.
"We would go on walks once a month and we would walk, talk and pray, walk, talk and pray — then that's when we asked Gus Peterson and Professor Shearer to join us," MacRae said.
MacRae said they questioned the dating culture at Pepperdine, then asked for direct feedback from women, many of whom agreed that there was a lack of motivation to date from the men at Pepperdine.
"I've talked to some of the women in my classes about this issue of, 'What does it mean to be a man of faith in the 21st century?' … And that was where the conversations started," MacRae said.
Smith said some of the men on campus began coming to him with questions also.
"We had a lot of one-on-ones with guys saying, 'How do I date?' and 'How do I go about dating?'" Smith said. "We're not experts on it, but we can just say, here are some basics of dating."
The survey responses from the women on campus reassured the series leaders that this stigma is not just assumed, but a campus phenomenon, Smith said.
"It was fascinating to see how consistent the results were," he said. "One hundred-fifty women all [responded] by saying: 'Ask me on an actual date, be bold, and be clear with your intentions.'"
Although the request is simple, the faculty leaders also recognize the pressure and intimidation involved with asking a woman on a date. Smith said part of the issue is men's fear of rejection.
"Where you have a culture that's starved for dating, there's going to be more chatter about it," Smith said. "It's a small campus, so the risk of rejection, plus people knowing about it, is a little higher for guys here."
Juniors Chandler Blanchard and Aaron Barnett said the concern of rejection is a major deterrent.
"I think guys are more afraid of getting rejected," Blanchard said. "Our school's so small that once you meet someone, you see them every day. So if you ask someone out and you get rejected, [the result] would be brutal."
Smith said there is also an assumption that men and women who date at Pepperdine are looking for marriage.
"Anecdotally, I hear that people date to get married, or they don't date at all," Smith said.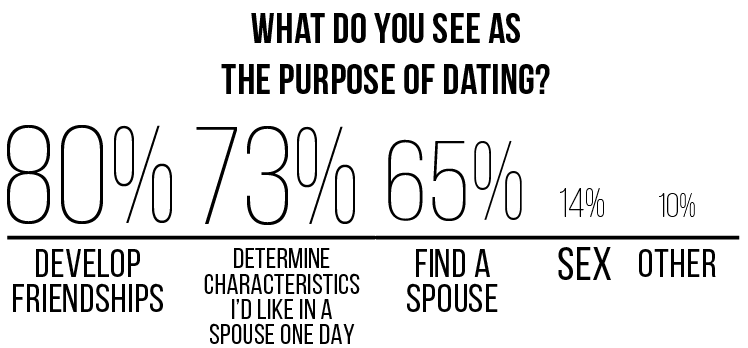 Barnett said men often feel like women are searching for "ring by spring," which can be intimidating, even though Shearer, who created the survey and collected the data results, said the "ring by spring" idea isn't as big of a factor.
"It's not about marriage, but more about [the question]: 'Do other people find me desirable?'" Shearer said.
Regardless, the creators of the dating series hope it will help men ask questions about dating, while also questioning the roles both genders play in the process of finding someone to date, according to Smith.
"One of the hopes is to embolden them," Shearer said. "[We want] to let them know that their batting average is gonna be pretty good here at Pepperdine."
________________
Follow Vanessa Dillon on Twitter: @v_nicoledillon