Photos by Terra Atwood
Junior Maude Shepherd and senior Andrea Barrera are developing a renewed sense of empowered unity among women by creating the Women Helping Empower Each Other Facebook group.
The Facebook page seeks to provide a safe platform for sharing inspiration, encouragement and joy as well as discussing issues of sexism, gender, health and support.
"I thought this could be a place where people could openly share their beliefs and openly empower each other and encourage each other," Shepherd said. "This page isn't just for political views, concerns, or complaints – it's for empowerment."
Barrera said the idea for the group traced back to her bringing up an idea to bring a women's empowerment movement to campus this spring. Working together in the Pepperdine Volunteer Center, Shepherd and Barrera started talking about their shared passion for feminist-inspired movements.
"When the phenomenal global women's march happened, we could not help but discuss it at work on Monday morning," Barrera said. "What really fired up our conversation though was the fact that we both were appalled by the negative responses to the march we had heard or read via social media."
The day after the march, Shepherd said they made the Facebook page and people started to join. Only Barrera and Shepherd were posting on the page at first, but more and more people have added inspirational quotes and encouragement for others. With a total of 120 members as of Feb. 7., the page consists of news stories on strong women, other woman empowerment accounts to follow, and feminist videos.
"I think a really big barrier is going to be the word 'feminism,'" Shepherd said. "The first step is redefining in people's minds what the word means and converting the negative connotation on campus to the more literal denotation."
Growing up in a traditional family in Texas, Shepherd said girls weren't expected to have ambition in her family. She was drawn toward feminism, the idea that men and women are equal.
"I was lucky enough to have a really good teacher who exposed me to a lot of empowering things and encouraged me to follow my passions," Shepherd said.
Barrera looks up to her mom as the "first girl boss" she ever met. Just as her mother used the challenges in her life as motivation to work harder, Barrera said she hopes women around her do the same when facing adversities. Barrera noticed the harmful issues caused by lack of empowering girls at her high school when her friends were made fun of by society because they were girl-specific.
"I never felt that they were provided with a safe space to go," Barrera said. "Nevertheless, every faculty and staff member at my high school continuously pushed for being strong and not letting society stop us from aiming for more than we thought fathomable."
Junior Jessica Jiang, who works with Barrera and Shepherd in the Pepperdine Volunteer Center, contributes to the Facebook page and has also been passionate about empowering women since she was young.
"I really would like to see it grow quite thoroughly," Jiang said. "I think it's highly needed at Pepperdine, especially with such a large female population."
Barrera said there was difficulty in wording that the group would be for women only and they are still working on encouraging all members to engage.
"Shepherd and I did not want to exclude anyone nor did we want to give the message that men don't need empowering either," Barrera said. "We did not want to exclude women who don't identify as feminist as well as women who didn't want another political page."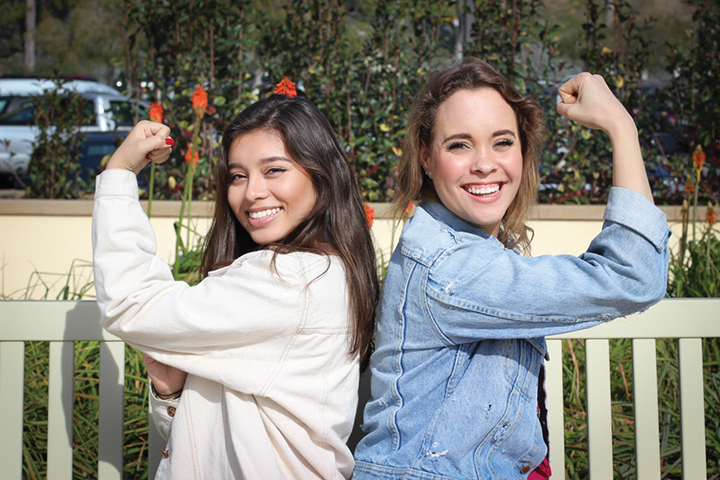 Freshman Veronica Lempert, a member of the Facebook group, is a Women's Studies minor and working on Student Government Association's Women's Initiative. The group promotes conversation and awareness of gender inequality, the role that gender roles play on campus, and the general empowerment of women.
"I think the biggest shift that has to occur is more inclusion of all women and men into the movement to combat sexism because it runs both ways," Lempert said. "Sexism affects both men and women, and if we can fight it together, there would be improvement for all."
Junior Angelina Diaz, another member of the Facebook group, said there is too much emphasis on a woman's worth being tied to her physical being and whether or not she is pleasing to a man.
"I think Pepperdine does a good job bringing issues like this to light and starting conversations, but I would like to see action taking place," Diaz said. "I hope we can implement real empowerment of our women on campus and in our community through small groups and every day acts of love and compassion between women."
Shepherd said she plans on running a club convo called Feminism in Faith later this semester.
"Barrera and I are planning a series of convocation events," Shepherd said. "We think we want to do a panel of women who are successful in their fields and a panel about having a family and a career."
Barrera said the Pepperdine community has responded well to the creation of this Facebook page with positive feedback from both women and men.
"It's really encouraging to see how many people have joined and still requesting to join everyday because it is opening up to be a whole other aspect of Pepperdine that I didn't know was there before," Shepherd said.
__________
Follow the Graphic on Twitter: @peppgraphic