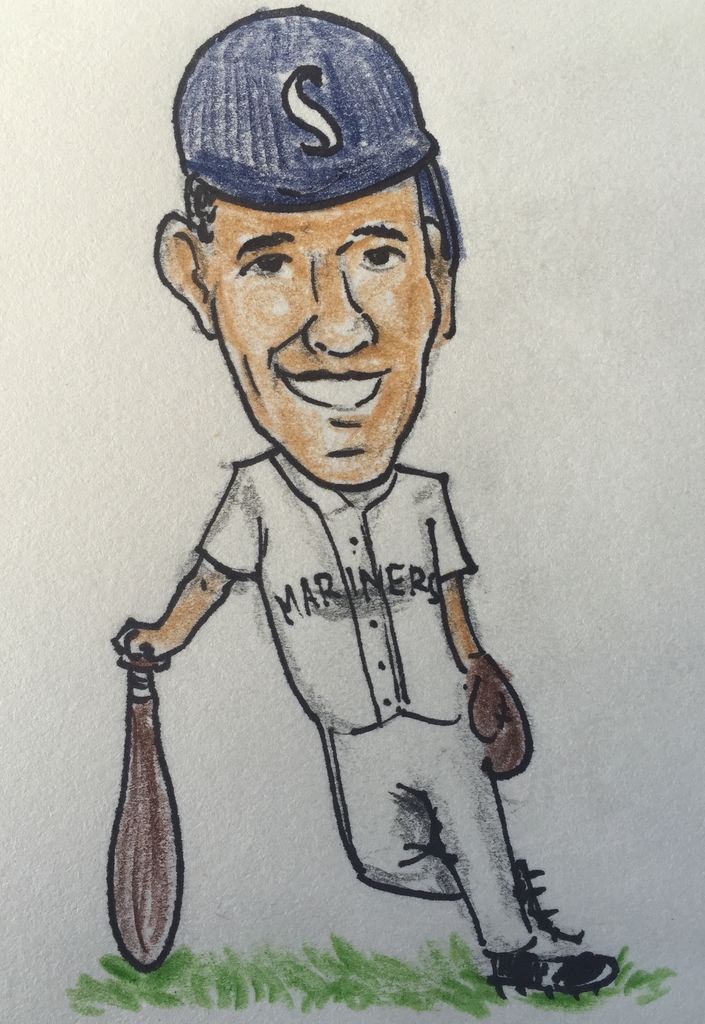 To a casual baseball fan, particularly current Pepperdine students who were too young to pay attention to baseball when he played, Edgar Martinez may be an unfamiliar name. Sure, he played in a few All-Star Games, won two American League batting titles in 1992 and 1995, and literally had the award given to the best designated hitter named after him (he's won it five times).
However, his name has faded a bit with time: His Seattle Mariner teams of the '90s and early '00s, although beloved in the Pacific Northwest, were never able to even reach the World Series, losing in the AL Championship in 1995, 2000 and 2001. And of course, those teams had flashier players with more national recognition, such as Ken Griffey Jr. and Randy Johnson. So why should some quiet guy, who only hit 309 home runs (not a bad number by any means, but certainly paling in comparison to most great hitters) and mostly played designated hitter, be inducted into the Baseball Hall of Fame?
First, one has to look at the big roadblock stopping Edgar from getting in: the fact that he was a DH for most of his career. Many old-school voters, particularly those from the National League, shun the idea of a designated hitter making the HOF.
I understand where they're coming from: Playing defense is a huge part of playing baseball, so in a way, a DH is just a specialist. However, closers Trevor Hoffman and Mariano Rivera, both of whom recently retired, are nearly guaranteed to enter Cooperstown according to multiple baseball experts and fans. And what is a closer if not a specialist? I agree that we shouldn't let DHs with good-not-great stats in, and the same goes for closers. But if a player is so absolutely dominant at that specialized skill that he has an award for that skill named after him, that sounds Hall-worthy to me.
Okay, so a DH has to be dominant to get into Cooperstown. Here's the question, then: Is Edgar Martinez dominant? Absolutely. He is one of only 22 players to post a wRC+ of at least 150 for eight years or more, according to FanGraphs. Also on that list? Willie Mays, Babe Ruth, Hank Aaron, Ted Williams, Ty Cobb and many other legends. For those of you wondering, according to FanGraphs, wRC+ (or Weighted Runs Created Plus) is similar to slugging percentage in that an extra bases hit is worth more than a single, but it also adjusts for the current run environment and the parks the player bats in.
Furthermore, he has an absolutely unreal career slugging percentage of .515, a career OPS of .933 (33rd of all time, only behind massive giants of the sport) and was top-10 in the American League in WAR 7 out of 10 times from 1991 to 2000, including leading the AL in 1995. As Sporting News writer Graham Womack put it in November 2015, "Martinez for now is probably the best [DH] there has ever been."
So obviously, his stats are up to par. But what really pushes Martinez over the top is what he represents to the city of Seattle. He is one of a few Mariners known on a one-name basis: Griffey, Ichiro, Felix, and Edgar. The road that Safeco Field is on was named Edgar Martinez Drive. And then there's "The Double," a miraculous game-winning hit that not only helped the Mariners advance to the ALCS, but is also rumored to have convinced the Washington State Legislature to enact legislation to fund a new Mariners stadium instead of letting them leave town.
Essentially, Martinez helped (along with Griffey and the rest of that '95 team) save Mariner baseball. Sure, some might make a snarky comment about how Mariner baseball isn't worth saving since they're the joke of the MLB (especially compared to our local Dodgers), but to baseball fans in the Northwest, Mariner baseball is all they have. Edgar is arguably the most beloved player in Seattle sports history (but check back in 15 years, Russell Wilson might have him beat), and even though it's not a New York or Los Angeles-sized market, that should mean something to Cooperstown.
Randy Johnson, one of the greatest pitchers of Martinez's era, said this about him: "I've faced a lot of Hall of Fame hitters, and my gosh, Edgar is the best hitter that I ever saw." Who would know better about a slugger's abilities than a man who had to face him on the diamond? Martinez deserves to be enshrined in the Hall, regardless of anti-DH sentiments. His impact is simply too great to ignore.
_____________________________________
Follow Jackson Hogan on Twitter: @jacksonhogan