A gathering of people raise their signs outside the Malibu Pier to protest COVID-19 vaccine mandates in schools. Members of Cali Free, a local group, said they came out to speak out against the mandate. Photo by Emily Shaw
Correction: An earlier published version misreported Jameson's sign
A group of Malibu moms took to the pier to protest vaccine mandates in schools, hoping to draw local support and instigate change.
Started as a local group, Cali Free moms meet weekly since the Santa Monica-Malibu Unified School District began conversations about requiring the COVID-19 vaccine in school, group founder Jennifer Posey said.
"We have to speak for those who don't have a voice," Posey said.
Gov. Gavin Newsom signed an executive order Oct. 1, mandating students eligible to be vaccinated receive the COVID-19 vaccine before the start of the next term — January 1 for SMMUSD.
While Malibu schools have one of the highest vaccination rates among LA County schools, according to Malibu Times reporting, not everyone is on board.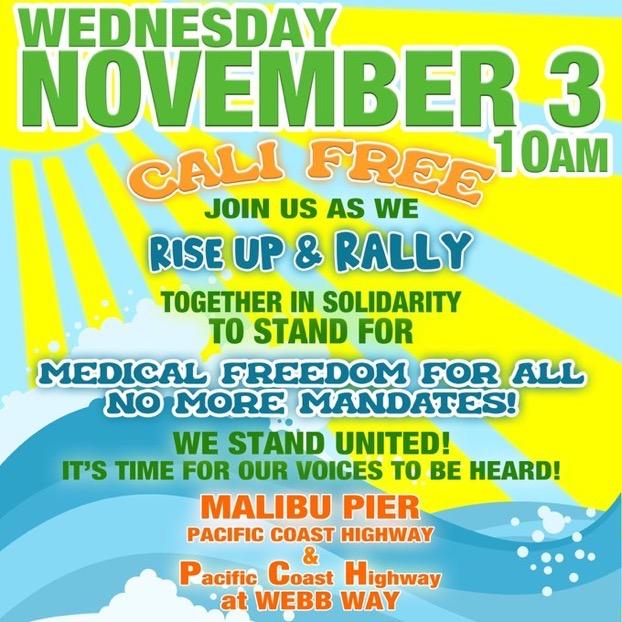 A flyer for Cali Free's protest to "rise up & rally" for medical freedom and against mandates. The flyer circulated on social media, drawing the attention of others outside the group. Photo courtesy of @thelocalmalibu on Twitter.
"The tipping point was when the governor said that everybody, all the kids in school, were going to be forced to be vaccinated," Cali Free group member Laure Williams said. "That's where we drew the line."
Several moms interviewed said they were vaccinated themselves but were against the vaccine for their children — raising concerns about long-term side effects.
Posey said she is not anti-vaccine but that she and other group members are against the requirement for their children.
"The parents need to have control over their children — we should have the option," Williams said. "Whatever you do to me, don't touch my kid."
The group gathered at 10 a.m., on Wednesday, Nov. 3, and remained at the pier for several hours, Malibu Pier employees said. Kiana Hearnes, a pier employee, said she didn't mind the protest so long as it remained peaceful and didn't disrupt operations.
Posey said the general support from fellow protestors and those driving by and honking — in accordance with HONK IF YOU LOVE FREEDOM — signs was "fantastic" and provided a sense of community support.
LA County Sheriff arrived to the scene around noon. Officers said they were called to monitor traffic violations, as some protestors were standing on the road.
While the moms organized the event as part of a larger Southern California walkout against Newsom's mandate for public schools, some protesters came for their own reasons.
Malibu City Inspector Raul Vasquez attended the protest with his daughter, Delila, after hearing about it via YouTube.
"I'm happy to be here; there's a lot more people than I expected," Raul Vasquez said. At 11:45 a.m., there were about 40 people protesting, including children and a few dogs.
At the end of the day, Cali Free estimated 150 people total at the protest.
Raul Vasquez protested the mandate in the name of personal medical freedom, he said.
"The U.S.A. is supposed to be the home of freedom," Raul Vasquez. "The government and big pharma are ruining this country."
As a city employee, Vasquez faces his own vaccine mandate and said he's working to get a religious exemption to avoid being vaccinated.
Delila Vasquez, while not a local herself, said she's standing for similar reasons — individual liberty. She carried a sign stating, "I am informed, I do not consent."
"I'm not really here for anyone else but myself," Delila Vasquez said. "I'm proving to myself I really do stand for this — that we shouldn't be mandated."
Ian Jameson is a San Fernando Valley local, just stopping by the Malibu protest on his way to the next anti-vaccine mandate event in Santa Monica. Jameson wore a Bernie shirt and carried a "Vaccines Kill" sign, which he displayed to the oncoming traffic.
Jameson said he's hoping people do their own research regarding the vaccine and stop listening to "media outlets funded by big pharma."
_________________________________
Follow the Graphic on Twitter: @PeppGraphic
Contact Ashley Mowreader via Twitter (@amowreader) or by email: ashley.mowreader@pepperdine.edu
Contact Emily Shaw via email: emily.c.shaw@pepperdine.edu