Photos by Amelia Dal Pra
For many Pepperdine students, traveling and studying abroad is an integral part of their college experience. For most students, documenting their travel adventures is important. Whether one is an avid world traveler, a regional explorer or even an artistic junkie, there are fun, creative ways anyone can both document and commemorate their adventures.
From blogging and journaling during your travels, to creating photo books, to purchasing mini-photo Polaroid prints and making collages after one has returned home, there are many ways an individual can recount their travels.
1. Blogging
While traveling, blogging is a convenient way to share one's thoughts, stories and photographs. In addition to blogging about one's own personal adventures, blogs also serve as a resource for like-minded travelers to share adventure ideas and a wide range of travel experiences.
Many websites, including wordpress.com and blogspot.com, allow bloggers to create their own blogs for free, making blogging appealing to even the most thrifty travelers.
2. Journaling
From the rustic hiker to the European art museum connoisseur, journaling can provide something for a wide range of individuals. Keeping a small travel journal to document private thoughts and emotions enables individuals freedom of expression while traveling.
If one desires an earthy journal, Kathmandu Valley Co. has various simple, handmade, Himalayan Lokta paper journals to choose from. These journals are perfect for writing poems and thoughts or drawing quick sketches during one's journey. Following a trip, journals often remain a treasured and thought-provoking memento for many travelers.
3. Photo Books
Most individuals enjoy capturing their travels through photography. While sharing photos on Facebook and Instagram may be convenient, there is something special about creating and sharing a physical photo album with friends and family.
In the past, creating a photo album involved glue sticks, decorative scissors, stickers and often, a fair amount of time. Now companies like Mixbook, Snapfish and Shutterfly make creating photo books simple and effortless.
All one must do is choose a theme, upload photographs and experiment with design and text options. A photo book can arrive in as little as two days and cost under $20, making this option both time- and cost-efficient.
4. Polaroid Prints
If one admires all things vintage, websites such as HuggleUp allow individuals to upload photos directly from their camera, cellphone or straight from their social media accounts, and turn their travel adventures into beautiful, high-quality Polaroid prints.
These fun, colorful prints make great room decorations and gifts, and serve as sweet adventure memoirs. The Polaroid prints come in an assortment of sizes and enable individuals to embrace their artsy side as they explore creative ways to use their prints.
5. Collages
Many travelers have various city maps, transit tickets, museum brochures, receipts and others miscellaneous papers from their travels that they're too nostalgic to throw away.
Instead of leaving precious "junk" in their drawer or worse, throwing it in the garbage, it can be turned into a masterpiece. All an individual needs to make a beautiful collage is their collected travel mementos, Mod Podge, a canvas and a small amount of artistic inspiration.
So whether one is a rookie or a global traveler, there are meaningful ways that everyone can document their travel experiences.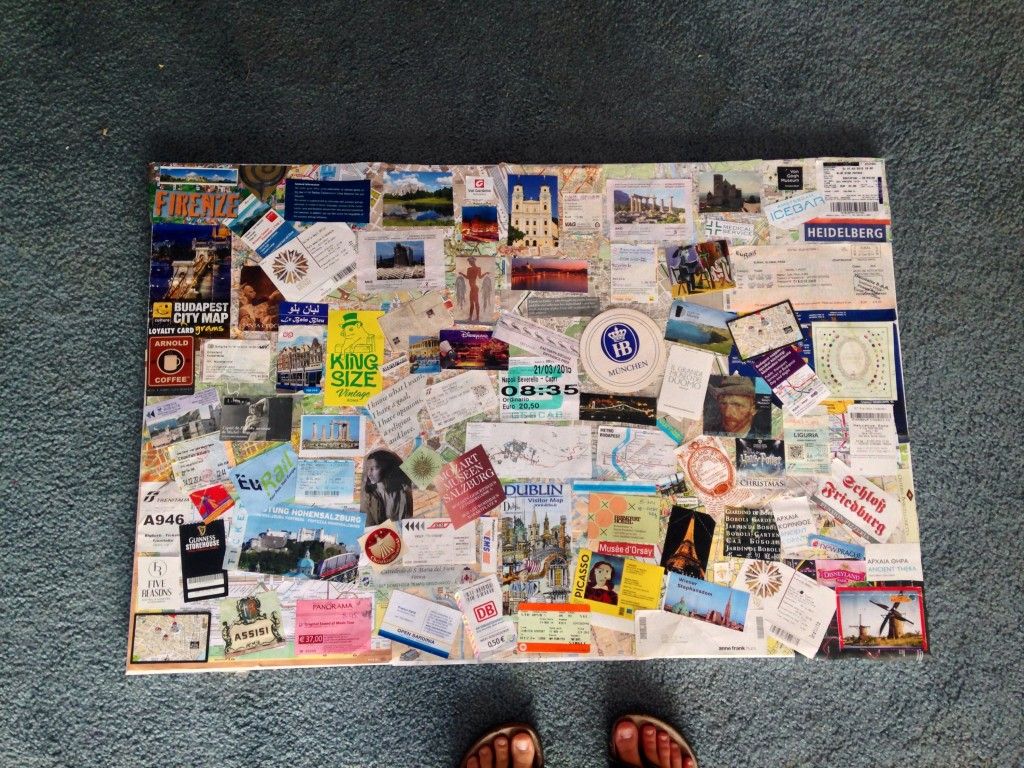 ___________
Follow the Pepperdine Graphic on Twitter: @PeppGraphic