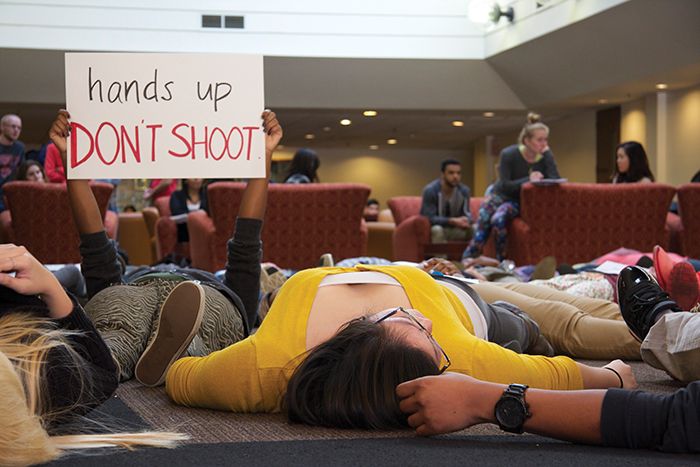 Photos by Sylvia Hartley
Wednesday, Jan. 14 was the day that Pepperdine students and faculty lay down in solidarity. Wednesday, Jan. 14 was the day that some Waves took part in responding to the issues brought up by the Michael Brown and Eric Garner cases. It was the first Die-In Pepperdine has seen.
For first-year School of Law student Brittany Hughes specifically, Jan. 14 was a crucial point in her law school career. It was the day she realized the responsibility of being a law student. Hughes organized the Die-In, a peaceful protest, bringing awareness to the recent events in America dealing with racism and police brutality.
She said her inspiration for the event came from what she called her "responsibility as a law student" to pay attention to the legal issues in today's world. As she realized this responsibility, she said she had seen that Pepperdine had not started the conversation about racism and police brutality like other universities have.
"It's important for Pepperdine to have this conversation so we can bring awareness to these issues," Hughes said.
At the event, a sea of undergraduates, School of Law students and faculty members participated by lying down in the School of Law atrium holding signs or profiles of police brutality victims.
In addition to the demonstration, both student and faculty speakers shared perspectives, stories and encouragement about this issue.
School of Law Professor Jeffrey Baker supported the students' efforts.
"This is the first time the law school has ever done a demonstration like this," he said. "We're glad that Brittany has organized this and that all of you are here."
Communication Professor Roslyn Satchel encouraged students to realize where they can start contributing to the movement.
"Many Pepperdine students think that the work of justice goes abroad," Satchel said to the crowd of students and spectators. "But you need to do the work of justice at home too. We need to make sure that humans are good to other humans."
Satchel also described her involvement with human rights activism and named organizations where students can volunteer, such as Black Lives Matter LA. "These organizations are looking to grow, and they need a public relations team's help and lawyers' help," she said.
Second-year School of Public Policy student Jules Bagneris spoke about the importance of understanding where both sides are coming from. "This is not a black and white kind of thing. This is real life where there's gray areas," he said. "We're all trying to make it home."
Seaver Associate Dean Tabatha Jones-Jolivet closed the demonstration by reading the poem "Catch the Fire" by Sonia Sanchez. Speaking on behalf of the administration, she said the administration stands in "solidarity" with the students.
Hughes said she was content with the results of her endeavor.
"This event was good for starting the conversation at least," Hughes said. "People were really supportive by bringing signs, sharing their stories and by simply being here. It felt like both undergraduate students and law school students engaged in the opportunity."
For more on this story, see this week's staff editorial.
__________

Follow the Graphic on Twitter: @PeppGraphic