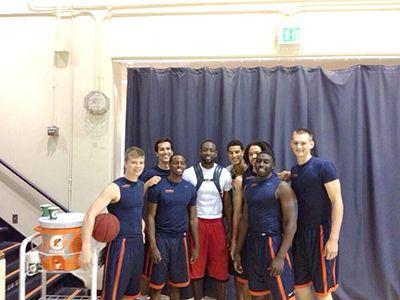 Photo courtesy of @MartyWilson4
Miami Heat teammates Dwyane Wade and Chris Bosh pay a visit to Firestone Fieldhouse to work out with pro trainer Tim Grover
Dwyane Wade dropped by Firestone Fieldhouse last Thursday for a workout with his professional trainer, Tim Grover, before LeBron James' San Diego wedding that same day. Grover also trains Los Angeles Laker Kobe Bryant.
The day after the wedding, Wade came back with Chris Bosh and Grover to clock in more hours at the gym, and he returned yet again yesterday.
Sophomore Stacy Davis had the privilege of participating in some of the workouts. Davis said the original intention was for him to be the rebounder, but after warmups the two-time champ asked Davis to join them.
Soon enough the men's basketball graduate manager Ricky Fois was the one rebounding and Davis was practicing with the reigning NBA champion.
"It was a great experience," Davis wrote to the Graphic. "[Wade and Bosh] are both really outgoing and really chill guys, which was definitely different than what I expected. The workout was pretty intense and they gave me some helpful advice. Grover, Wade and Bosh all gave me something I could use in games."
On Sunday, Wade responded to a tweet by Davis: "it was a pleasure … way to work." Davis further explained that Wade followed him on Twitter and provided Davis with his personal contact information so they can stay in touch.
"I definitely see him as being a mentor to me," Davis said.
Men's basketball Associate Head Coach Mark Amaral wrote that typically whenever NBA athletes decide to train at Pepperdine they contact the coaching staff ahead of time, which may explain the rumors floating around beforehand.
Amaral said Malibu is an ideal location for pro athletes: "First, a lot of them have homes or are staying here for a short time and want somewhere local to workout. Second, they feel fairly secluded from the public and generally are not bothered [here]."
Providing a similar character description to Davis, Amaral described the NBA All-Stars as, "very open and approachable and professional."
Davis averaged 11.2 points combined with a team-high 7.3 games his freshman season. He stayed healthy, playing all 30 games and starting 25 of them.
His consistency paid off as the WCC awarded him with the Newcomer of the Year Award, and selected him to the WCC All-Freshman and the All-WCC Honorable Mention teams. Davis is the first Pepperdine athlete to earn the Newcomer Award since 2003.
_____________________________________________________________________________
Follow Alysha Tsuji on Twitter: @alyshatsuji
As published in the Sept. 19 issue of the Pepperdine Graphic.