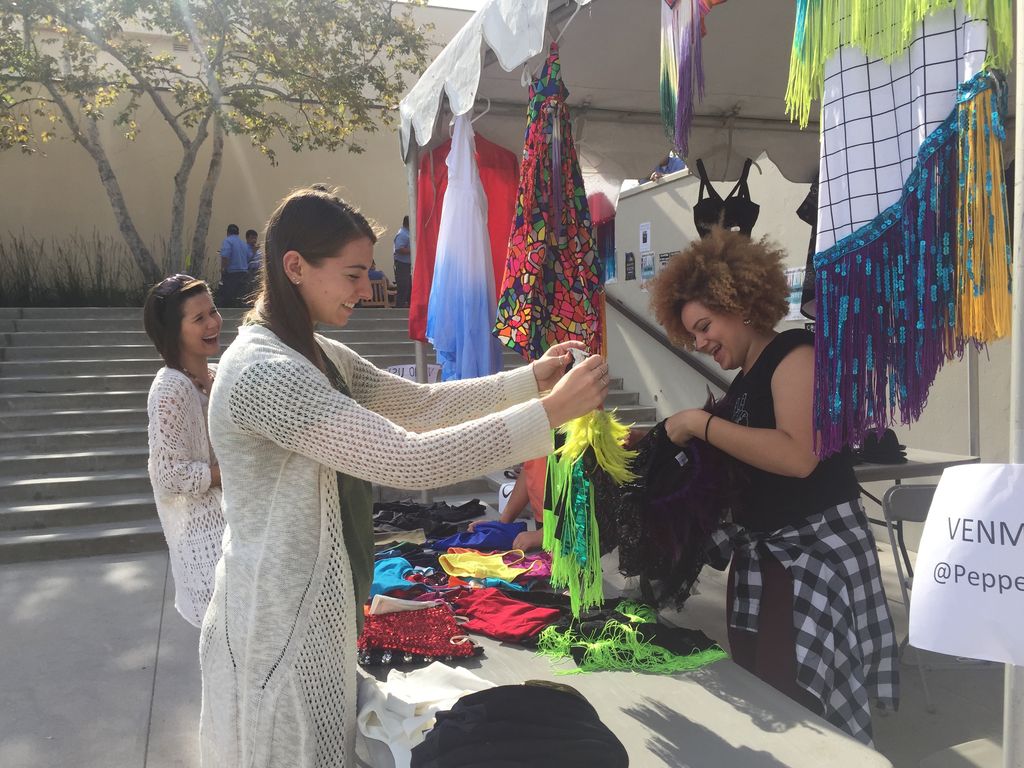 Photos by Kayiu Wong
Dance in Flight's annual costume sale Oct. 26 attracted students in search of additions to their wardrobes. They attempted to fundraise for their upcoming spring production by selling costume pieces from their past shows.
It is tradition for the costume sale to occur every year around Halloween, Dance in Flight Special Projects Chair and senior Danielle Croner said.
"It's really nice because [students] get to buy cheap, fun Halloween costumes, and it works as a fundraiser for us. It's a great trade-off to achieve both with one event," Croner said.
Croner attributed this year's success to the fact that students had the option of paying for the items they wanted through Venmo.
"This was the first year we allowed students to Venmo our Dance in Flight account if they didn't have cash to buy what they picked out. It made it more convenient for a lot of students, and we were able to gain more money this year because of it," Croner said.
The costume sale lasted between 10 a.m. to 3 p.m. on main campus. Dance in Flight set up tables filled with shoes, jewelry and accessories, and racks filled with dresses and costume pieces that were once used in past performances.
The costume sale consisted of everything Dance in Flight will not need for this year's show because the funds raised from the costume sale will be used to purchase new outfits and accessories the upcoming production calls for, costumer designer and Pepperdine senior Shannon Graves said.
"One girl who is planning to be Rapunzel for Halloween came and found a pink dress that matches her idea, so she left really excited," Graves said. "I am glad we can give an opportunity for people to use our things, instead of us just throwing them away."
Freshman Jasmine Croom described the costume sale as a way for Dance in Flight members to have a fun time celebrating how much they have done so far in the semester.
"My favorite part of the sale was when [one of our Dance in Flight members] put on a tube top, a skirt with feathers on the bottom and six inch heels," Croom said. "He strutted around in them for an hour in front of our tent. It was so fun just hanging out with everyone."
The costume sale also served as a way to remind students that Dance in Flight performances are approaching.
"Just being out here with our signs and energy gets into [students'] minds that Dance in Flight is coming," senior Marie Millot said.
"It's my first time choreographing [for this year's show] so I'm really excited to see how [my piece] will work out and how the whole show will come together, since I will see the process not only from a dancer's point of view, but now further behind the scenes," Millot said.
In the spring, Dance in Flight performances are Feb. 9-11 in the Smothers Theatre. Tickets can be purchased online or at the Smothers box office. Tickets cost $10 for Pepperdine students and $20 for general admission.
__________
Follow the Graphic on Twitter: @PeppGraphic