Photos by Caroline Edwards
Malibu City Hall's latest exhibit takes viewers on a safari.
Artist and photographer Dan Eldon is remembered through the exhibition "The Journey is the Destination: Safari with Dan Eldon" at Malibu Town Hall. The exhibit is free and will be displayed in the lobby through May 31. Visitors can view more than 25 limited-edition prints from Eldon's journals, as well as photos and collages, all relating to Eldon's safaris.
"He was a visionary," Commissioner Alan Roderick Jones said. "He was a visionary in all levels. He had a massive, beautiful heart. He had a love of humanity. He expressed it in his diaries and in his words. He was incredible."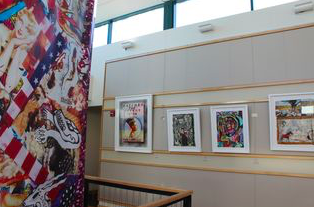 Eldon worked as a photojournalist in Africa, where he captured stories of war and famine. While working for Reuters in Somalia in 1993 and covering the conflict in Mogadishu, Eldon died at the age of 22. Eldon and his colleagues Hansi Krauss, Anthony Macharia and Hos Maina were stoned and beaten to death after going to a bombed area under the protection of Somalis to take photographs before being attacked by a mob of more than a hundred people, despite trying to record coverage for Reuters and help the locals. Throughout his life, Eldon kept journals of collages and prints, which now serve as his memory and legacy, according to the exhibition.
"We, America, really killed him," Jones said. "This man's death was caused by us."
Jones said the exhibition was curated and created by meeting with Eldon's mother, and that he was inspired by the work and campaigns she was doing all over the world to honor her son's legacy, as well as the Eldon's journals.
"I think the biggest thing for me was the emotional feeling of being able to represent this young man's work," Jones said "He was stoned to death. I just can't imagine these three young men doing all the work they were doing and being stoned to death by these people."
Eldon's mother, Kathy Eldon, and sister, Amy Eldon Turteltaub, founded the Creative Visions Foundation in Malibu to honor Eldon's legacy in 1998. The purpose of the Creative Visions Foundation is to "spark awareness of critical issues and ignite change through impact media, art and technology: creative activism," according to the company's mission statement.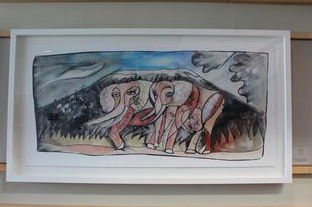 At the opening reception Feb. 2, Kathy Eldon explained why she chose Malibu for the exhibition, according to the Malibu Times.
"I see Malibu as a bubbling cauldron in the best possible way of creative activism," Eldon said. "We have more famous names who most people know because they're wearing Prada or are in super-cool movies, but actually these people are committed to causes that are very, very important. Our belief is that everyone has a spark that can be used not only for ourselves, but for others in the world."
Dan Eldon was born in London in 1970, but moved with his family to Nairobi, Kenya, when he was seven years old. This move sparked Eldon's love for Africa and safaris. In Africa, Eldon "combined his passion for art, adventure and activism into a personal philosophy that he called "Safari as a way of Life," according to the Santa Monica Daily Press.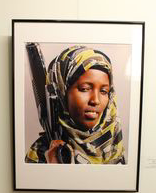 "I was so impressed by this young man's work," Jones said. "When you consider that he did some of this at the age of 15, my immediate reaction was that this should be in MOCA, this should be in LACMA – this should be not here. This should be somewhere else."
Take a wander and be inspired by Eldon's legacy while visiting the free exhibit at Malibu Town Hall.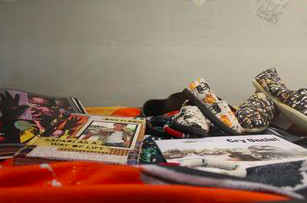 ____________
Follow the Pepperdine Graphic on Twitter: @PeppGraphic