Photos by Madeleine Carr
For more than three years, individuals have reported repeated vandalism to the floor tiles of Stauffer Chapel.
The vandalism began as a single permanent marker smiley face and has now increased to four faces, covering multiple tiles and drawing the attention of visitors of the chapel. Despite the facility department's continued cleanings of the tiles, the graffiti continues to appear on the floor around three to four times a year, University Chaplain Sara Barton said.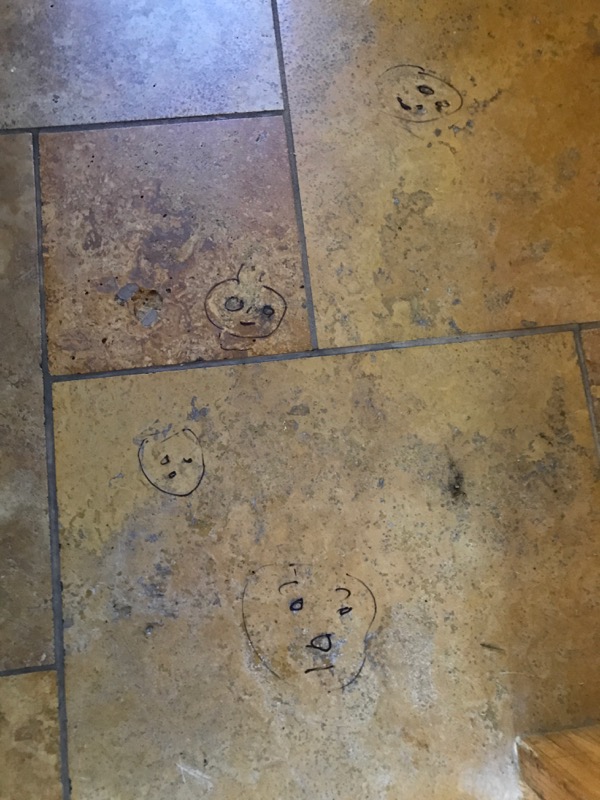 "It's really sad because the custodial staff will be down there trying to clean it off, and what's happened is they've cleaned it so many times that the seal on top of the tile that makes it shiny has gone away," Lauren Leatherberry Begert, assistant director of the Chaplain's Office, said. "Now the custodial staff has to just scrub and scrub and scrub for hours and hours on that same tile to try and make it go away."
Leatherberry Begert said the continued vandalism has sparked concerns regarding the unrestricted and unmonitored nature of the chapel. The chapel is kept open as an available space for prayer and worship for the Pepperdine community and is not kept under surveillance in an effort to offer privacy to those seeking a spiritual place.
As of 10 p.m. Wednesday, the front doors of the chapel were locked, but one of the side doors was unlocked. The Chaplain said she was unsure what time the chapel is opened and closed everyday, as DPS is in charge of that.
"There's a lot of private things that happen in there," Leatherberry Begert said. "I'm talking about people pouring out their hearts and crying with their peers and receiving prayer. I think it jeopardizes the safety- the safe feeling that people have, the worshipful feeling that they have. You don't walk into church and there's no signs that say 'you're on video.'"
Madison Shearer, special programs coordinator, said a bride once noticed the vandalism while doing a final walk-through of the chapel one month before her wedding, wanting it cleaned off before her wedding day.
Leatherberry Begert said others, including admissions tours, walk through the chapel and likely notice the graffiti, as it is located near the aisle in the back of the chapel.
The tile now needs to be replaced after the continued vandalism, but there are still concerns that the graffiti will only continue, Leatherberry Begert said.
Freshman Eileen Hornbostel said she frowns on the vandalism and its effects on the campus.
"It's important that people have a safe place to go and experience God without being videotaped," Hornbostel said. "It seems like it's disrespectful to the school and the custodial staff that people are ruining the space for everyone else."
Junior Georgia Lydon said the vandalism is an example of how people will always take advantage of freedom, voicing her disapproval of the mistreatment of the chapel.
"The chapel's an open place that people can come to to spend time with God or, even if they're not religious, I know that people use the chapel as just a great place to mediate or get headspace," Lydon said. "I think that there can be one (a solution)… that doesn't include taking away the chapel from people who use it when they're hurting or need to be with God."
___________________________________
Follow Madeleine Carr on Twitter: @madeleinecarr23