Photo by Marisa Dragos
There's a new campaign curating coffee and community on campus.
Student Affairs launched an initiative called Coffee with a Transfer to foster friendships between transfer and non-transfer students. Any Pepperdine undergraduate student can fill out an online form with a little bit of information about themselves, and the Office of Student Affairs will connect students to transfers with similar interests. Then, it is up to both students to pick up their $5 Starbucks gift cards from the Student Employment Office in the Tyler Campus Center and schedule their coffee chat.
The program has a budget of $400 this fall, with $350 set aside for Spring 2020, Stacy Rothberg, the associate dean of Student Affairs for Commuter and Transfer Students, wrote in an email.
"Our Transfer Waves enrich our community through their life experiences, whether it be serving our country, pursuing educational and professional aspirations or seeking adventure before coming to Pepperdine," Rothberg wrote.
"Especially since commuter students sometimes feel disconnected living off campus, we hoped they would enjoy meeting a new transfer while sipping on their favorite Starbucks drink," she continued.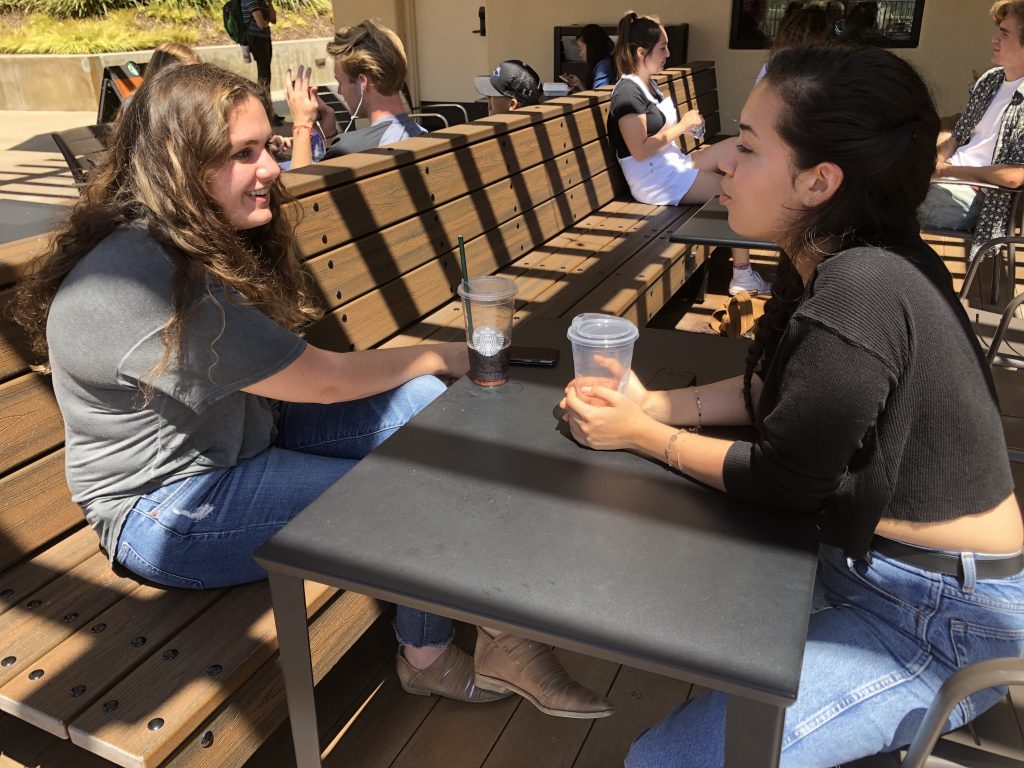 Photo by Marisa Dragos. Students enjoying coffee and conversation recently at the Starbucks on campus.
The idea and name for Coffee with a Transfer began as a group project by Brooke Redell, Madison Tandy, Sam Finnegan, Kylee Ferris and Tarah Wylie in Professor Lauren Amaro's COM 519 class. Tandy, a transfer, and Redell, a spring admit, both felt isolated from the communities students had formed freshman year and set out to tackle the issue.
"My first year at Pepperdine as a transfer was hard," Tandy, who graduated in Spring 2019, wrote in an email."I felt isolated to the house I was put into and felt that I didn't connect with the rest of the student body. I loved my classes and the Pepperdine staff but something was missing."
"My hope is that friendships will be formed through this program so that a program isn't needed anymore to help transfers feel included — that these coffee dates will turn into friendships that last through graduation," Tandy continued.
Pepperdine was and is senior Brooke Redell's dream school, but she said her first semester as a spring admit proved challenging because other freshmen had already bonded during the fall.
"I was hoping that when I got here that the community and school would treat me like I was their first choice too," Redell wrote in an email. "My hopes with starting this program is to make these students who may feel invisible feel welcomed and that we are excited to get to know them and that they are here."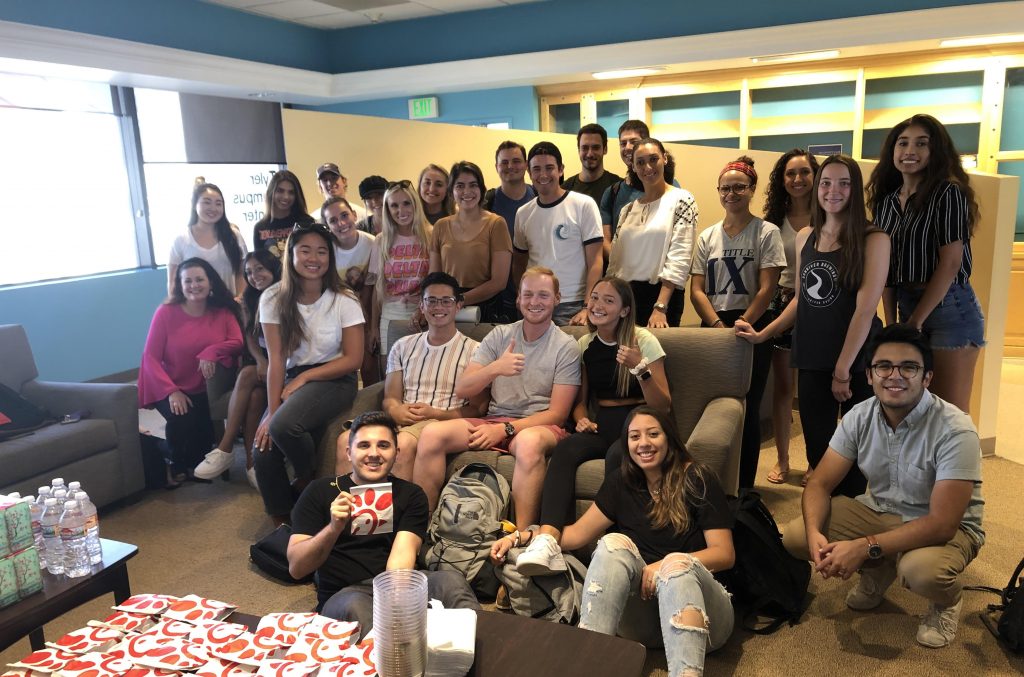 Photo courtesy of Parker Alchanati. Transfer students at a weekly Transfer Breakaway event, held every Wednesday afternoon in the Sandbar.
New transfer Isaac Torres, a sophomore, likened the program to a dating app but said he was still interested in participating. New transfer and sophomore Lauren Callihan said she thinks it is a great idea.
"Maybe it's only one thing you have in common," Callihan said. "I think that would be a benefit."
Senior Lora Kirschner transferred to Pepperdine last fall and said she also supports the new initiative.
"It's a really good way for transfers and non-transfers to connect," Kirschner said. "It would've been really useful to me to have my first semester here."
Student Affairs intern and Pepperdine graduate student Sergio Gallardo said he is pleasantly surprised by the level of interest already and the even split between transfer and non-transfer students.
"It's a pilot program, so we're going to see how it goes this semester and how we can make it better next semester," Gallardo said. "We just want transfers to feel welcome and know there's programming for them because it's hard coming into a community that's seemingly so close already."
__________________
Email Marisa Dragos: marisa.dragos@pepperdine.edu