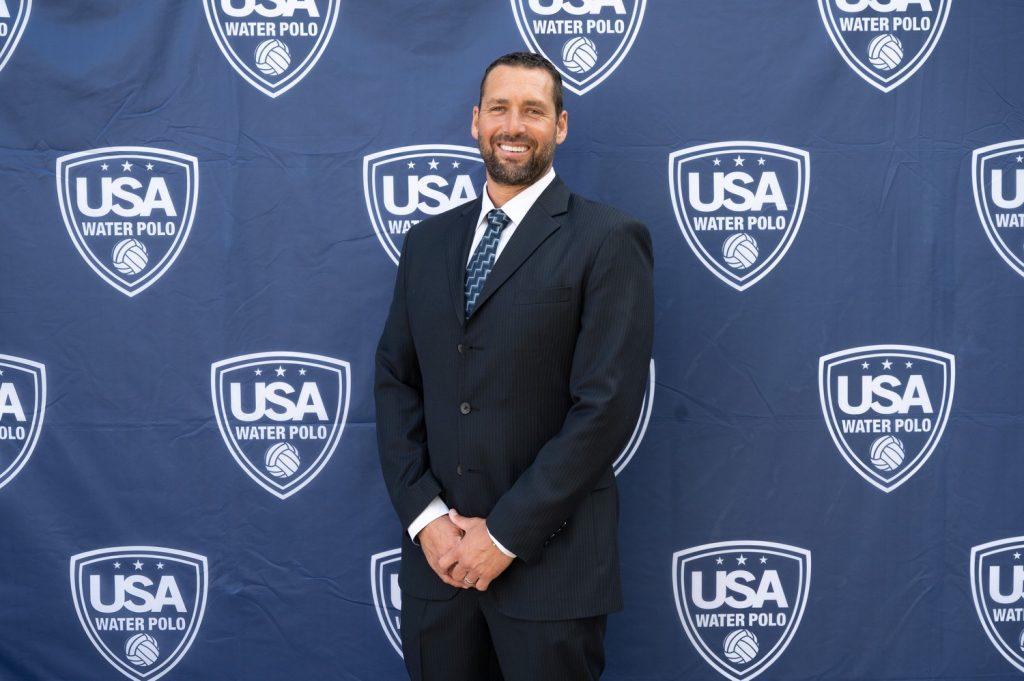 Associate Head Coach Merril Moses poses for a photo. Moses contributed to three Olympic games, including winning a silver medal in 2008. Photo courtesy of Merrill Moses
The International Jewish Sports Hall of Fame (Yad Le'ish Hasport Hayehudi) inducted Pepperdine Water Polo Coach Merrill Moses Jan. 15.
The Hall of Fame picked Merrill Moses, a 2008 Olympic silver medalist for the U.S. Water Polo team, due to his contributions in three Olympic games and his three gold medals in the Pan-American games. Moses now is an associate head coach for the Pepperdine team.
Moses' induction into the hall of fame will give him a chance to visit Israel in 2025. Never having been to Israel, Moses said he viewed this induction as both an honor and an opportunity to connect deeper with his background.
"It means a lot because it's all that hard work paying off and being recognized, but also being recognized amongst the Jewish athletes and what we've done," Moses said. "And so I think it's a very special honor."
A life dedicated to growth and water polo
Moses said he came across the sport that changed his life in high school.
"I started going around the school looking at different sports, heard the whistles and saw this offense [position] for water polo and asked the coach if I could try it out," Moses said. "Like every kid, I wanted to score — I was a field player my first year and then I did not start [at] the goalie position till I was a sophomore in high school."
After high school, Moses sought to play water polo at Pepperdine. Because he wasn't recruited, Moses said he had to get into Pepperdine with his grades.
He said he worked to build his skills and achieve his goal of becoming one of the best players in his field. Moses believed he and his teammates could win a national championship, and they did in 1997.
Moses said he attributes much of his success during college and after to Pepperdine coaching.
"Coach Schroeder has had a big influence on my life," Moses said. "He's the one that gave me a chance to walk onto Pepperdine. He was my college coach when we won a national championship. He kind of opened my eyes to the national team and pushed me to try out."
Moses said he decided to pursue coaching at Pepperdine in 2013.
"I plan on being at Pepperdine for a very long time, and I would love nothing more than to finish my career [at Pepperdine]," Moses said. "My goal is to win a championship with the team, but also one of my biggest goals is to always keep the family atmosphere and mold these young men into great people, great husbands and great friends."
Being a part of the Jewish community
Moses said he is looking forward to bringing his family with him on his Hall of Fame trip to Israel and that it will be his first time in the country.
"I'm just excited to learn about the heritage and see what Israel has to offer and also have my wife and my three daughters there with me," Moses said.
Religion has played a role in Moses' water polo journey, he said.
"No matter what religion you come from, I just think religion is great," Moses said. "It instills great values into people."
Moses explained the importance of religion in building the framework for how athletes should act both in and out of the pool.
"The biggest thing it's made me aware of is you always can look back at the Torah or the Bible and get life lessons," Moses said. "I learned the Bible going to Pepperdine, and I love the Bible as well. So I just think it [religion] has influenced me like it should influence everyone, which is to be a great person and also treat people how you want to be treated."
___________________
Follow Currents Magazine on Twitter: @PeppCurrents and Instagram: @currentsmagazine
Contact Joseph Heineman by email: joe.heinemann@pepperdine.edu