Photo courtesy of Ron Hall
In the early hours of Nov. 7, freshman Ashley Mowreader and her suitemates were huddling in the lobby of their Debell F Suite next to a police scanner.
News of a shooting at the Borderline Bar and Grill in Thousand Oaks broke around 11:30 p.m. Their friend and suitemate Alaina Housley was in attendance, and was missing.
Restless energy permeated through the room, with some girls scrolling frantically through the #Borderlineshooting on Twitter, and others keeping their eyes on broadcast news channels.
No one slept.
The following afternoon, Mowreader, who is now a section assistant for the Graphic, came face-to-face with an unfathomable reality. Housley, with whom she had spent countless hours bonding over musicals, was one of 12 victims killed in the shooting.
"For the next few hours we just held each other and cried until we physically couldn't anymore," Mowreader said. "We were exhausted, broken and grieving – but we were together."
The following day the situation grew even more chaotic as the Woolsey Fire began to ransack Malibu, burning down the structures and homes of many Pepperdine students and faculty.
While some students were sheltering-in-place on Pepperdine's campus, others such as senior Amelia Hemsley were fleeing with nothing but the clothes on their backs.
Forty-eight hours after the Borderline shooting, Hemsley awoke to a call from her housemate, informing her the home they were renting had burned to the ground.
"My reaction was shock and disbelief," Hemsley said. "I just never thought something like that could happen to me, and it's still kind of hard to believe."
Now living in a new apartment, Hemsley said she is still struggling with the loss of her most precious belongings, including items she acquired during various trips abroad.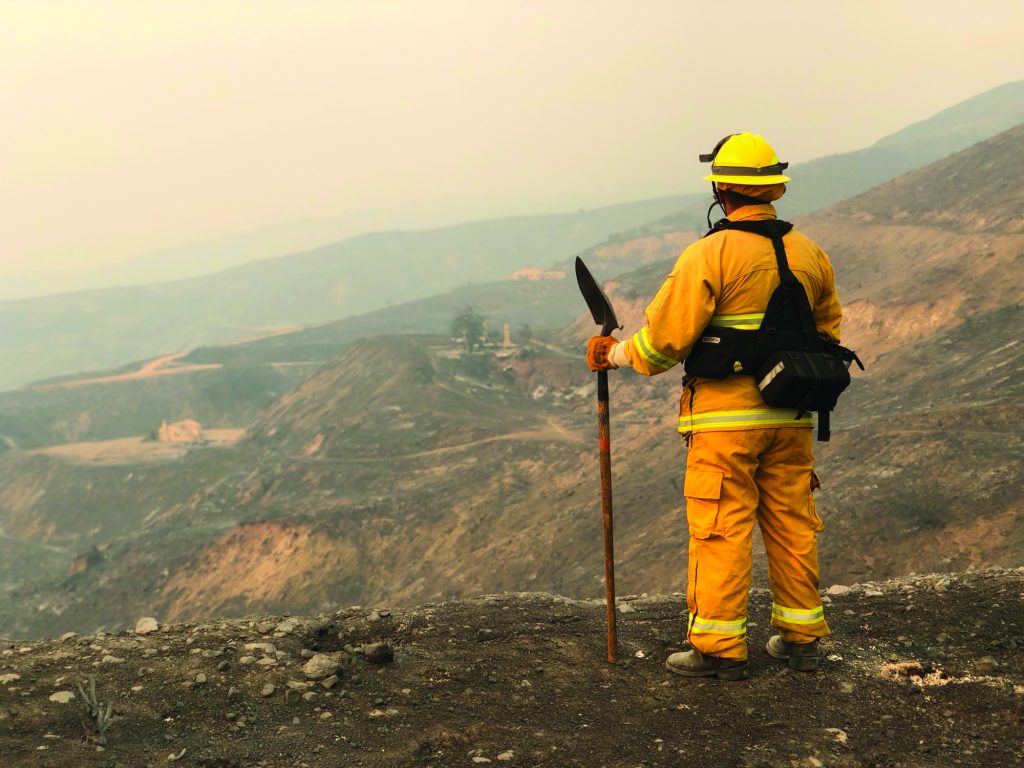 Photo courtesy of Luis Quiroz
Faith in Tauma
Several weeks after the tragic events, the canyon roads are open, classes are in session and students are back in their regular routines. Yet, the impact of the trauma lingers.
"It seems like there's just a wide range of emotions," Connie Horton, vice president for Student Affairs, said. "Of course there are some who lost their very close friend, there are others who were in a very violent situation, and there's every variation in between, as well as people who lost their homes."
And with different emotions come different coping mechanisms. Some are focusing on academics, while others are choosing to spend quality time with friends.
Mowreader said she is relying on her faith during this time.
"I have felt the most at peace in church or in worship as I try to figure out what this means for my life now," Mowreader said. "There's of course the questions of 'why?' or 'How could a good God let this happen?' but I've found the most comfort in knowing there's an eternal God with a perfect plan and that I am a part of it all."
Although Hemsley said she is still struggling, she echoed that sentiment.
"Even in the saddest and darkest moments of this whole ordeal, I never lost faith that it was supposed to happen," Hemsley said. "In a few months or a few years or whatever, I'm going to look back and realize that this all happened for a reason."
However, some students have trouble relying on God when facing adversity. Senior Morgan Proffitt said she has doubted God in times of strife.
"In the face of hardship, I've questioned God," Proffitt said. "I feel ashamed for that anger. Yet I wonder, why didn't He protect me? Why didn't He lead me down a different path?"
Reasons for the Discrepancy
University Chaplain Sara Barton said differing experiences students have with faith may contribute to why trauma draws some people to worship and pushes others away.
"Some people are experiencing God close and personal, like never before," Barton said. "There are others who perhaps are not feeling inclined toward worship right now, who just need a little bit of space and time."
Horton said these different experiences may shape one's primary views of God, which then determines whether one relies on Him during times of crisis.
"If you view God as with you, for you, beside you – that kind of idea – then when you're in trouble, you're going to cling for dear life, more dependent than ever on this God that you say you believe in," Horton said.
But doubt in the aftermath of adversity does not minimize faith. In fact, it may even strengthen it, Horton said.
"If you feel like you have to have it all wrapped up in a neat bow, and you feel like you're not supposed to question, like there are supposed to be easy answers, that would be another way that I would think your faith almost doesn't have complexities in it," Horton said.
And while it is normal to question God, Horton said it is not ideal for darkness to overshadow faith for too long.
"The Psalms are full of lamentations, where people are saying, 'God, where are you?' And I think if you have that steady sense of God with you, then you're free to both have those cries within or even verbalize and still be feeling connected to God," Horton said. "To me there's some wisdom and some richness and some spiritual truth and growth in that."
Barton said growth is apparent in the Psalms.
"Psalms end with those people saying, 'Yet, I will keep trying to trust you God,' and so I think I hear those kinds of messages with people," Barton said. "'I don't know where God is, and I don't know how to make sense of it, but all I know to do is keep trying or keep praying.'"
Horton said that while the University heavily emphasizes faith, doing so does not supersede the gravity of the November tragedies – rather, it supplements it.
"I would say from a post-traumatic stress point of view, we do better if we talk, if we process as a person of faith," Horton said.
"We're doing that in a way that feels genuine to students and for those who are not people of faith, that feels attractive at best or at least not fake."
Administration Provides Support
Barton said administration is holding a number of faith-based and secular events in the aftermath of this past semester's tragedies.
Barton said the Chaplain's Office held a worship night and a memorial service for Housley and has since made itself increasingly accessible for students, with its doors always open.
"Really, we are just willing to be with people. It's not that we have black and white answers to give," Barton said. "It is that we have listening ears, and we believe that God shows up in community when we're with one another."
Horton said Pepperdine administration has added more counselors so that students who want individual counseling will not be put on a waiting list.
The Student Care Team is also allocating money from the Pepperdine Strong Fund to students affected by the fire, Horton said.
"We also follow up to see what else students need emotionally, physically," Horton said. "Getting gas gift cards, giving linens, giving toiletries, giving, you know, physical things as well as trying to make sure how people are. What do they need, do they need counseling, do they need some help getting connected?"
Moving forward
Barton said she is in awe at students' resilience after Borderline and the fires.
"I see people, I would say maturing in their faith, going deeper, even if it means that it's not an easy journey," Barton said. "I see depth, I see maturity, I see growth on a journey. None of us would ever have chosen some of this, but I don't see people folding. I see a lot of strength."
Proffitt said the reasons she previously questioned God are the same reasons her faith is now strong.
"I believe I have found a lesson from God to be learned in every hardship," Proffitt said. "The death of a friend has reminded me to be more intentional with my time and shown me the love and support those around me, and most importantly God, have to offer. Family illnesses have proved that in the face of adversity my family is steadfast in love."
Mowreader said that while she does not have all the answers during this time of loss, she would not be able to get through it if it were not for her faith in God.
"Being able to ask my friends and family for prayer, turning on my worship music and spending quiet time with God are all things that have kept me going and grounded me this past month," Mowreader said. "I don't know why it all happened, I don't think I ever will, but I know it's not for nothing, and there's hope in that."
________________________________________
Follow the Pepperdine Graphic on Twitter: @PeppGraphic