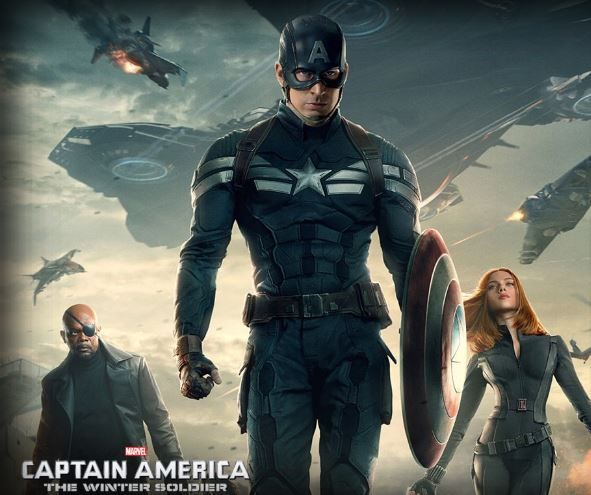 Photo Courtesy of Marvel
'The Winter Soldier' merges super heroes and spy thrillers
We were first introduced to Steve Rogers in "Captain America: The First Avenger," where the sickly young man from 1940s Brooklyn strove to be a hero in his own right. He exhibited an unyielding selflessness in his desire to serve his country and help his fellow countrymen in the war against Nazi Germany, despite the lack of physical strength he all-too-soon realized he needed to do so. One super soldier formula and a well-placed PR campaign later, Rogers became Captain America — the perfect red, white and blue soldier fighting for freedom in the face of tyranny. It's a dream come true for Rogers, who was given the opportunity to represent the ideals he values so dearly for the country he loves, even making the ultimate sacrifice in the end to ensure those ideals live on for the future.
Fast forward to the present day, and Rogers is reintroduced as a man out of time. The United States has morphed from the patriotic fervor of World War II into a land of commercialized cynicism, where the government and its once heralded soldiers have grown to harbor secrets that leave some people dubious as to what their intentions truly are. Captain Rogers is coerced into continuing his service to his country and its Big Brother-esque intelligence service, S.H.I.E.L.D., and finds himself torn between a need to readjust to and fit in with the new world and understanding whether or not his role in its government still holds true to the values he once fought for.
"Captain America: The Winter Soldier" brings us front and center in this personal journey for Rogers, who begins to have misgivings about the missions he is ordered to conduct on behalf of S.H.I.E.L.D., questioning whether the organization and the political institutions behind it really do have the people's best interest in mind. Further complicating Rogers' world is the emergence of a ghost from his past, and he is forced to finally bridge his past and his present in order to save the future.
Marvel has created one of the more profound and engaging character-driven narratives their shared cinematic universe has seen thus far with "The Winter Soldier." Captain Rogers, along with fellow Marvel universe characters Black Widow and Nick Fury, does not leave the story unscathed, and grows tremendously from the onset of the film through to its conclusion, while leaving many questions and a wide open door regarding the future of every Marvel movie to follow in its footsteps. It's a bold decision by the creative teams behind the ever-growing Marvel cinematic universe that began with "Iron Man," and the decision to shake things up as much as they have with "The Winter Soldier" shows that Marvel isn't afraid to bet big and roll the dice when it comes to their blockbuster superhero flicks. The ending alone is enough to justify the cost of a ticket, as the ramifications of this film lead directly into next year's highly anticipated sequel to "The Avengers."
Tying together the individual odysseys of each character is a well-rounded spy thriller that plays out more like a Bourne film than a traditional superhero caper. Rogers and his team must wade through a sea of lies and political espionage to uncover a hidden truth, and the sharp pacing and unforeseen turns at every corner allow the film to ebb and flow between action set-pieces and tense confrontations effortlessly.
The action set-pieces are without a doubt some of the best that the Marvel cinematic universe — and superhero films in general — have ever produced. Tightly choreographed fight scenes showcase the agility and dexterity of Rogers' offensive style, while his trademark shield is expertly used in unique ways to highlight the savage brutality of a super powered warrior. Black Widow, Nick Fury and the newly introduced Falcon all present wildly unique ways of navigating a battlefield, allowing each action sequence featuring these secondary characters to feel fresh and true to their comic book counterparts.
Where the film truly shines is in the scenes where Captain Rogers faces off against the titular Winter Soldier, an evenly matched super soldier in his own right, who utilizes his metal arm just as well as Rogers utilizes his trusty shield. These scenes don't just portray excellent moments of hand-to-hand combat, but also help show that Rogers really isn't the perfect soldier, and the thought of him being beaten or bested helps ground the character against the overwhelming odds he faces.
Staying true to the Marvel formula, "The Winter Soldier" breaks up the drama and action with lighthearted glib between its characters, offering up moments of genuine comedy that help humanize its protagonists and adds an extra layer of depth behind their relationships. It can at times, however, feel a bit forced and insincere, reminding the audience that behind all the politics and espionage still lies a super hero movie. And with the plentiful Easter eggs and nods to comic book lore hidden throughout, "The Winter Soldier" stands among one of the best superhero movies in recent memory.
At its core, "The Winter Soldier" is a character drama woven into a Cold War political thriller reinvented for a modern audience. Supplemented with excellent action sequences and a sprinkling of comic book fantasy, the film stands as one of the best in the ever-growing Marvel cinematic universe, and a great start to the upcoming summer of blockbusters.
_____________________________________________________________________________
Follow Chirag Patel on Twitter: @cbpatel86