Photos by Moni Avila
Henry Stern, California senator and Malibu High alumnus, spoke to Public Policy students and the Pepperdine community about the future of civic engagement and the environment on March 30 at the Wilburn Auditorium.
At the event, 'Finding a Purpose through Service in Civic Engagement,' Stern shared some of his experiences and views before opening up the floor for a Q&A. The Pepperdine School of Public Policy organized the event.
"The main message today is that you don't have to wait to change the state of California or this country or the whole world for that matter," Stern said. "Ideas scale faster than they've ever scaled, the rate of change is faster than it's ever been and the hierarchy of ideas has never been more penetrable."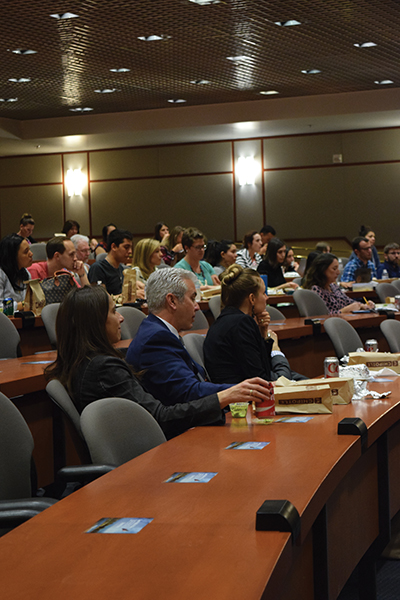 Pete Peterson, dean of the School of Public Policy, shared his excitement about the event and Stern's visit as well.
"Really good ideas, when not engaging of the residents, can really set you up for failure, and I've seen that happen in communities all over the state," Peterson said. "That's why I'm so excited about this topic tonight and so honored to have senator Stern here as well."
The School of Public Policy's student chapter for the Association of Environmental Professionals also helped organize the event.
Mitchell Morrison, Pepperdine school of Public Policy alumnus and founder of Pepperdine's AEP chapter, spoke about the organization at the event.
"The California Association of Environmental Professionals has over 1,700 members statewide ranging from consultants, attorneys and public officials all animated by the spirit of the California Environmental Quality Act and implementing that in diverse public settings," Morrison, said. "That was the intent when the organization was started and that's why Senator Stern is here today."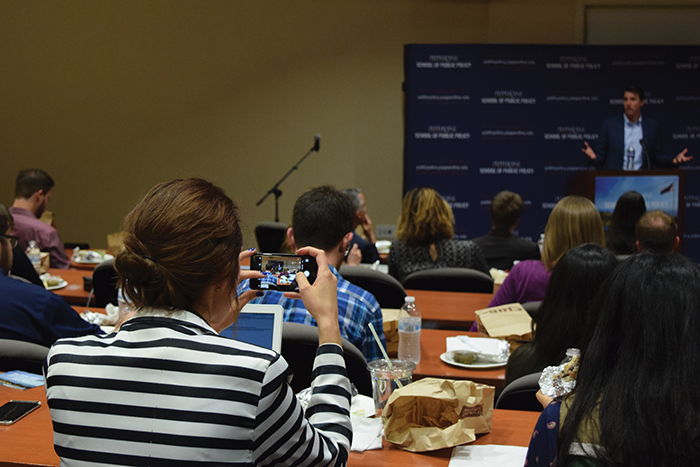 Senior Brian Najarian said he found Stern's talk "informative and compelling."
"I was attracted to the event because I thought it would be cool to be in the same room as a senator and I will say that I was very impressed," Najarian said.
Senior Stewart Harrison said a close friend at the School of Public Policy invited him to go.
"As a political science major, I really respect what Stern had to share and I admire the view he has on the importance of really engaging the public and having that dialogue," Harrison said.
___________
Follow Sebastian Lopez Barba on Twitter: @SebLopezBarba