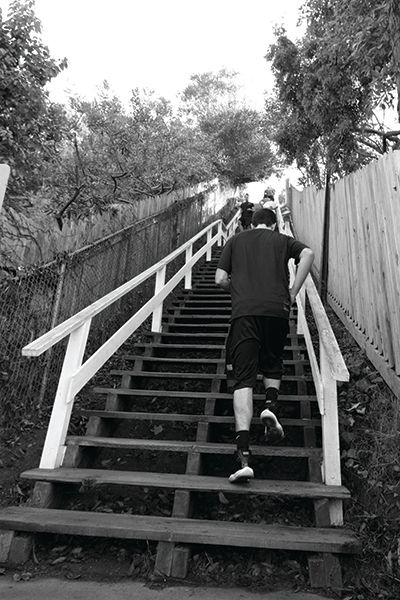 Photo by Marisa Padilla
If you don't already know, Malibu is a city with a college, but it is not a your typical college town. It's called the Malibubble for a reason (see Pepp Talk, B3). 
When you work hard, you have to play hard in order to stay sane and focused. Besides that, you want to make memories during these college years — and I'm not talking about memories with your close friend named Payson.
My first memorable experience as a freshman occurred when I went to Santa Monica for the first time, not having a car that year, I took a ride down PCH on the Metro 534 bus with two people who are now some of my closest friends. This would be one of many journeys on the 534, but as they say, you never forget your first.
Santa Monica hosts three major attractions: the Third Street Promenade, the Santa Monica Pier and the Farmers' Market. Not to mention that Venice Beach is just down the road and hosts its own set of attractions — but I'll help you explore that another time.
Third Street Promenade 
This prime shopping location offers hundreds of retailers, both mainstream and uniquely Cali. It has easy access to dozens of cafes and restaurants between Second and Fourth Streets.  I can promise you the abounding street performances will make each visit unique.
Santa Monica Pier 
This famous site, which is often seen in movies and photos,  hosts a miniature amusement park, excellent people-watching, beautiful scenery for pictures, classy restaurants and more. There is also easy access to the beach.
Farmers' Market
If you're looking for a break from the Caf — and believe me, you'll need it (the food goes downhill fast after NSO) — then the Santa Monica Farmers' Market is just for you. The Farmers' Market is located on Arizona Avenue between Second Street and the Promenade twice a week: Wednesdays from 8:30 a.m. to 1:30 p.m. and Saturday from 8:30 a.m. to 1 p.m. The vendors are incredible.
All of these attractions are within walking distance of one another, and you don't have to have a car to get there. You can catch the Metro 534 just down the hill from the Phillips Theme Tower (the cross). Fair Warning: trying to catch the 534 can be like getting good pizza in the Caf — it's hit or miss.
Parking is available in parking structures located on both Fourth and Second Streets, next to the mall at the end of the Promenade and on the street. Getting in one of the structures is your best option.
Escape the Malibubble and make memories in Santa Monica. It's the perfect place for some roommate bonding, a date night (and we can definitely use more of that among Waves), a beach day or just to get away.
As published in the Aug. 26, 2013 issue of the Pepperdine Graphic.
_____________________________________________________________________________
Follow Breanna Grigsby on Twitter: @Bre_Louise