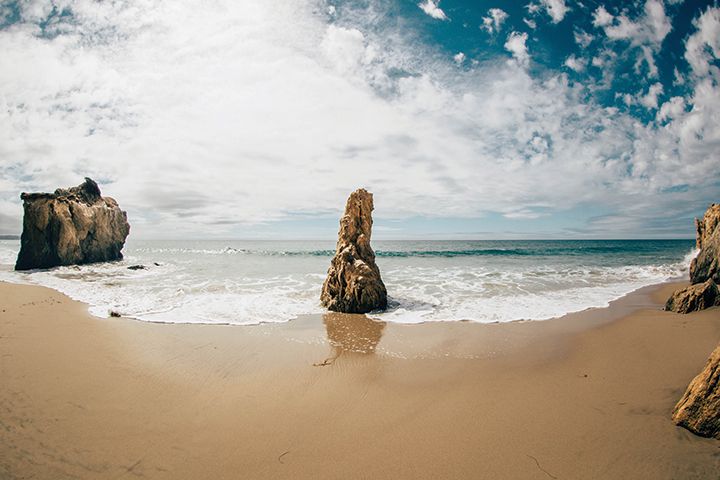 Photo by Zach Le
Are you one of those people who takes his or her homework to the beach and ends up getting a lot accomplished? Yeah, me neither. As hard as I try, I just cannot be bothered to slug through another chapter of my assigned reading when I'm anywhere but the library.
That doesn't mean, however, that I've given up beach reading altogether. I still enjoy diving into a good novel when there's sand between my toes and the rolling Pacific in my ears; I just need it to be a book that I chose for myself, not one that a professor chose for me. I also need it to be a halfway-decent book — no back-aisle romance novels for me.
If I'm going to spend my time reading, I want to get something from it. So without further ado, here are four books that will keep you entertained at the ocean, and give you something to talk about when you return to campus.
"Me Talk Pretty One Day" by David Sedaris
David Sedaris is the master of literary comedy. Often, when I read a book described as "funny," I get a couple chuckles out of it or maybe an eye-roll at an especially bad pun. But that's not the case with "Me Talk Pretty One Day." The book is a collection of essays that delve into Sedaris' life, from dealing with a father who thinks bananas are still edible after six months to living in Paris despite only being able to say one sentence in French. Sedaris is honest, witty, often poignant,and always hysterical. This book will make you laugh — genuinely and out loud — which is truly a remarkable feat.
"Bad Feminist" by Roxane Gay
"A book about feminism? But I've never burned a bra in my life," you may be saying. "Bad Feminist" is not a book that will lecture you about sexism and beat you over the brow with any intro-to-women's-studies jargon. Instead, it's the story of the author — a flawed, imperfect woman (and competitive Scrabble player), and her journey in the world of feminism, which itself can be flawed and imperfect. The essays that comprise this book deal with everything from casual sexism in television shows to the often amusing struggle of being the only black professor at a college deep in rural America. If you already consider yourself a feminist, you'll find plenty to enjoy in this book. If you don't, this book is a great jumping-off point for anyone who wants to learn how to be a more accepting person. "Bad Feminist" is never preachy; instead, it's a smart, funny and understanding book that aims to make modern society a better place for everyone.
"Love Does" by Bob Goff
Bob Goff may actually be the most interesting person in the world. He stumbled into an ambassadorship for the country of Uganda, and he traveled the world with his children to have dinner with world leaders. Each chapter in this book is a look into Goff's extraordinary life, and the best parts are not the stories but the lessons that he has learned from them. Goff has become an advocate for love — boundless, tireless, selfless love that has the power to change the world. Once you read this book, you will understand how even the smallest acts of kindness can create a snowball effect of positive change, and how even a little love can bring light to the darkness. If you're in need of an uplifting, motivating read, this is the book for you.
"Outliers" by Malcolm Gladwell
Have you ever wondered why some people become successful when other people, who are just as deserving, don't? What was it about Bill Gates or Henry Ford that made them stand out among their peers and propelled them to greatness? Malcolm Gladwell explores these questions and more in "Outliers," an in-depth study on what it takes to achieve remarkable success. This book is built around well-researched facts and relevant case studies, but don't let that scare you off. Gladwell is an engaging writer and forgoes academic jargon for a conversational style that will draw you right into what he's discussing. "Outliers" will cause you to rethink everything you've ever learned about the nature of success.
If you've been in a literary rut, these books are sure to bring you out of it. Pick one up the next time you're headed to the beach and prepare to be entertained. Take my word for it.
__________
Follow Jessica Kerner on Twitter: @The_Kernster