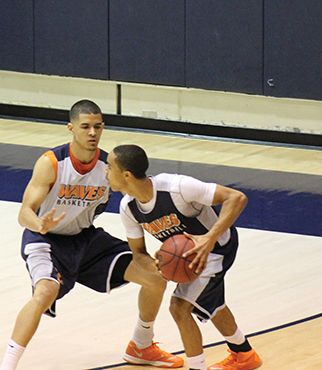 Photo by Arin DeGroff
As the Waves Cafe buzzes with laughter, constant conversations, food orders and general mayhem, basketball player Malcolm Brooks unwinds in the corner, keeping to himself and listening to music. To the wavering eye, Brooks receives no attention from the hundreds of students rushing in and out between classes. He muddles around quietly, minds his own business and utters only a few words to passing teammates and people he knows. His change in demeanor comes with the lacing of his sneakers, the sound of a pre-game pep talk and the anticipation of what his opponent will bring.
Brooks' journey to the Pepperdine hardwood began on a backyard Fisher Price basketball hoop in his native city of Brooklyn, N.Y., when he was just 4 years old. His father, Rodger Brooks, played basketball at Indiana State University and was instrumental in his son's development both as a basketball player and a person.
"My father really mentored me my whole life by teaching me how to be a man," Brooks said. "Without him I wouldn't be the ball player I am today."
Brooks graduated from Brooklyn's Benjamin Cardozo High School in 2010. He played on their varsity team for two seasons under New York coaching legend Ron Naclerio. While at Cardozo, Brooks was a slow and steady developer while his peers were nationally ranked at a young age. It was his senior year in high school when he fully developed his game and realized he could become a Division I athlete.
"The quarterfinal game against Curtis High School [located in Staten Island, N.Y.] was definitely my best game in high school," Brooks said. "We played at St. John's and the crowd was insane. Plus, I had 25 points."
Following his time at Cardozo, Brooks spent two years at Lamar Community College in Lamar, Colo. As a 2011-12 freshman, he led the team with 17.1 points as well as 2.9 rebounds and 1.8 assists. In his sophomore season, he earned All-Region IX honors and averaged a team-high 18.2 points along with 3.1 rebounds and 1.9 assists. In his final game at Lamar CC at the Region IX tournament, he scored 35 points in a 90-83 loss. Despite ending his time there on a negative note, Brooks sees his time in Colorado as beneficial.
"I'm glad I went there," Brooks said. "Obviously, I was very successful. I had a coach that believed in me and I definitely made the best of the experience."
After all his hard work, Brooks had a decision to make. Due to his superior play in junior college, both University of Evansville — a small, private university in Indiana — and Pepperdine were enticing him to join their team. Brooks points to his visit at Pepperdine as the ultimate deciding factor in his choice.
"I fell in love with the campus," Brooks said. "The main thing was the coaching staff and being comfortable and seeing where I can help this team. I'm glad I made this choice."
In the early part of the season, Brooks' goal was to find a rhythm within the team and the offense. He has started all games this season and has provided a spark while averaging 9.8 points, 2.8 rebounds and 1.6 assists per game. His breakout game to date was against BYU in late December. He scored a career-high 24 points and led the Waves to an important conference victory. Brooks said he is happy with his play this season, as he has become more comfortable with the offense and the team dynamic in addition to using his own weapons to help the team win games.
"I feel like I can create offense for myself or others. Being a big 6' 5'' guard that can also handle the ball and create is a plus. I feel like I've improved a lot on the defensive end. Coach Wilson has helped a lot with that. But I'm always trying to get better," Brooks said.
Freshman guard and teammate Lamont Murray Jr., whose father played 11 seasons in the NBA, has nothing but good things to say about Brooks.
"Malcolm brings great shooting, defense and energy to the floor every day. He's a leader on and off the court," Murray said.
The team (14-11) left for their upcoming road trip Wednesday morning. They will go to Spokane, Wash. to face the Gonzaga Bulldogs and then to Portland, Ore. to face the Portland Pilots, both of which are conference games. They will return on Sunday and have their three remaining games against Loyola Marymount, San Francisco and Santa Clara before the March conference tournament in Las Vegas, Nev.
"I feel blessed to have the opportunity to come here, play basketball and try and help turn the basketball program around in a positive direction," Brooks said.
_____________________________________________________________________________
Follow the Graphic on Twitter: @PeppGraphic
As published in the Feb. 13 issue of the Pepperdine Graphic.