Slowly, but steadily I ascended the steps of of the altar toward him offering the sacramental wine. But I wasn't just carrying the blood of Christ in the delicate crystal chalice, which was a little bit heavier than I anticipated. On Friday night as the world watched Pope Francis conduct mass in Manhattan's Madison Square Garden Cathedral, I was carrying every hope, dream and prayer of mine along with the faces that have both haunted me and consoled me. With each step closer and closer toward the altar I thought about my own life and what I have done and what I have failed to do with my faith. Behind the newly ordained priest leading us to the altar, the nine of us were playing a sort of "follow the leader." Instead of being rewarded with a juice box like in kindergarten I would receive the biggest honor of my life thus far. I was a gift bearer for mass to the Holy Pope Francis I, but I was also just one of the many sheep in the Pope's flock that day.
Waiting for what felt like an eternity for the Pope to walk toward the front of the altar to receive the gifts, I quickly looked around behind me. I was in the literal middle of Madison Square Garden; surrounded by a sea of faces, prayers and dreams. When the Pope first entered the arena on his golf cart with a smiling Cardinal Timothy Dolan joyously accompanying him in the backseat, he was met with shouts and waves of joy and tears of jubilation from thousands of native New Yorkers and immigrants from around the globe. His cart drove right past me in a triumphant lap around the Garden and I felt blessed as I hurriedly tried to snap his picture on my iPhone.
To be blessed means a myriad of things: to be happy, to be thankful for something, and to be connected to a greater power—specifically God. In our lives, we see but usually ignore thousands of faces. Faces of loved ones and strangers, saints and sinners, those poor in spirit but rich in the bank. Sometimes we don't even realize how blessed we are.
During Pope Francis' homily, he talked about how our world and cities are filled with empty connections and it's often hard for some people who feel like they don't belong. I felt like I belonged.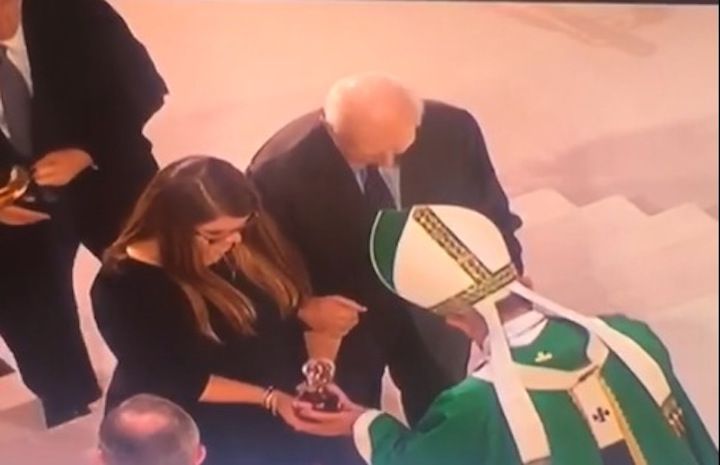 As I offered the holy sacrament to the holiest man in the world, I felt an honor above an honor as his hand grazed mine as I approached the wine. It wasn't just an offering from me, in my mind an offering from the tens of thousands of people sitting in Madison Square Garden and the millions of them watching at home. As Pope Francis waved his hand over the sacrament and somberly nodded his head and looked me in the eyes, he wasn't just making eye contact—it was as if he was peering into my soul. As I exited the altar, I recognized the sheer unimportance of my sole existence, and knew it was my obligation the share this blessing and experience with not only my loved ones but strangers.
As I left the altar, I heard my name in a stage-whisper from Cardinal Dolan, the Archbishop of New York. I looked back in surprise and he replied with an exuberant and knowing wink of his right eye. I awkwardly waved and smiled back, knowing that we shared the same inspiring experience.
Pope Francis often calls upon his congregation by asking them to pray for him. He ended his homily that night by saying that "The people who walked in darkness have seen a great light. And we ourselves are witnesses of that light."
I looked out to the crowd who seemed to agree. Then I looked up to a large cross of Jesus on the crucifix hanging right above the altar. Behind the cross, hundreds of priests watched the mass. They were looking directly into the light illuminating the stage. As I followed their example, I too saw the millions of people who had waited hours to see Pope Francis in Washington D.C., New York and Philadelphia. I was reminded of the beautiful 17 year old girl with spina bifida in the pink wheelchair in St. Patrick's Cathedral who the night before wiped hot tears from her eyes after Pope Francis greeted her. The hot lights from the stage weren't just illuminating their faces; but their blessed souls.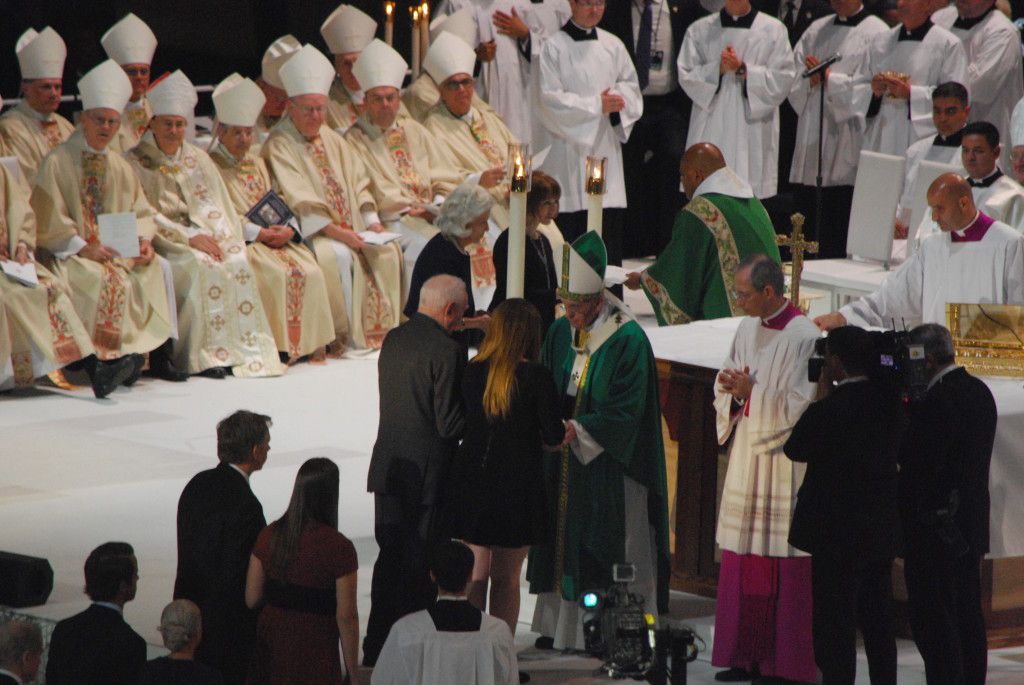 __________

Follow Veronica Johnson on Twitter: @veronajohn36