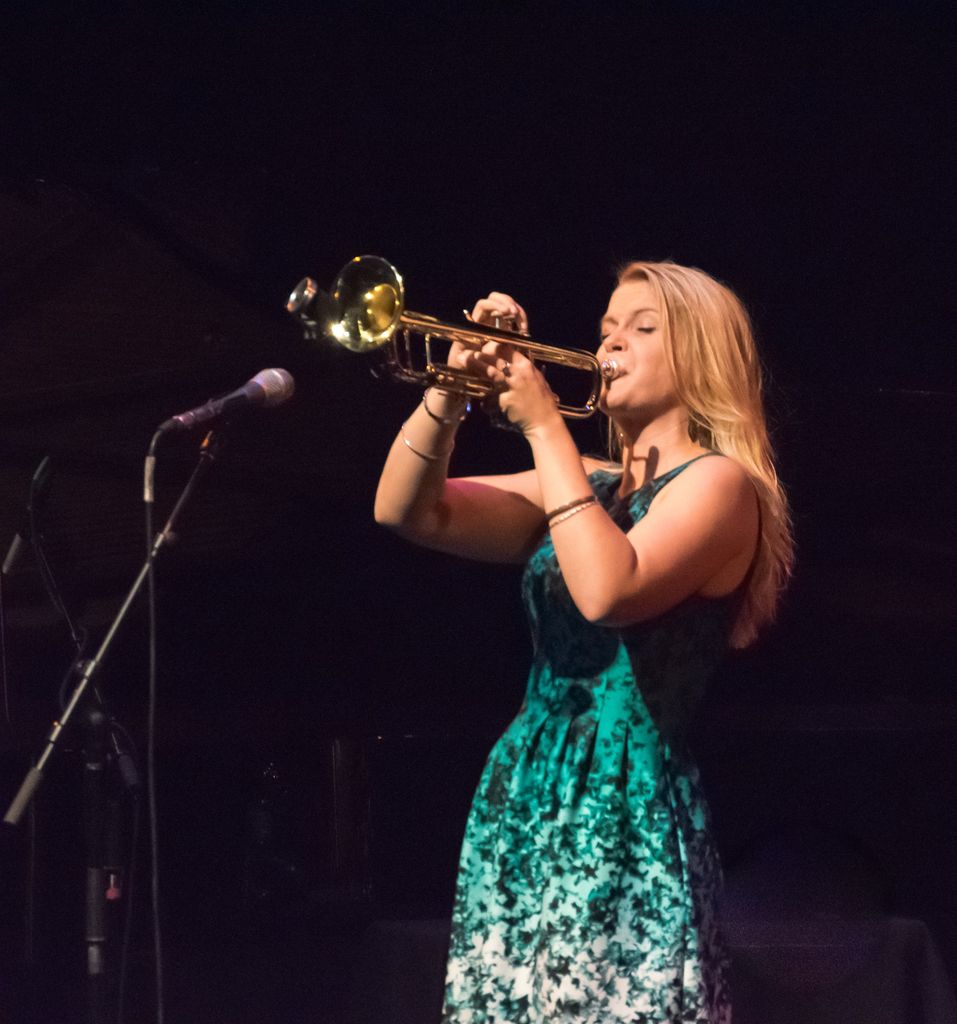 Photos by Brett Bean
Bria Skonberg, acclaimed jazz singer and trumpet player, performed with her band in Smothers Theatre Saturday night as a part of the Lisa Smith Wengler Center for the Arts 2016-2017 concert season.
Skonberg played a range of music, with songs varying from the fast-paced "Swing That Music," to the more somber "Je Suis Seule Ce Soir." She also sang some of her own original songs, many of which are from her album, "Bria," which will be released Friday.
Her band consisted of four others: a pianist, a bassist, a drummer and a musician who alternated between the saxophone, clarinet and percussion.
Skonberg transitioned between singing and playing her trumpet in each song, her trumpet staying in her hand for most of the performance. Rebecca Carson, managing director of Lisa Smith Wengler Center for the Arts, said this ability was a huge reason why she chose to invite Skonberg to Pepperdine, noting the incredible talent that directly switching between trumpet and vocals takes.
Skonberg's voice filled the dimly-lit theater as she talked to the audience, describing the emotions that inspired her music –– moments ranging from when she was feeling "single and sassy," to the first time she met her current husband.
The concert attracted a large amount of people outside of the Pepperdine community, drawing in both those new to jazz and longtime jazz fans. Bob Young of Pacific Palisades, 67, said he had not listened to much jazz music before, but came to the concert with some friends having loved previous concerts in Smothers Theatre.
"[There] was just an amazing range in her voice, starting off very soft and that's [just] the singing part," Young said. "But then you have the crying blues part where she's playing the trumpet before that and just the ensemble, which is with her, is amazing."
Others came to Skonberg's concert in search of a wonderful jazz performance. Ginger Berglund and Scott Whitfield of Pasadena, two married professional jazz musicians, said they came to Smothers because of Skonberg's talent. They said they were not disappointed.
"It's a very tight-knit group," Whitfield said. "The whole band was just top-notch."
As musicians, Berglund and Whitfield were amazed by the caliber of Skonberg and her band. "She makes [the older pieces] sound simple, but we know that there's so much more to actually doing what they do," Berglund said. "The teamwork that's involved is intense."
Outside of her upcoming LP, "Bria," Skonberg has already released several albums, containing both original songs and those of other jazz musicians. Looking ahead, Skonberg said that she's already starting to work on a new album.
"…As musicians, we're always kind of looking three days, three months, three years in advance," Skonberg said after her concert. "Yes, I am touring. Yes, I am working. But I'm also putting time aside so I can really focus on getting my next music together."
___________________________
Follow Madeleine Carr on Twitter @madeleinecarr23