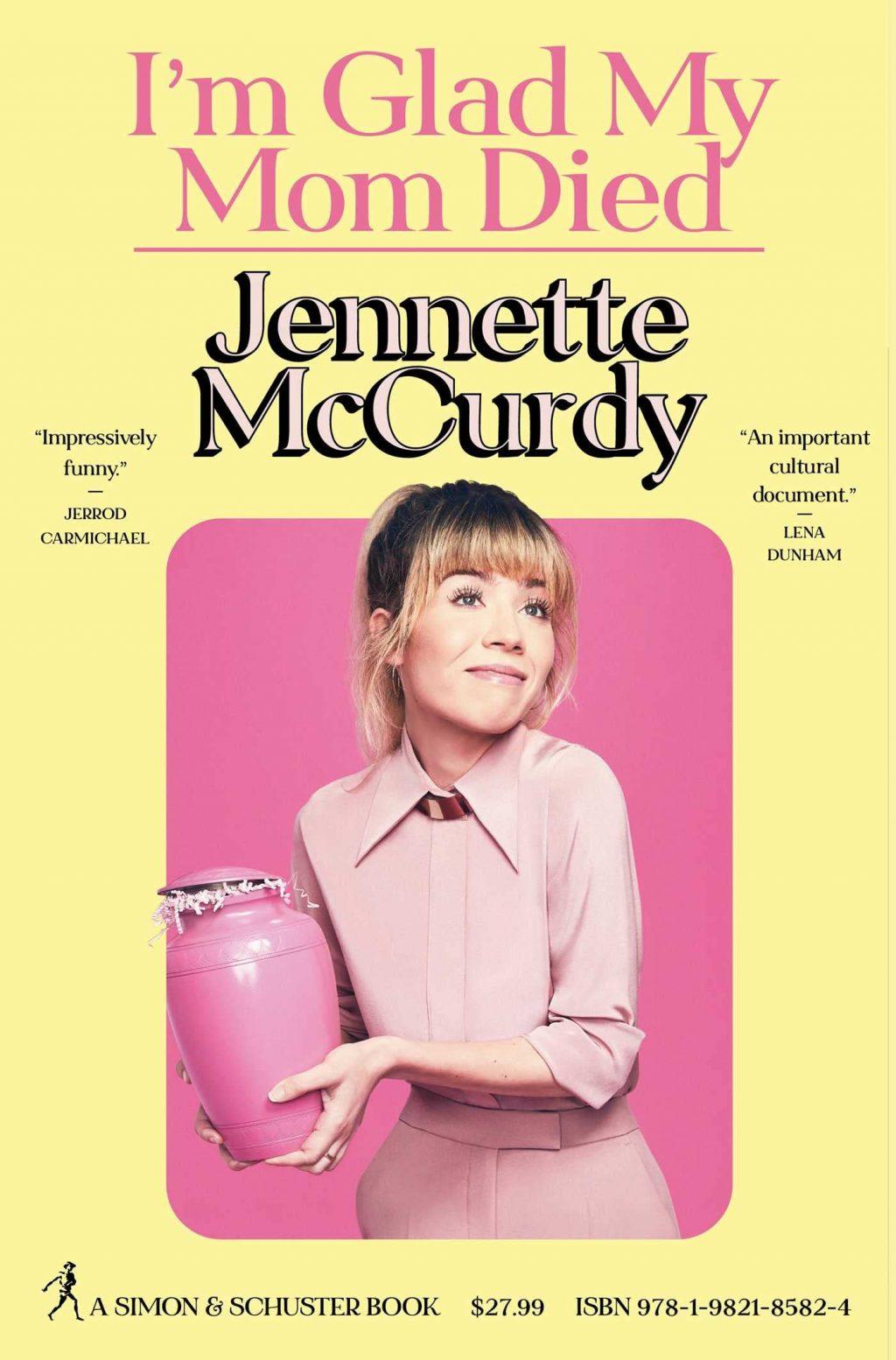 "iCarly" star Jennette McCurdy holds a pink jar on the cover of her brand new book. McCurdy dealt with abuse by her mom and someone at Nickelodeon, but she looks off in the distance at peace with her mom's death. Photo courtesy of Simon & Schuster
Former actor and author Jennette McCurdy released her memoir "I'm Glad My Mom Died," Aug. 9, revealing experiences she faced in the entertainment industry.
McCurdy is known for her role as Sam Puckett on Nickelodeon sitcoms "iCarly" and spinoff "Sam & Cat." McCurdy admits in her story she dealt with pressure from her mom and toxicity from a male figure, referred to as "The Creator," while on these shows.
"Throughout the years, I've slowly learned that the entertainment business is one where what's being said is rarely what's being talked about," McCurdy wrote in her book.
Acting was never McCurdy's dream — it was her mom's. McCurdy wrote her mom forced her to act at a young age, emotionally manipulated her when she wanted to quit and belittled her passion for writing.
These instances show her mom only cared about fulfilling her own passions vicariously through McCurdy and never cared about her feelings.
McCurdy explains in the book how "The Creator" contributed to her trauma as a child actor. She first pointed out he made her try on bikinis for a wardrobe fitting on set — which made her feel uncomfortable because she didn't want to appear sexual at age 15.
Actor Daniella Monet, who played Trina Vega on another one of "The Creator's" Nickelodeon shows, "Victorious," spoke to Business Insider about how she also felt some of the costume choices weren't appropriate for young actors. She spoke about a scene she thought was too sexual, where she ate a pickle while applying lip gloss.
McCurdy wrote she had similar feelings toward "The Creator" as she did about her mom. She always felt self-conscious around him and had to be careful not to make one mistake.
"I've seen the creator make grown men and women cry with his insults and degradation," McCurdy wrote. "'The Creator' knows how to make someone feel worthless."
McCurdy revealed "The Creator" got angry with her for not having enough head movement when she kissed co-star Nathan Kress for an "iCarly" episode. She also wrote he pressured her into drinking alcohol when she was 18 and gave her a shoulder massage without asking.
Her claims express the fear and difficulty for young people to stand up against inappropriate behavior in the workplace when an abuser holds all the power.
Former "Zoey 101" actor Alexa Nikolas protested outside Nickelodeon's headquarters in Burbank on Aug. 25, claiming she didn't feel protected as a child on the network. Nikolas said in an Instagram video of the protest that the same 'Creator' made her feel physically tense on set, yelled at her and made her cry at the former building Nickelodeon on Sunset.
"The Creator" also broke several promises with McCurdy, according to the book. He was supposed to give McCurdy her own spinoff show called "Just Puckett," but it ended up being a co-lead sitcom with singer Ariana Grande from "Victorious" called "Sam & Cat."
McCurdy agreed to "Sam & Cat" because "The Creator" promised she would get to direct one of the episodes — her true passion. However, she wrote during the table read for the final episodes, the producers didn't list her name on the schedule to direct.
"I've shown up to work every day, been a professional, swallowed my anger and carried a show for almost 40 episodes," McCurdy wrote. "Now that [the producers] got what they wanted out of me, they're taking away the very reason why I was doing all those things in the first place."
McCurdy's directing incident indicates the reality of her toxic work environment. It shows no matter how much of a good Samaritan she was, "The Creator" and producers were using her — not caring about her own well-being and wishes.
McCurdy also wrote the network lied when they said they canceled "Sam & Cat" over jealousy she had toward her co-star's pay. She claimed the real reason was due to a sexual harassment allegation against one of the producers.
Nickelodeon offered her $300,000 in hush money to never speak publicly about her experiences on the network, according to the book. This proves how some companies can care more about protecting their business than the mental health of their employees.
McCurdy wrote she turned down the offer out of moral integrity.
Had McCurdy taken the money, she wouldn't have been able to reflect on her traumatic experiences in this articulate and detailed biography. This book helps her readers understand some truth that goes on behind the scenes of entertainment — not shown on television screens.
"I'm Glad My Mom Died" is available to read on Kindle and to listen to on Audible.
____________________
Follow the Graphic on Twitter: @PeppGraphic
Email Timothy Gay: timothy.gay@pepperdine.edu