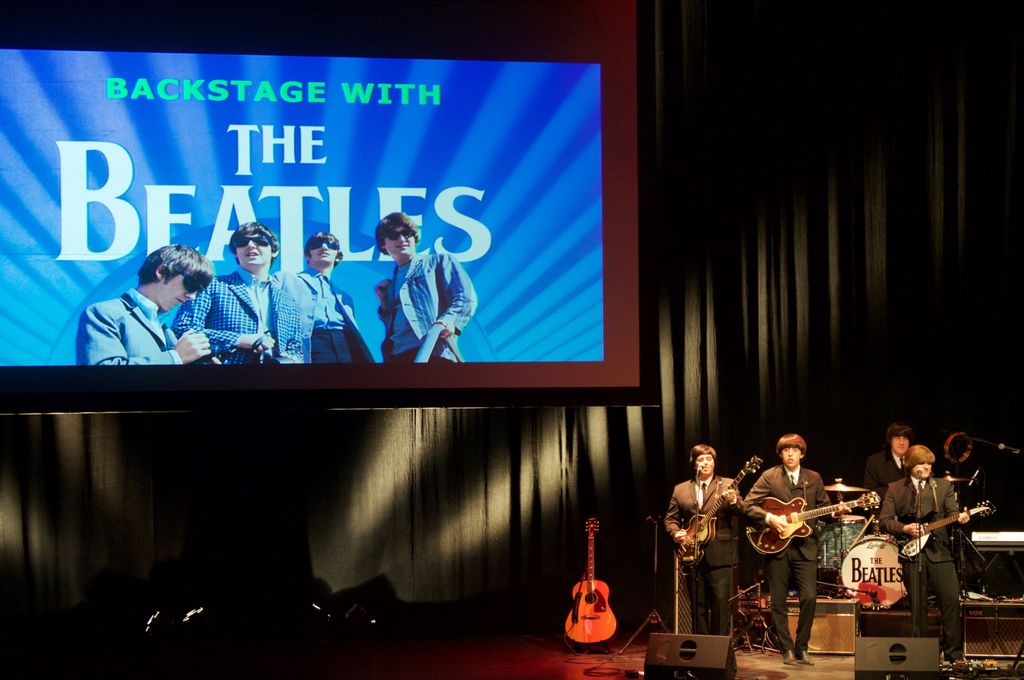 Photos by Lauren Young
A full house gathered in Smothers Theatre on Friday to watch Bob Eubanks' Backstage with the Beatles, a night of music performed by Beatles cover band Ticket to Ride, and behind the scenes stories told by TV/radio personality, game show host and concert producer Bob Eubanks.
Eubanks told stories about his involvement with the Beatles in the early years when he worked as a radio personality at the Oxnard-based KRLA.
Like many Beatles fans, Eubanks was entranced by their performance on the Ed Sullivan show, which prompted him to convince their manager to have them play at the Hollywood Bowl. In trying to bring the Beatles to play at the Hollywood Bowl, he mortgaged his own house to come up with the $25,000 needed for the event. The success of the concert led Eubanks to become the go-to guy for bringing the Beatles to Los Angeles in their touring years.
Eubanks switched from excited storytelling to well-placed puns to cue Beatles cover band Ticket to Ride to play a fitting Beatles song in a fun form of interactive storytelling.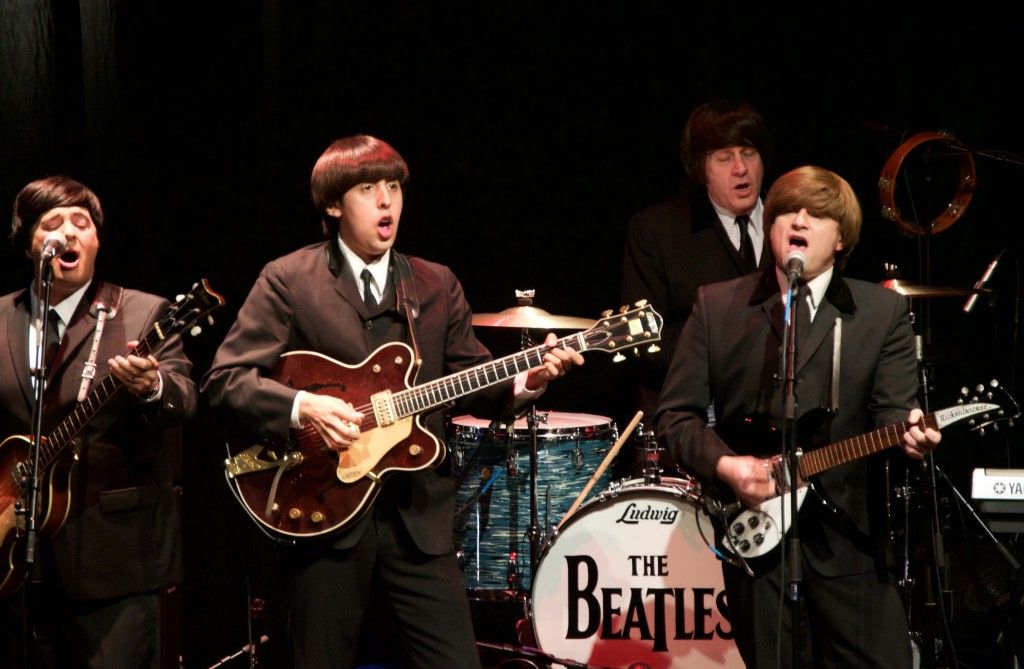 One memorable story from the night came from Eubanks' very last interaction with the Beatles. The Beatles were finishing their concert at Dodgers Stadium in 1966 when their getaway cars kept breaking down. They tried taking an armored car, an ambulance and the armored car again with no luck. It wasn't until the Hell's Angels motorcycle gang came and led the Beatles out of the stadium that they were able to leave. Yes, the girls were that insane.
After a few more songs and huge sing-a-long to "Hey Jude," Eubanks stopped to thank everyone for coming and revealed that there were some special prizes to be given if a red, blue or green sticker was found under certain attendee's seats: A T-shirt, a copy of Eubanks' "It's in the Book, Bob!" or a limited edition print of the poster used to advertise the Beatles at the Bowl.
Beatles fan and alumna Kris Dawson said she "loved" the stories from the night.
"It was like a step back in time," Dawson said. "I listen to a lot of LA radio so hearing Bob's story was priceless."
62-year-old Beatles fan Terry Williams, said he enjoyed the fun storytelling of the show.
"Bob is a great storyteller," he said. "Ticket to Ride was good too, I hadn't seen them before."
The partnership between the band Ticket to Ride and Mr. Eubanks came about when Eubanks' assistant went to a show of theirs, told him about it and convinced him to see it for himself, according to band manager and "Paul's" wife Evelyn Toczynski. A short time after that, Eubanks called them, and they worked on the idea.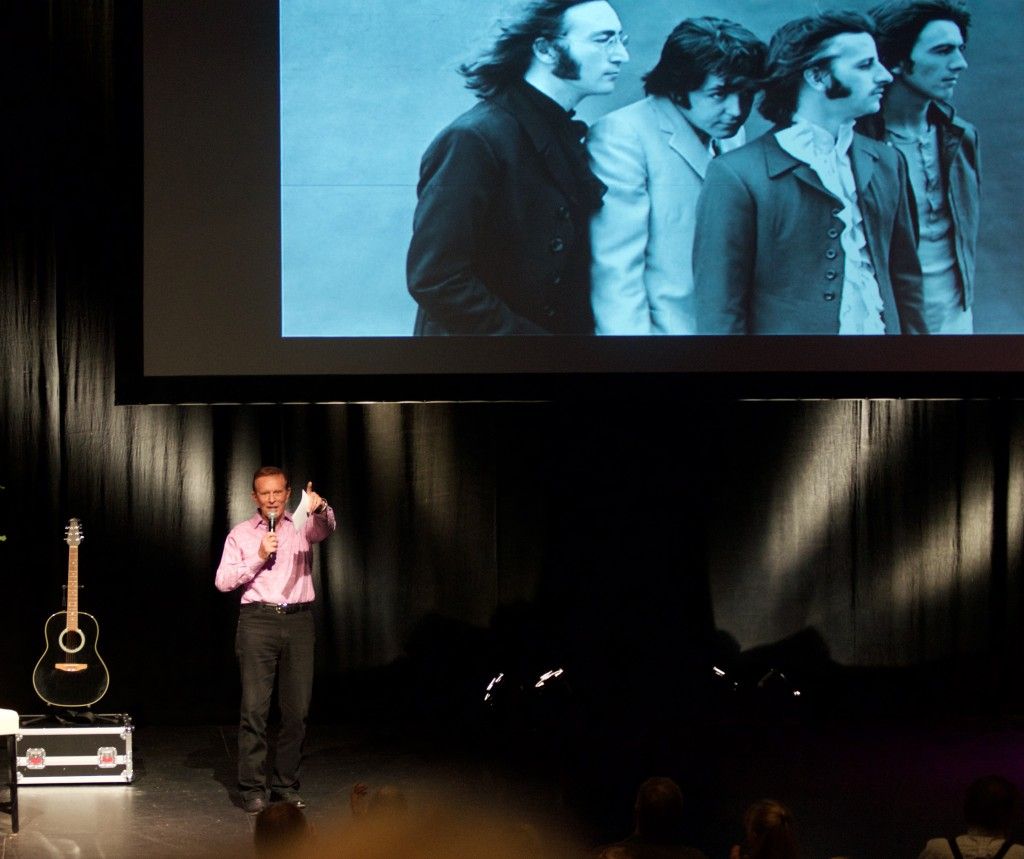 Eubanks stayed behind to sign autographs, take pictures and chat with fans. Tired from the show but still chipper enough to talk, he told of how his idea for the show came about.
"I saw other Beatles shows, and I wanted to do something different," he said.
There are all sorts of shows about the Beatles, from cover band concerts to documentaries to interactive storytelling pieces. The show at Pepperdine was the first run of his idea, but he hopes to take it on tour.
"I would like to take it all over," he said. "A tour of North America would be fun."
_______________________
Follow Kelly Rodriguez at: @KRodrigNews