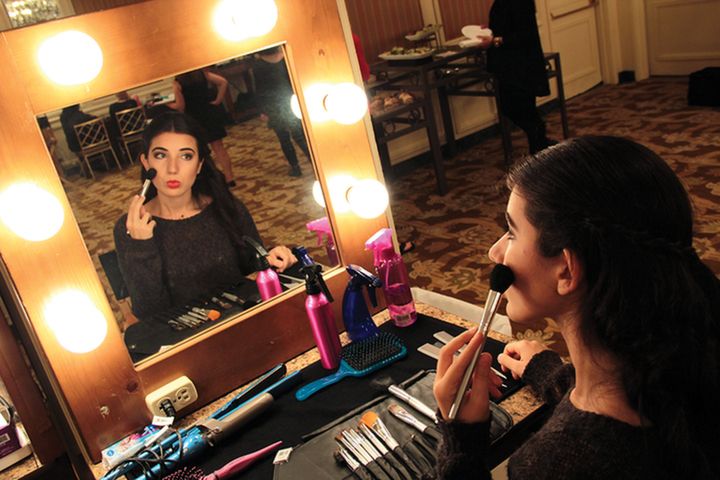 Photos by Jenna Aguilera
Through the doors of the glamorous and iconic Beverly Hills Wilshire Hotel, breathed the nervous yet excited models of the SavvyChic Fashion Show on Nov. 19.
A group of models were rehearsing on the runway hours before the show. "Are you girls bright-eyed and bushy-tailed?" asked SavvyChic Fashion Show Coordinator Carol Latham.
Among them was a 5'6'' Pepperdine University freshman with thick brown hair and brown eyes who replied, "I don't know about bushy-tailed, but maybe bushy-eyebrowed."
That freshman was me.
With power brows, bold red lips and the weight of gaudy earrings, I strutted my stuff at the SavvyChic fashion show. Being a model in the show was a memorable experience. I was fortunate enough to work with a great group of girls of all ages, races and personalities. I probably would have never met them otherwise, but am glad I did. However, I technically wasn't supposed to be there…
The journey began on Sept. 24 with an open casting call. Fresh off the shuttle from main campus, I approached the Brock House as a woman in a black dress on a mission. Debby Benton, wife of President Andrew K. Benton, greeted me with a smile and warm welcome to use her living room as a temporary catwalk.
Latham was also at the house assessing and directing our walks. We were then dismissed with a sincere expression in a "My people will call your people" (via email) fashion.
Then came the anticipation of opening the email. I felt like a contestant on America's Next Top Model. Were my shoulders back, chin up and head held high enough? Did I present that "smize" Tyra Banks always emphasized on the show?
After one click, my heart dropped.
"You have been selected as an alternate for the SavvyChic fashion show," wrote Haley Simon Manager of Special Events at Pepperdine.
"We would like, if possible, for you to attend the mock runway rehearsal next Thursday so you are prepared in case you are needed."
So attend I did. The Fireside Room was filled with beautiful Pepperdine girls ranging anywhere from 5'7" to 6 feet tall, a size two to a size six. Brown hair to blond hair to red, light skin to dark skin — you get the picture.
As a size four girl at 5'6" with light skin and dark hair, I felt equally as beautiful, but disadvantaged in the sense that I was not guaranteed a spot in the show. Therefore that practice was more like part two of my casting call.
"Tell a story with your body language," Latham said at the practice.
We all told our own stories, different but equally as beautiful. Some girls had the strong strut, others the free and flowy. Mine was somewhere in between. I sealed my walk with a smile, hoping that it would be enough to make it into the show.
Next thing I knew, I was called back for a fitting. SavvyChic adorned us in lace and beads with a hefty price tag. The clothes fit like a glove, no alterations needed. It was as if I was meant to be in the show, despite the circumstances.
At the sight of another email, my hunch was confirmed: I was in the show!
Then came the next adventure: the show. The Wilshire was as magical and monumental as I imagined it would be. Even our dressing room was beautiful. The ceiling was covered in chandeliers and the air was filled with excitement and nerves. The scrumptious cookies and support of all the other girls in the dressing room did a fine job in assisting with that.
After one last runway practice, Latham gave us some last minute advice. In the words of the fashion savvy host of Project Runway, Tim Gunn, we were told to "make it work." Even if we messed up on stage, the best course of action was to make it look like we meant to walk the way we did, she said.
"Stand close to your partner so you can feed off their energy," Latham said at one of the previous practices.
The girls who had runway partners did a fantastic job coordinating with them, and not just because they were color-coordinated. However, I walked solo in both scenes. Thus, the energy I had to "feed off of" had to come from within.
I would consider myself to be a secure person, confident even. That did not stop me from being a little nervous. I was a freshman. This was my first runway show. I was walking alone — oh, and I technically wasn't supposed to be there.
It didn't matter, I told myself. Who cares if I was a freshman? Who cares that it was my first time? Who cares if I was "technically not supposed to be on the runway?" I was there for a reason, alone, and ready to "make it work."
As the beat of the music picked up, I felt my legs turn to weights. Heels didn't help. However, I walked — no, I strutted. I strutted and smiled at the audience and loved it. You know why? Because I loved the spotlight and the art of it. There is something beautiful about turning calculated steps into a dance — self expression. Wearing gorgeous clothing also helped.
The second time around, the walk was easier and less thought out; I had gotten a feel for the stage and loved it. My black skirt floated freely under my fingertips as I swayed my arms. My favorite part of the outfit however, was my top, off the shoulder with white lace and beading. I felt like a princess, and would do the show again just to revisit that feeling.
SavvyChic is in its eleventh year as an annual event that raises money for Pepperdine's Boone Center for the Family, according to Pepperdine's Public Relations Associate Tiffany Wright.
__________
Follow Kristin Vartan on Twitter: @krischic2911