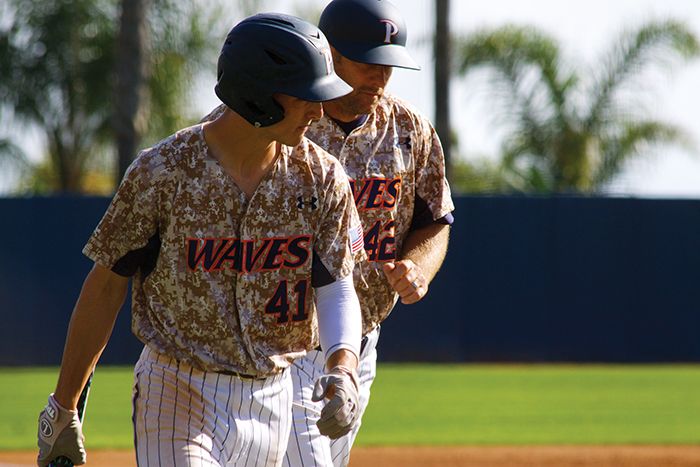 Photos by Arin DeGroff
For those who have been missing more options in their daytime weekend sports entertainment, fear not. If you missed the excitement on the baseball field this past weekend, here's a newsflash: the season has started again.
The baseball team may be late to the party — basketball, volleyball, tennis and golf have been underway for quite some time now and swim has already wrapped up their season — but it's off to a strong start after their first game last weekend. The Waves are 3-1 on the season, and conference play has yet to start.
The team played its season opener against St. John's on Friday, suffering a 2-0 loss off the bat. Pepperdine earned six hits in the game but couldn't find themselves a run. The Waves had a close call in the bottom of the ninth inning with runners on first and second. At that point, St. John's' Thomas Hackimer proved too much for the team to handle as he stepped out onto the plate to end the game.
The lineup for the baseball team this year introduces us to a number of fresh faces and new names, with 18 freshmen on their 35-man roster. The team has had some time to bond and play together. They traveled to Taiwan over Thanksgiving break to play in the Formosa Cup against teams from Taiwan, Korea and Japan.
According to Head Coach Steve Rodriguez and senior right-handed pitcher Corey Miller, the experience was a great opportunity for the team to bond and get to know each other and develop their team dynamic.
"This is probably one of the best teams I've coached in regard to team dynamic … they're a fun group to coach because of the excitement they bring," Rodriguez said.
Pepperdine swept the tournament in Taiwan 3-0 to bring the 2014 Formosa Cup home, giving them high hopes to win the WCC Championship this year.
"I have all the confidence in my team from what I've seen of the hard work that has been put in this season. It's showed me we can be excited about what's to come," Miller said. "I think we're pretty strong in a lot of aspects — pitching, hitting, defense."
Rodriguez seconded the statement. "We have a lot of strengths … we're a very well-balanced team this year," Rodriguez said.
After their first loss to St. John's, the Waves recovered to take back victory in the next two games of the three-match series over the weekend and overall, emerged triumphant to take a 2-1 series win. Pepperdine began Saturday's game with a 5-0 lead and ended the game 8-4. The next day was no better for St. John's as they lost more ground and Pepperdine's team found its feet, bringing the game to a close, 11-1.
On Tuesday, the Waves carried on their hot streak against Long Beach State, with a three-run double by freshman Aaron Barnett in the eighth inning that brought home a 6-3 win.
Pepperdine faces Utah Valley this weekend and will play them in a three-game series on Friday at 2 p.m., Saturday at 1 p.m. and Sunday at 1 p.m.
"The teams we play are irrelevant, its more about how we play … they're going to come this weekend with a lot of experience, but the biggest thing for us is to play well and I really like our chances," Rodriguez said.
But that's not all that can be done.
"Having a lot of people in the stands being supportive helps our confidence and makes the game a lot more fun … there's a lot of character on this team, its fun to watch and if students come out they can expect to have a good time," Miller said.
_____________________________________________________________________________
Follow the Graphic on Twitter: @PeppGraphic