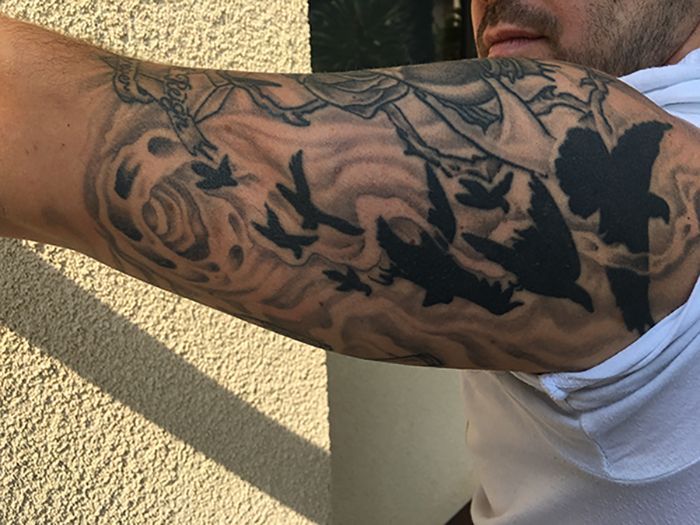 Photo by Alli Burnison
"Growing up my mom always warned me never to get a tattoo, because if I did I would never be able to find a respectable job," Pepperdine alumna Galina Carson said. Carson graduated in May of 2016 from Pepperdine University with a bachelor's degree in Business Administration.
This summer, she interned for The Huffington Post in New York. On her 21st birthday, she and her mother got matching tattoos.
For generations, tattoos and piercings have been stereotypically linked to criminals and biker gangs. Recently, tattoos have become increasingly known as the "mark of the Millennial." Adults under the age of 45 are twice as likely to have a tattoo than those over the age of 45, according to a Fox News poll conducted in 2014. More specifically, 36 percent of all Millennials have at least one tattoo.
While tattoos seem on their way to becoming more widely accepted by society, tattoo artists are finding that their clientele has changed over time.
"I've been tattooing for two years and I had a two-year tattoo apprenticeship," tattoo artist Sean Gallagher from Nathan's Tattoos and Piercings said. "The people coming to me for tattoos completely varies — I tattoo a lot of kids my age, and I tattoo parents, moms, dads, all that stuff."
Gallagher attributes the change in clientele to the evolving trends and attitudes toward tattoos from society. But should this idea that marking your body permanently will eliminate your chance at a decent job continue to instill fear in the new generation of workers?
According to Pew Research Center, only one-third of Baby Boomers are still in the workforce — over the next 10 years about 200,000 Baby Boomers will have reached retirement age. So it's official: The generation who has written the rules is now heading into retirement, while the rule-breakers are taking over their jobs.
Some companies have begun changing their policies in order to accommodate those with tattoos.
Both Costco and Starbucks have changed their policies regarding tattoos within the past two years, making changes to dress code regulations and requirements to cover tattoos at work.
A difference in attitudes may be even more noticeable among small business owners. Roy Sarnecki, the owner of Main Event Home Furnishings in Las Vegas, Nevada, runs two warehouses with a silent partner. Both Sarecki and his co-owner have tattoos, and have been in the furniture business for over 30 years.
"We don't have a policy about tattoos. As long as they're not offensive, we don't care," store manager Jodi Cairo said.
In the culinary field, tattoos have been accepted and encouraged for many years according to Chef Rick Tramonto, Iron Chef contestant and head chef of countless restaurants. Ranging from Bible verses to an entire set of chef's knives, Tramonto appreciates the open-mindedness of the restaurant business that allows him to continue collecting his bodily art.
"[Tattoos] used to be on just bikers and mechanics, now it's become an art form," Tramonto said. "They weren't popular in the '80s — they were popular in rock 'n' roll — but in the '90s, they started to be accepted mainly because of the reality television shows; it all started to bleed together."
Tramonto also understands the negative perception and previous resistance toward tattoos in the workplace.
"I think sometimes, if I were laying on the operating table and my brain surgeon came in with tattoos, would I feel more comfortable?" Tramonto said. "I wouldn't. But if he had the qualifications, why wouldn't I be?"
The different branches of the U.S. military have also adopted their own set of standards when it comes to tattoos, and each branch has its own specificities.
The Navy's tattoo policy only requires a member's tattoos to meet specifics. The Navy's policy includes meeting criteria according to size, content, location and cosmetic. Contrary to the Navy's tattoo policy, the U.S. Air Force's policy prohibits any excessive tattoos —excessive defined as anything that covers more than 25 percent of the body and/or is offensive. Having the strictest of policies, the Air Force requires its members to pay out-of-pocket for any tattoo removal that they deem necessary.
The Army's newly adopted regulation, 670-Section 3-3, states there are no longer limitations in regards to the size or amount of tattoos a member is permitted to have.
Changes in organizations' tattoo policies demonstrates efforts of Support Tattoos and Piercings at Work, which is dedicated to working with companies to change tattoo and piercing policies, combat discrimination, encourage expression and discourage the pursuit of lawsuits.
With the support of STAPAW, along with other employee petitions, 28 large corporations — such as Olive Garden, Bank of America and Wyndham Resorts — have changed their policies, allowing their employees to have and display tattoos In addition, hundreds of smaller companies also changed their policies.
As policies continue to change and jobs continue to open up, the Millennials entering the workforce will continue to have an increasingly easier time sporting their tattoos around corporate offices.
_____________________
Follow the Pepperdine Graphic on Twitter: @PeppGraphic