Photo Courtesy of Meridith Cary
Meridith Cary's studio space on the fourth floor of the CAC is a collection of abstract oil paintings depicting human figures, finished and unfinished, clothed and nude.
Cary describes herself as an "an abstract contemporary traditional realistic" painter. Her journey toward being a painter began with a general education sculpture class.
"I really liked the fourth floor studio space, so after I was done with that sculpture class I decided to take more art classes just so that I could come back up here," she said.
Cary was about to graduate with a creative writing major and an art minor when she decided to stay at Pepperdine another year to complete an art major. Having finished the extra year and the art major, she enrolled in one art class this semester in order to continue using the studio space.
Many of Cary's paintings are based on ideas that correspond with photos.
"Basically I have an idea or a starting point or something I want to explore. Like with this one," — she pointed to a painting of two nude figures lounging on a sky blue background — "it was more the non-sexual aspect of nudity and how being naked doesn't necessarily mean being sexual. I started with that idea."
Cary said she has about 25,000 photos on her computer that she scrolls through and uses as references for her paintings.
"I hit these photos, and I was like 'Oh, it's time to paint that now,'" she said.
Her process was similar for another piece on the wall of her studio space. The canvas depicts a figure with purple hair, wearing shorts and bending over at the hips.
"I scrolled through until I found it, and there was that idea that I'd been thinking of, not the non-sexual aspect of nudity but the sexual aspect of wearing clothes," she said.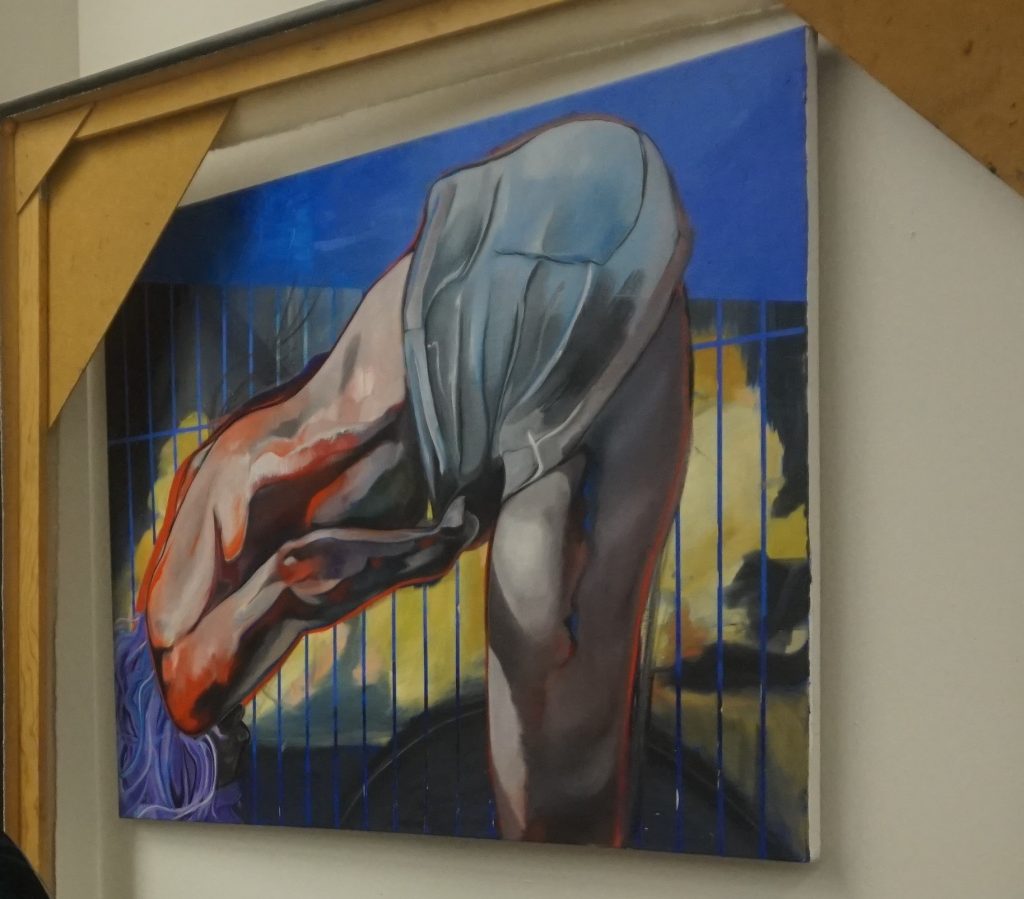 Cary said the ideas for these paintings originated from her personal experiences with sexual shame and wondering about her place in the world. Painting is a physical exploration of how she views herself and how she thinks others view her.
Many of the paintings in Cary's work space are incomplete. The process is slow-going, Cary said, especially right now.
"Normally a painting will take me anywhere from two hours to three days," she said.
Part of the length of the process is also due to the nature of the medium, Cary said. The backgrounds of her paintings are typically solid gradients that appear smooth and quick but actually take hours of work.
"This one has taken me a while, because I keep changing the background color." Cary indicated an unfinished painting of a girl with red hair spinning in a blue dress. "When you do gradients like this, there's a lot of sitting there for hours and just turning the brush different ways, like when you smooth a cat's hair forward and then smooth it back, to get it looking flat like that."
After she finishes classes, Cary said she planned to go to graduate school for either writing or art. The schools admitted her once before but she turned down the offer to continue her art major at Seaver.
"Who knows if they'll love me again enough to let me in a second time," she said.
Cary summed up her experience as an artist with a nod to coincidence.
"I just really like art," she said. " Which is funny, because I didn't mean to like art, I just really wanted to spend some time on the fourth floor."
____________
Follow Lidia Bayne on Twitter: @lidiabayne