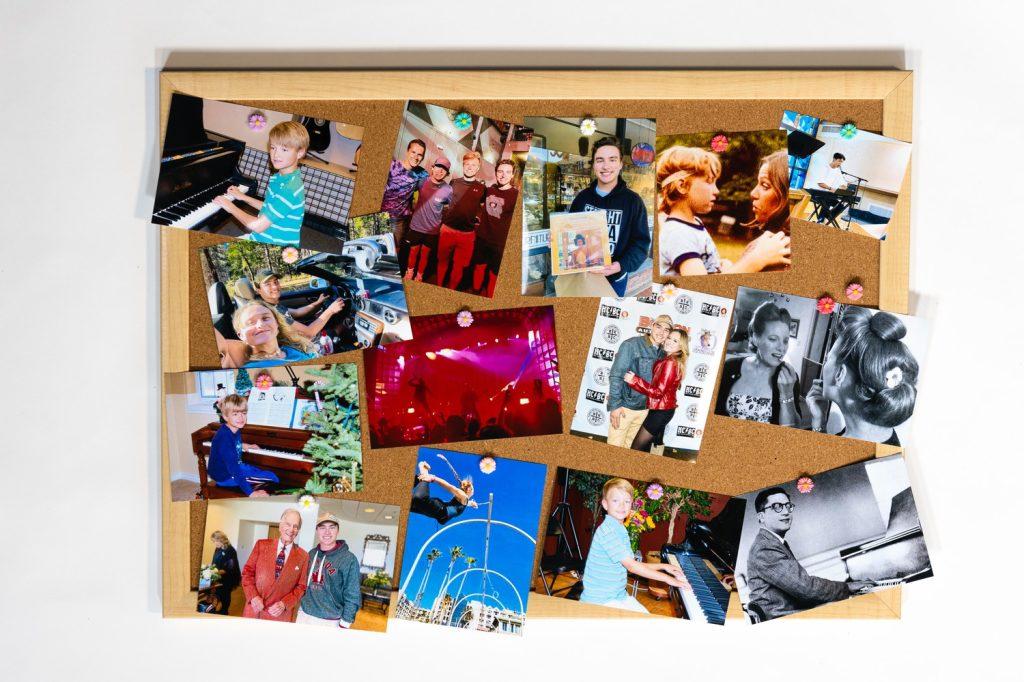 Jessica Cail, Stephen Weinstock, Jonathon Louie and Joseph Sadler all relive their childhood musical memories. Photo by Lucian Himes
Music can transcend not only physical space — but time.
In a hospital, an older woman lies on the bed. A staff member puts headphones over her ears with music she used to listen to.
The woman moves her head. She dances along to the songs playing through the headphones.
This is the Music Memory Project, where caretakers use beloved songs from a patient's childhood to help dementia and allow their residents to stay present, according to their website.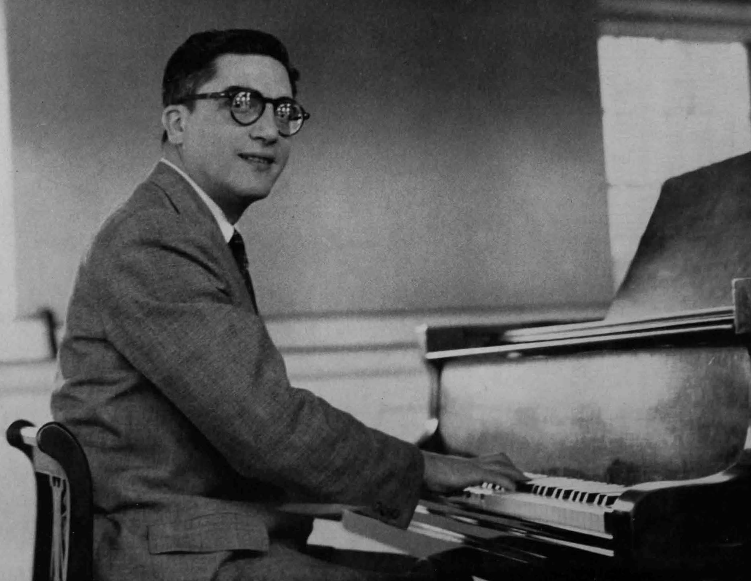 Jessica Cail, visiting professor of Psychology, said music is not stored differently from other memories in the brain — and does not live in a specific part of the brain. Rather, memories are indexed, similar to old library systems.
"It's really easy to attach the emotions conveyed by music to the things that are happening in our life or the experiences that we dream of or hope for," junior Joseph Sadler said.
Growing up, Sadler said his parents listened to a lot of classic rock, musical theater and classical music.
"My dad would drive us to school every day when I was in first grade and he had a George Gershwin CD," Sadler said. "The length of 'Rhapsody in Blue' was just as long as the drive to school would be."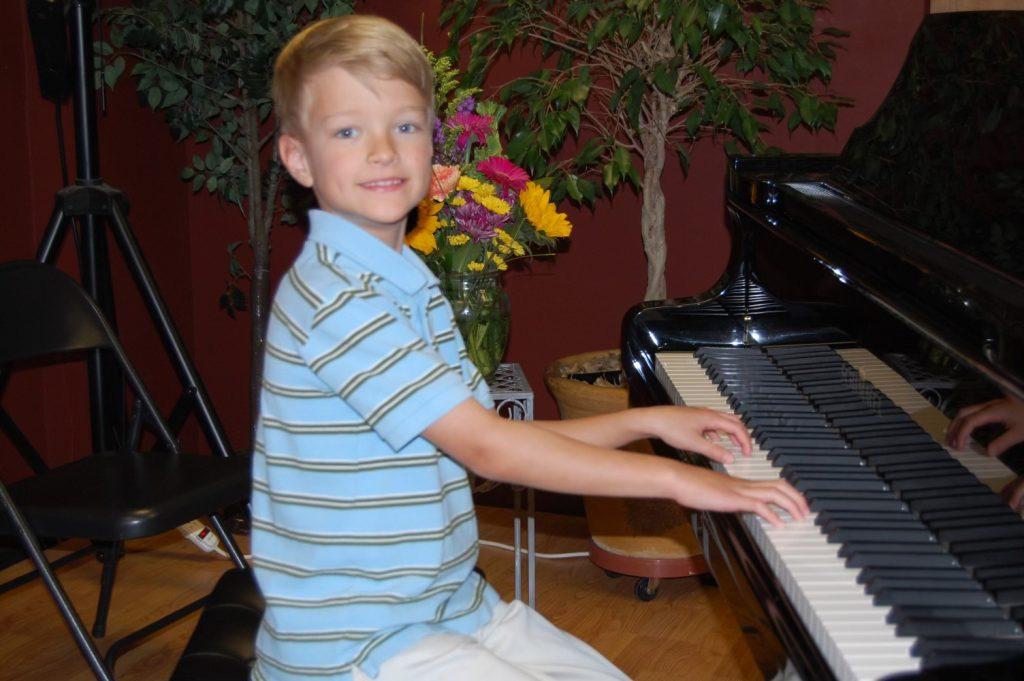 More recently, Sadler said he got a record player for his new apartment — a memory that brings him back to time spent with friends.
"I've got a decent amount [of records] for it now, but I just had two back when I first bought it, one of them was a Beatles record," Sadler said. "I remember the first night, listening to that with my roommates and thinking that was really cool."
Beyond the Story

What did the reporting and research process look like for this story?

My research process involved researching what music nostalgia was and why people enjoy specific types of music. When reporting, I asked about Spotify playlists, certain senses and leaned into childhood memories. For some, their most powerful memory happened as a child, for others' it occurred while driving to college. I wanted to showcase that every chapter of a person's life has a soundtrack behind it.

Can you speak a little bit about your sources and your process searching for them?

My sources are three students and a professor of Psychology. Because so many people enjoy listening to music I tried to find people with eclectic music tastes who also had a musical background. Beth highlighted two of the students and a professor — she was amazing at finding people who had strong ties to the music in their life and a deep understanding of both their own personal taste and memories. I discovered another source when I attended a worship session he led in the Stauffer Chapel. I thought he would bring an interesting component to the story — the way faith also impacts memory and music.

What is your most beloved musical memory from your life and how did this story better help you understand that phenomenon?

My most beloved musical memory surrounds the song "My Little Girl," by Tim McGraw. I remember being really little and standing on my dad's feet as we danced around the kitchen or singing it in the car with my mom and little sister. Many of my favorite songs are because of the memories associated with my family — I have entire playlists dedicated to specific years or moments in my life. Writing this story helped me understand how psychology actually supports my taste in music via memory association.
Junior Jonathan Louie said the first instrument he learned to play was the trumpet. Now he sings, plays the piano and the cajon — a percussion instrument. Louie grew up in a Christian household and mainly listened to Kidz Bop and worship music as a child.
Louie's experience in choir, he said, helped him expand his music taste.
"I think a lot of the things that [the choir] perform[ed] help[ed] me gain a new perspective on other genres of art and gives me a newfound appreciation," Louie said.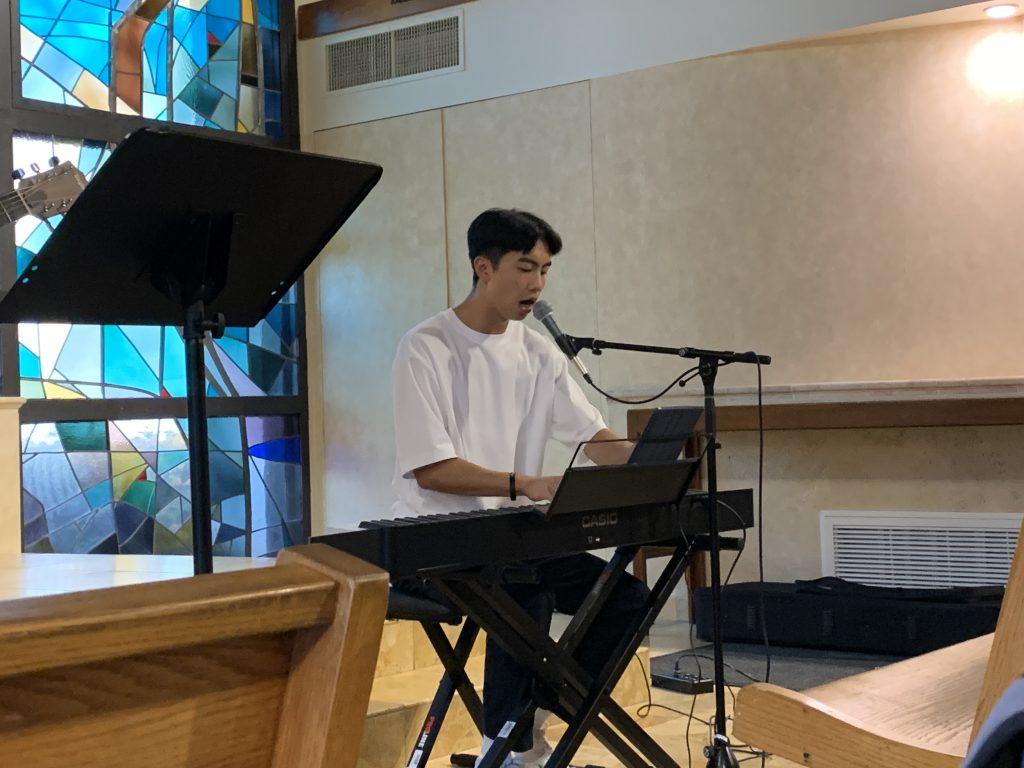 Louie said he still listens to worship music primarily, but also listens to R&B, alternative, indie, pop and rap. When Louie is sad, he listens to slower, more acoustic piano and guitar, such as Giveon or Frank Ocean. When he's feeling more upbeat he listens to indie music, The Weeknd or Harry Styles.
One of Louie's earliest musical memories was playing the recorder in elementary school.
"That was probably one of the most fun, memorable moments when I was a kid, like looking forward to that," Louie said. "We had a designated class to do that too, so it's a lot of fun when you do that with your friends and [your] family comes to see."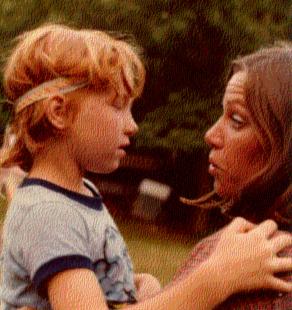 While listening to music may not improve mental ability the way playing does, there is something called state-dependent memory. This means being in a specific mental, emotional and physical state can help one recall memories when they enter that state again, Cail said.
When getting her Ph.D. in psychology, Cail said she studied for her qualifying exams while listening to Cecilia Bartoli's classical album, "Cecilia Bartoli: A Portrait," and could listen to it while taking the test.
"It helped me recall everything I'd studied when I was listening to that same music," Cail said. "Unfortunately, what it did was make me hate that CD, and I've never been able to listen to it, because all that anxiety got baked into that too, and now every time I hear that music, my stomach clenches up."
Sophomore Stephen Weinstock said he grew up listening to a blend of classical, Motown and folk music, as well as a lot of older music from the '30s and '40s and bluegrass. Bluegrass is a genre that dates back to the 1600s and incorporates gospel music and blues from African Americans, according to Bluegrass Heritage.
On Saturday mornings, Weinstock said his parents would always have music playing, hearing the sound now takes him back to those mornings.
"From my room, I'd hear it," Weinstock said. "My mom's making breakfast or my dad's making breakfast, and they've got Lionel Hampton going in the background, and it's just a really, really nice, nostalgic feeling that I get."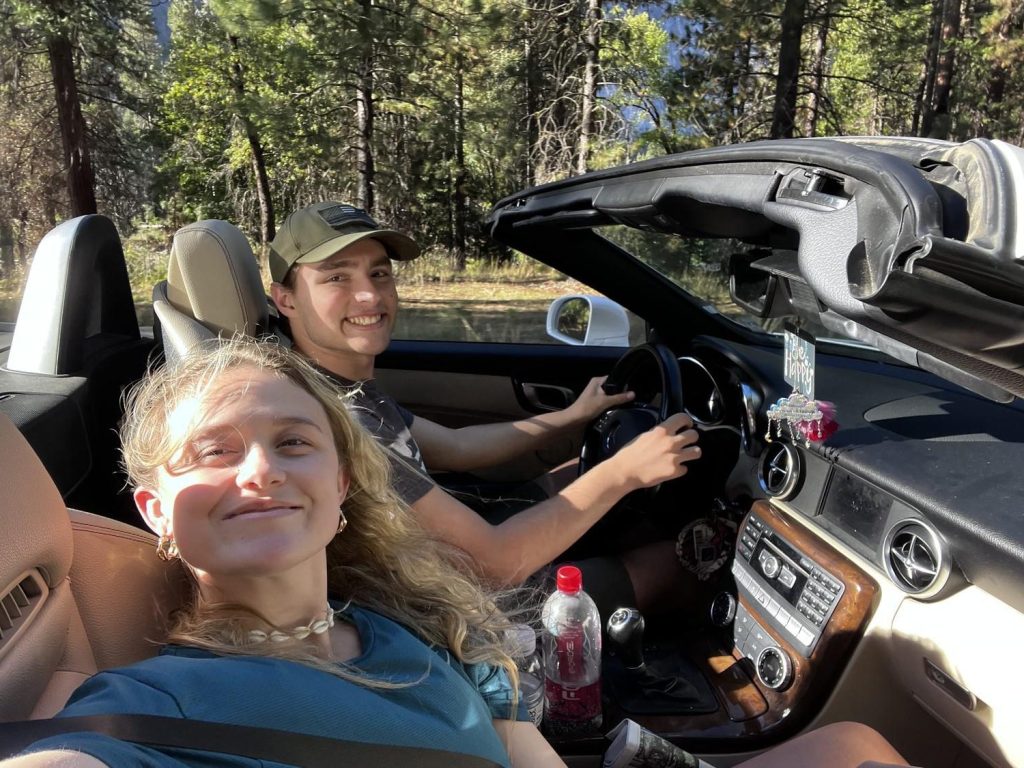 Weinstock said he also enjoys exploring new music, with genres ranging from Ukrainian Folk to '80s Yugoslavian Mariachi.
"My grandpa really liked a lot of the weirder genres, the more original music," Weinstock said. "He was always playing folk music from different countries around the world. So whenever I was at my grandparent's house I would always be hearing something different."
Cail said the person who exposes someone to a type of music has an impact on their likelihood to return to it — positive associations, such as loved ones, will make someone more likely to listen.
"Your environment determines what you've been exposed to," Cail said. "You can't really appreciate a type of music until you've been exposed to it."
Weinstock's music taste is unique, and he said that comes from the way he listens to music.
"A lot of people have favorite artists, favorite groups or favorite albums and I don't really have that, which is kind of weird, but I use music as a way to enhance whatever mood I'm in," Weinstock said.
Weinstock said The Lumineers' "Sleep on the Floor" is a road trip song, Jeff Wayne's "Thunder Child" reminds him of backpacking on Catalina Island with friends and Arlo Guthrie's "Alice's Restaurant Massacree" is one of his "favorite songs ever written."
"It's not only a great social commentary, but I listen to it every time I drive up and down from Pepperdine, and it's a very long song; it's like 18 minutes, but me and my dad sing it all the way," Weinstock said.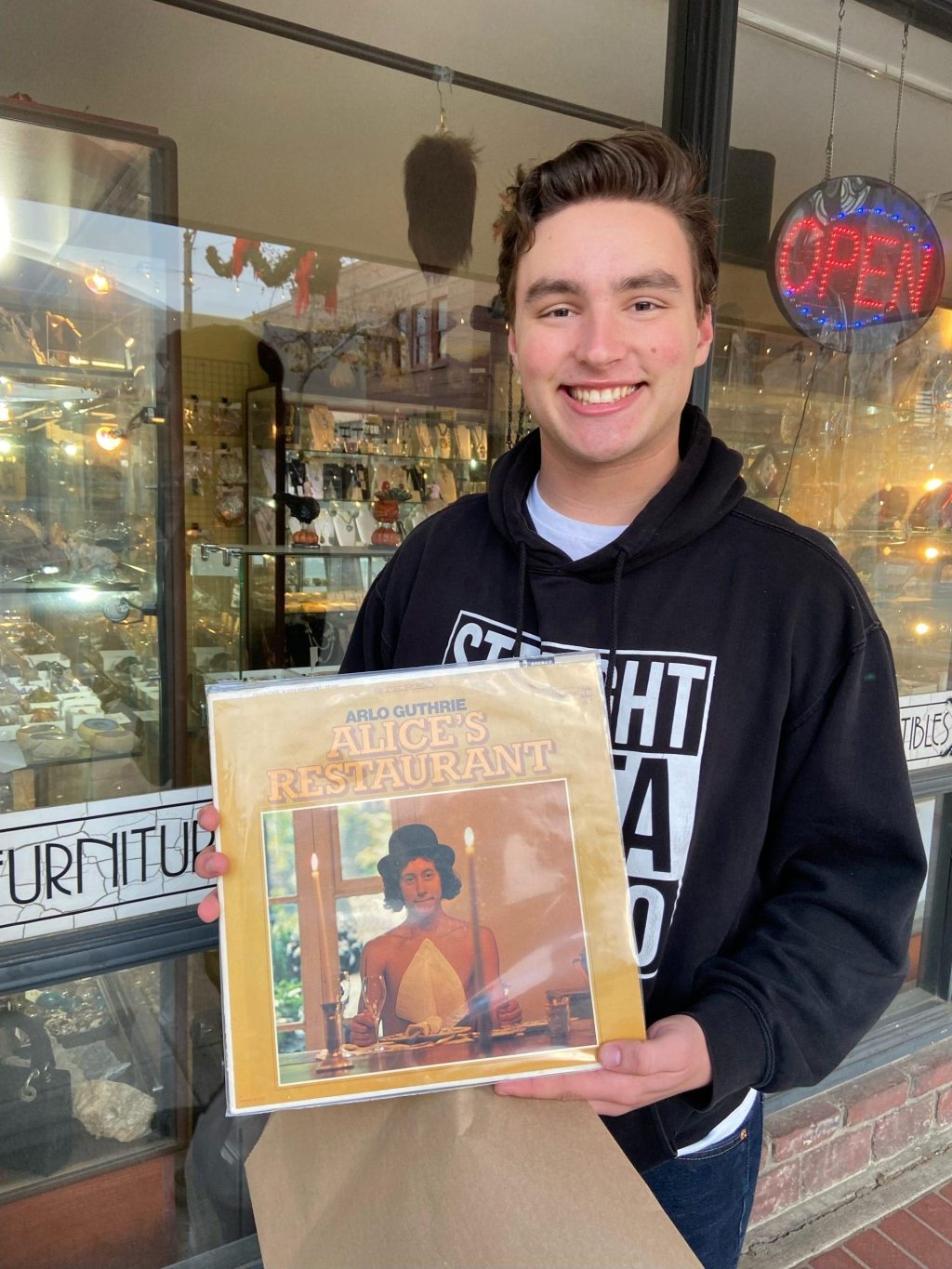 While Weinstock said memories are often flawed, everyone can remember how certain places smelled. Music, he said, is similar — an extra sense.
"It just takes you back to that spot," Weinstock said.
___________________
Follow the Graphic on Twitter: @PeppGraphic
Contact Samantha Torre via Twitter (@Sam_t394) or email: sam.torre@pepperdine.edu
About the Author

Samantha Torre is a junior Journalism major and Great Books minor from Long Island, N.Y. She is the News editor at the Graphic and has been a part of the staff since her first semester at Pepperdine. She played the cello for four years and loves to sing for fun. She has always been interested in music and memories — she even has playlists labeled after different years, places and people in her life. Torre hopes to attend law school after graduation and work in media or environmental law — she would also like to get a dog