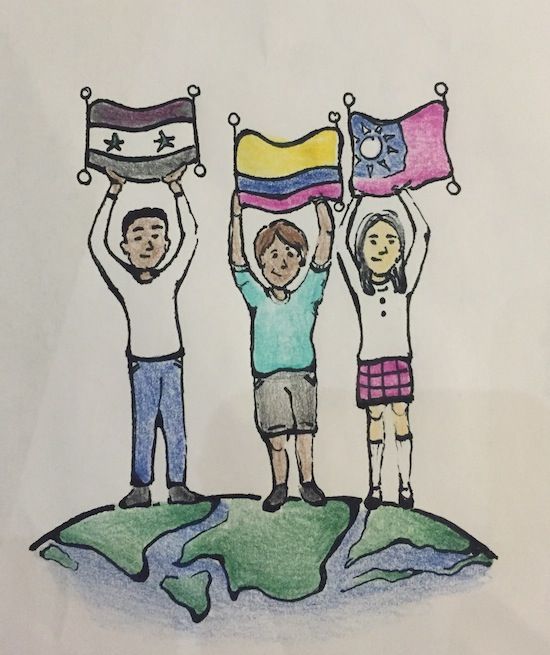 Art by Christine Nelson
My first day at Pepperdine culturally shocked me. I finally understood what people meant by the expression of the American "melting pot" and how different cultures have melted into creating a single American culture. I clearly remember an ethnically Chinese student sitting next to me in COM 180, speaking in a strong Californian accent and explaining how it was hard for her to relate to her Asian grandparents with whom she could barely communicate.
It was the first time I witnessed a person completely disregarding their ethnic roots. Although everyone around me thought this was normal, something immediately stirred up inside of me, a frustration that I still struggle with today:
Why are so many Americans ashamed to recognize their true roots?
It didn't make any sense to me why it would be cooler to be "American" rather than being Korean, Mexican, Egyptian, Russian, etc. It was confusing as to why the culture at Pepperdine puts greater pride in the American culture over any other.
Before coming to this university, I looked into Seaver's ethnicity percentages and was excited when I saw that, besides the predominant 42.31 percentage of white students, the second was my own ethnicity of 15.49 percent Latino students, then followed by a 13.91 percentage of Asian students. However, I was quickly taught how those numbers meant nothing at all. Throughout my entire college career, I have time and time again had to struggle with an internal frustration of how many of my own Asian and Latino friends do not recognize their ethnicity, and look down on their roots by mocking native accents and traditions, and have even become mirrors of the stereotypical white American.
As stated in the book "Asian Americans: Contemporary Trends and Issues" by Pyong Gap Min, Asian Americans usually feel "ashamed of their ethnic culture and nonwhite physical characteristics and 'acted white' — pretended to be white and associated mainly with white students."
Similarly, the Sept. 24, 2015 Huffington Post article "I Am Not Ashamed of Being a Mexican Anymore" by Kristi Soto states a common feeling of shame within the Latino population in the United States by describing how she "subconsciously made the decision to lose her 'Mexican' accent" and pretended like she didn't know how to speak Spanish very well, all because she didn't want to be identified as Latina, since she felt others would not see her as a successful and bright girl with a future.
Why? The main reason I believe this superior American culture is present at Pepperdine is because of the racism that exists in this country as a whole due to a mentality where white means dominant and superior over other races. This mentality is one that has been present since colonization, when white Europeans took control of this land, and has remained subconsciously in the culture since then. From what I have noticed, to be "American" is primarily to be ethnically white and it is for this reason that I believe that people of other ethnicities at Pepperdine prefer to blend in with the 62 percent majority of white Americans. My experience has made me learn how in many student's minds, it is better to disregard and shame their true identity in order to fit in, rather than stand up for one's roots regardless of what others may ignorantly think about that ethnicity.
I was raised differently. I spent most of my education at international schools and was taught that diversity was better than trying to fit in with the majority. All of my friends were from different cultures and countries, and communally we all learned to have a mentality that it is better to be different, to be ethnically and culturally diverse. If anything, it was even kind of boring to meet someone too similar and like you.
Coming to the U.S. shocked me when I walked into a very ethnically diverse campus, to only realize everyone had melted into the same "Americanized" pot. If I had one wish before I graduated from this university it would be for students to know and understand that it is not only OK, but better, to not be another faceless individual in the American melting pot. I say we should all become like the ingredients that are used in fondue, each of us bringing characteristics and taste to this university, making up and creating a delicious mixed dish that without every valuable ingredient would just be a dull and tasteless cheese in a melting pot.
__________
Follow Natassja on Twitter: @NatassjaRuybal