Photos by Sherry Yang
"Don't hate the slut, hate the shame," read one sign at the 3rd Annual Amber Rose SlutWalk.
The SlutWalk was part of Amber Rose Weekend, a series of events to dismantle stereotypes and oppose slut shaming, victim blaming and rape culture. Thousands of people met at Pershing Square in Downtown LA to support the cause on Oct. 1.
The walk began at the intersection of First and Hill streets with live performances from artists and DJs. Hip-hop artist Cardi B performed a short set and invited three audience members to join her on stage.
Amber Rose, an actress, model and entrepreneur, headed the march with a sign and a cape that both read, "Captain Save a Hoe." The crowd chanted the mantra.
Two drum lines and a group of dancers led the marchers on the way to Pershing Square for the main event. A few signs read, "My p***y, my choice," "B.A. in Linguistics, B.S. in slut-shaming," and "No one is free when others are oppressed." Stickers provided by the SlutWalk read, "Make out, not war."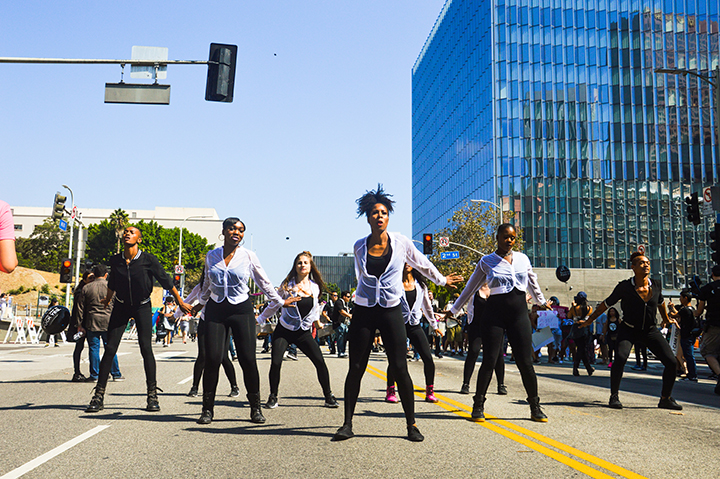 At Pershing Square, the line to enter stretched the length of the block. Food trucks were parked outside. Admittance was free because of the sponsors such as Reebok, Cam4 and the AIDS Healthcare Foundation, but attendees were encouraged to donate to the Amber Rose Foundation. The foundation seeks to "support her core mission of uplifting, empowering and enhancing the platform of women across the globe," according to the non-profit's website.
Some participants wore nude-colored bodysuits, lingerie or went braless. Others went without shirts, opting for pasties or glitter to cover their nipples. Many of their signs read, "Still not asking for it," highlighting that sexual assault victims are frequently asked what they were wearing at the time of the assault.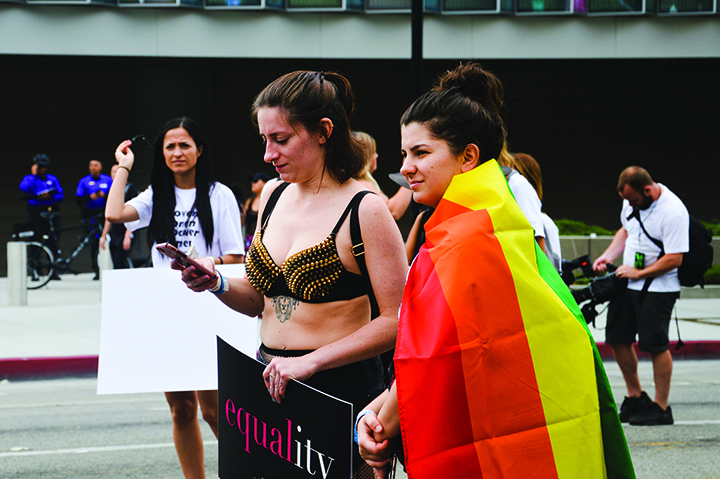 In the square, attendees had the chance to walk on a pink carpet in front of black and pink block letters that read "#SlutWalkLA." People wrote names and messages in chalk on the "Wall of No Shame." The name was similar to Rose's 2015 "Walk of No Shame" video with Funny or Die, in which she proudly owned her sexual choices, defying the more common "Walk of Shame" after a sexual encounter. Booths lined the sides of the square, selling clothes, jewelry and cosmetics. One helped people register to vote.
At the end of the long line of booths, a crowd gathered in front of the main stage. Rose came to the stage between musicians' sets.
"Be kind to one another. Love one another," she said. "And compliment one another. Go up to someone that you don't know and give them a compliment. Let's spread this positivity. Have fun."
_____________
Follow Lidia Bayne on Twitter: @lidiabayne