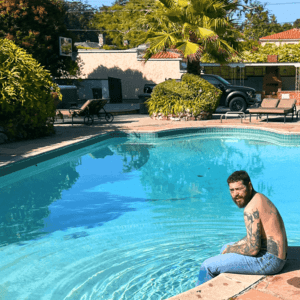 Transparency item: A review provides an informed and opinionated critique. These informed critiques are published to make a recommendation to readers. This review is the opinion of the writer.
American rapper, singer and songwriter Post Malone put out his fifth studio album titled "Austin," his first name, July 28.
The 17-track album shows Malone shifting his typical genre from hip-hop and trap to acoustic and pop-rock. Lyrically, he dives into his struggles with fame, alcohol and relationships.
Malone begins the album with the soft acoustic "I Don't Understand" where he sings about his confusion of his partner's love for him because of his own insecurities.
"I don't understand how you like me so much / 'Cause I don't like myself," Malone sings in the chorus. "You say you got a million reasons / But I can't think of one."
He then picks up the beat and tempo with the second track, "Something Real" —a song about him needing something to relieve the unhappiness he feels with his lifestyle.
"Give me something I can feel / Got everything, guess I'm hard to please," Malone sings. "Give me something real / I would trade my life just to be at peace."
The lead single from the album, "Chemical" follows right after. In this song, Malone details a toxic relationship where he can't stop engaging in the same habits with the other person.
"Outside of the party, smoking in the car with you / Seven-nation army fighting at the bar with you," Malone sings. "Tell you that I'm sorry, tell me what I gotta do / 'Cause I can't let go, it's chemical."
The fourth and fifth songs sonically blend into each other as they both build off of the same lyrical content. Malone sings in "Novacandy" about a substance giving him a temporary high dopamine effect, but then talks about the same substance becoming detrimental to himself in "Mourning."
"Don't wanna sober up / Try to keep it inside, but I just wanna pour it," Malone sings in "Mourning." "Thought I was strong enough / Got a lot to say, couldn't fit it in the chorus."
Malone slows down the pace again with "Socialite" before bringing the drums back with "Overdrive." In "Overdrive," he expresses how exhausted and drained he feels trying to please everyone.
"I spend my nights on overdrive / I live my life so overtired," Malone sings. "I could be more like him if that's cool to you / I'd do anything to be cool to you."
"Hold My Breath" is a slow emotional acoustic song where Malone begs his partner to stay because of how important they are to him.
"Hold my breath / Until I turn green," he sings. "Please don't leave / Because you're holding onto something special to me."
Track 12 is a personal favorite from the album, "Enough Is Enough." The pop-rock anthem shows Malone singing about the consequences of over-drinking alcohol.
"2 A.M., they ran out of lemonade / So I shot that vodka straight, anyway," Malone sings. "Enough is enough / I can't stand up."
Malone brings listeners to the Wild West with "Texas Tea" before warning people to be careful with how they spend their money in "Buyer's Beware." In "Landmine," he talks about keeping himself moving despite facing struggles.
"And outside / I'm burning my way through a stoplight," he sings in the chorus. "Baby, I'm fine / I'm just working my way through a deadline."
"Green Thumb" is another soft acoustic track where Malone metaphorically details heartbreak.
"When I'm on my deathbed / I'll remember you left long ago," he sings. "Oh, no, I hear the nurse say / 'Goodnight, she's never coming home.'"
The final song on the album is "Laugh It Off." To end "Austin," Malone sings about moving on after a break-up and not worrying about how it could hurt him.
"You say you hate me / I laugh it off," he sings in the chorus. "Your mind is made and I can't change it / Somehow I laugh it off."
After listening to Malone's music for six years, it was only a matter of time before I heard a whole album of his away from his usual hip-hop sound. It'll be interesting to see if he'll return to it for future projects, or keep this pop-rock style.
"Austin" is available to listen on Spotify, Apple Music, SoundCloud and YouTube Music.
______________________________________________________
Follow the Graphic on Twitter: @PeppGraphic
Email Timothy Gay: timothy.gay@pepperdine.edu