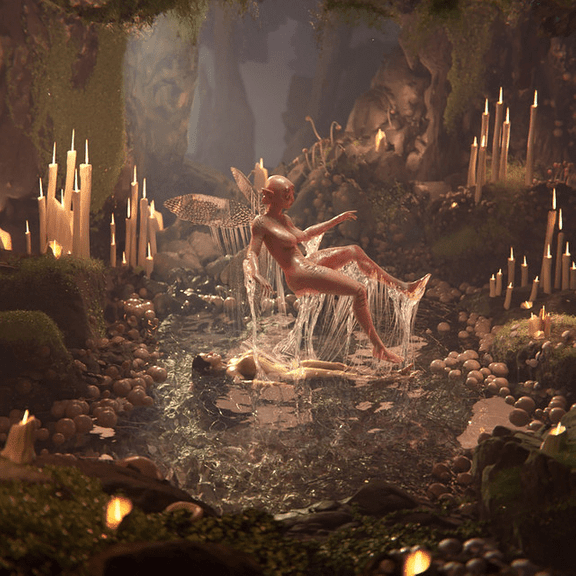 A winged pink creature emerges from Martinez's corpse. Martinez dropped this photo when announcing the release date of the opening track "DEATH" in her new album "Portals," released March 31. Photo courtesy of Genius
Transparency Item: A review provides an informed and opinionated critique. These informed critiques are published to make a recommendation to readers. This review is the opinion of the writer.
American artist Melanie Martinez emerges anew from the grave with her latest album "Portals," released March 31 with a cryptic twist on her trademark grotesque baby doll style.
"Portals" is the last of the Crybaby trilogy, Martinez said on her Instagram story. Crybaby is a fictitious character whose story we follow across all three of Martinez's albums, and her origins began years before "Portals" came to fruition.
In 2014, Martinez released her debut EP titled "Dollhouse," which established the pastel goth-like aesthetic that remained in her following 2015 debut album, "Cry Baby." Each track served to tell the story of Crybaby, who grows up in a neglectful household and wrestles with love.
The same aesthetic carries onto her sophomore album "K-12" which was also released as a film, tracking Crybaby's continual growth during her school years. The ending left viewers hanging in suspense as Crybaby stood indecisively between earth and the afterlife as the screen went black.
This brings the last phase of Crybaby's life to "Portals." Over a month before the album's release, Martinez dropped a clip of "RIP Crybaby" engraved on a mushroom stem. Additional clips depicted the birth and emergence of a pink creature who seems to be an evolved form of Crybaby.
Following the lore, the theme of "Portals" explores death as part of the endless, natural cycle of life. The opening track "DEATH" introduces the album with a soft, eerie chant, "Death is life is death is life is death is life is."
The synthesized, somewhat disembodied chorus prevails as the dominant, divine voice throughout the spiritually-inspired album.
A particular spot Martinez called the "portal" room influenced six of the album's 13 tracks. She said it felt like an entry point or landing pad for benevolent spirits to rest, according to her Instagram story.
Colorful sounds of electropop, alternative pop and indie pop have carried over from Martinez's previous albums. The introduction of rock to tracks such as "VOID" was a thrilling development to her music, adding an empowering and upbeat vibe that was unfamiliar to her former music.
The "void" refers to a dark place where someone is left alone with their thoughts in order to find the light within themselves, according to her Instagram story.
The steady bass line looped throughout the song keeps an upbeat tempo that simulates her urgency to find an escape from the anxiety-inducing space. She illustrates the grueling process, "Like a priest behind confession walls, I judge myself / Kneeling on a metal grater."
Martinez continues to experiment with incorporating new musical elements in "FAERIE SOIRÉE." The soft clapping and airy vocals combined with the plucking Spanish guitar waves a fantastical spell over the listeners as Martinez takes her audience through what seems like a mushroom trip. The song concludes by spotlighting her synthesized vocals as she conveys a symbolic message that may refer to her internal struggles.
Over the course of the Crybaby trilogy, Martinez masterfully incorporated elements of ambient music or instrumental music that highlights texture, tone and atmosphere.
In "Cry Baby" the sound of popping bubbles is a characteristic feature of "Soap," and in "K-12" the track "Nurse's Office" utilizes coughing noises.
"Portals" continues the style with heavy use of sound effects, most notably the breaking bones integrated into the rhythms of "THE CONTORTIONIST."
Paired with delicate and classical strings, the intriguing clash of elegance and grotesque underline the painful relationship Martinez depicts. She is fed up trying to alter herself in order to be accepted, singing "Done doing backbends / I break and I snap, it's no fun."
Martinez often creates songs that critique the flawed facets of society, her "K-12" album being the most prominent example. "Portals" doesn't shy away from these types of messages either.
In "TUNNEL VISION," the lyrics depict a person pursuing the singer. The pursuer pretends to be romantically interested in them but really just wants sex. Martinez calls out their true intentions with an electronic drum beat reminiscent of her former music.
She confidently asserts that a woman's worth goes beyond her body, declaring, "But your focus is empty / Tunnel vision, then dead me / Honeysuckle and fresh meat / But I'm more than that."
Each track contains a special outro that transitions seamlessly to the next song as Martinez takes the audience through a spiritual journey. The album comes full circle in the final track "WOMB," the cycle of life repeating once again.
Martinez has shed away her past life, finally bringing to rest the eight-year era of Crybaby and rebirths anew with spiritual, personal and musical growth in the ethereal, otherworldly experience of "Portals."
Martinez's latest album, "Portals," is available on all streaming platforms.
__________________
Follow the Graphic on Twitter: @PeppGraphic
Email Faith Oh: faith.oh@pepperdine.edu