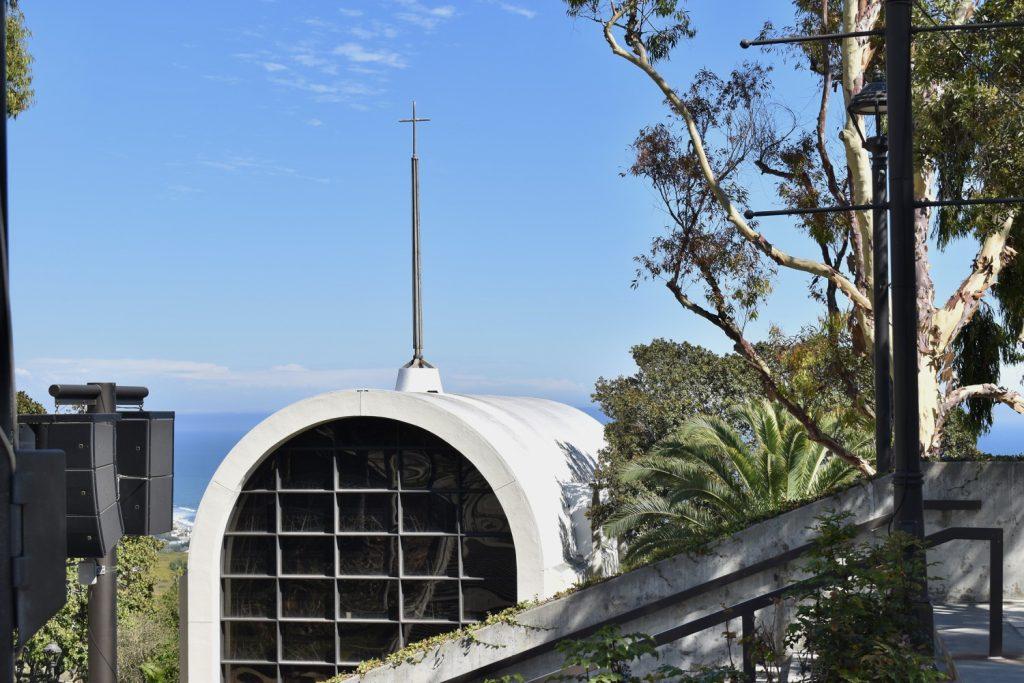 A new church focused on students is launching at Pepperdine on Sunday, Aug. 20: Waves Church. Board of Regents member Alan Beard and his wife, Dean of Students Sharon Beard, are initiating the launch, Alan said. Waves Church will meet every Sunday evening at 5 p.m. on main campus near the fountain.
Waves Church will be affiliated with the Churches of Christ, becoming the second church on Pepperdine's campus, alongside the University Church of Christ. Different from other ministry opportunities on campus, Alan said Waves Church will be an actual church rather than a worship night or Bible study.
"We become one more option for students that want to be in Christian community with other students and that want to learn more about the Gospel and about Jesus," Alan said.
Pastor Taylor Walling will serve as the lead minister for Waves Church, leaving the Hills Church congregation in Texas, Walling announced on social media Aug. 6.
"We feel so blessed that we got the Wallings to come," Alan said. "Taylor is just such a tremendous talent."
History of Churches on Campus
University Church started in 1970 and has been the only church on Pepperdine's campus until now, according to their website.
University Church is a Churches of Christ congregation with traditional a capella-style worship. While it meets on Pepperdine's campus, many families, alumni, faculty, staff, students and Malibu community members attend, said Steve Rouse, member of the University Church Pastoral Care and Oversight Council committee and professor at Pepperdine.
Rouse said University Church will continue with its ministries this year and will keep a strong Churches of Christ presence on campus.
"God has been doing really great things in this congregation for years," Rouse said. "We don't see any reason why we need to change in allowing God to continue to work within our church in the ways that have been for a long time."
Announcing Waves Church
The Beards wrote a letter to the University Church congregation in July announcing the launch of Waves Church and Alan said members of University Church have given them positive feedback so far.
"We all want the same thing, which is to have a great Christian community on campus and to reach students," Alan said.
In the letter, the Beards wrote the Faith and Heritage Committee of the Board of Regents voted unanimously to approve starting a second church on campus, after years of prayer and discussion.
"We do not consider this a competitive effort because there is more mission field than even two churches can cover," the Beards wrote in the letter.
Waves Church will not have a children's ministry or youth ministry at this time, differentiating it from University Church, Alan said.
Affiliation with the Churches of Christ
Any church on Pepperdine's campus has to be affiliated with the Churches of Christ, Sharon said. Even though Waves Church will be a Church of Christ congregation, Alan said it will be "modern" and focused solely on outreach to students, whether they are a part of the Churches of Christ or not.
"We hope that there are people who didn't grow up in the Church of Christ or maybe even didn't go to church growing up who will feel welcome and feel a part of what is going on there," Alan said.
In addition, Alan said Waves Church will be instrumental, differing from the typical a capella style of worship that many Church of Christ congregations participate in.
"That [reaching all students] is a part of our effort is to reach students who have no idea what the Church of Christ is," Sharon said. "That won't limit who will want to come and be a part of this church community."
How To Get Involved
Waves Church will meet every Sunday at 5 p.m., and there will be a church service followed by a meal. Waves Church will post all announcements about services on their Instagram, Alan said.
University Church will also continue to meet every Sunday morning at 10:15 a.m. in the Amphitheatre.
In addition, University Church has a youth ministry, a children's ministry, a campus ministry and an older adults ministry, according to their website.
"We try to make sure that we are able to address the needs of people in the congregation at every stage of life development," Rouse said.
For students, University Church hosts small groups, holds service opportunities and attends University events together on a regular basis, Campus Minister Falon Barton said.
In addition, every Thursday evening, Barton said University Church will also host a new ministry called Unfiltered for students.
Unfiltered will meet at the Campus Ministry House on Baxter Drive on campus to eat dinner, participate in spiritual practices and discuss challenging topics regarding faith, Barton said.
_________________________________
Follow the Graphic on Twitter: @PeppGraphic
Contact Abby Wilt via Twitter (@abby_wilt) or by email: abby.wilt@pepperdine.edu